Electric Fence FAQs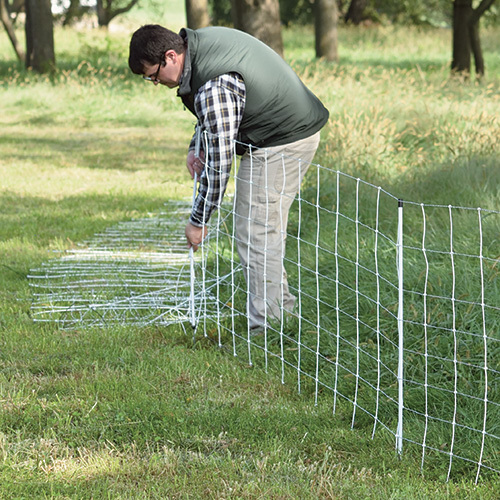 Before you buy or build an electric fence…some common key fence questions—
Q: Where do I start?
With proper planning, installing your own fences doesn't need to be intimidating. Use the following Q&A's as a guide. We've compiled the knowledge and advice from 40+ years in the business and a lifetime of installing and using electric and non-electric fences on our own farms.
Take special note of what we suggest not to do. These are hard lessons learned from what didn't work well, escaped livestock, rebuilding damaged fences and time spent managing all of it.
Let's get started!

Already have an energizer or fence?
Our
Electric Fence Troubleshooting Guide
may help solve common problems.
Q: Will the fence be moved? If so, how often?
Moved daily or weekly
(temporary/portable)
Quick to install and remove. For fast-paced
rotational grazing
set-ups, or for other situations whereby you need to frequently move the fence,
temporary fences
are the best choice.
Moved each season or less
(semi-permanent)
Choose a semi-permanent fence when you don't need to move it as often. Usually consists of electrified net or multiple electrified strands under low tension—supported by stronger/thicker posts than temporary fences.
Never moved
(permanent)
Permanent fences need strong wood or steel posts that support high-tensile wires, woven wire, rope or wide tape—of which one or more strands are electrified. More reliable than other options, but also more expensive and may require a professional installer.
A
fence energizer
takes in electrical energy from an outside source (either a 110V outlet or a battery) and then pushes the energy out through the positive fence terminal in very brief, high-voltage, high-amperage pulses. It's absolutely essential to the proper operation of an electric fence. Why?
An electric fence is a pain barrier, not a physical barrier. A common mistake is not electrifying it. If you do not keep a fence energized at all times your animals will lose fear of it. Then they will go over, under or through it—risking entanglement (and possibly death). Retraining is difficult.
Fewer strands are needed if one is energized. As a result, both the material and the labor to install the fence is reduced.
Energized fences last longer and require less maintenance—because animals do not crowd, rub or scratch on them. So the fence wires (including wires that are not energized) require less tension to do their job. And braces and corner posts will last longer.
Q: How much grounding do I need?
As a rule of thumb,
ground rod length
is dependent on energizer's joules of output. Higher output means more ground rod(s). Our standard recommendation is 3 ft of ground rod per joule of output from the energizer. If not enough ground is used, only a partial amount (not full strength) of the pulse will be returned to the energizer.
Q: Where will the fence be located?
The best design hinges on the following:
Is the terrain flat?

Fewer posts are needed to maintain tension (lowering cost per ft).

Will the fence go over hills, across ditches, or around curves?

Curves, corners and directional changes require additional support posts to accommodate these changes (increasing cost per ft).

Is fence line brushy or with trees?

These should be cleared from the fence line prior to installation to prevent forage contact (which can create a "short" in your fence). Also brush and trees mean shade, decreasing the capabilities of a solar fence energizer.

Are the soils rocky, very soft, sandy or firm?

The type of soil influences the type of post needed. Soft or sandy soils need additional posts to support the fence, or double-spike posts for netting. Sandy/rocky soils are not as conductive as soft, moist soils—use a Pos/Neg fence to overcome poor soil conditions.
Q: Do the animals know the fence?
Local animals and wildlife get to know a fence by appearance, location and pain memory. If it's a strong or painful fence, they avoid it. On the other hand, new animals just off a truck often charge into permanent fences and straight through temporary or semi-permanent fences. That's why strong, tall, visible permanent fences are essential for corrals and feedlots.
Temporary fences that are not physically strong pose the greatest risk of escape (or entanglement) to newly acquired animals. It pays to train them first! Set up a temporary fence alongside (1 to 2 ft away) a secure permanent fence that the animals can't get through. Make sure the temporary fence is electrified—at least 3000V at the end of fence. Introduce the animals to the fence and monitor for a few hours. That way if one were to get into the fence and get caught, you can turn the power off and get them loose.
Q: What specific animals need to be fenced in or out?
Always design and build for the most difficult species. Rules of thumb:
Most sheep and goat fences will stop cattle. The inverse is not always true.
Fencing adult males (bulls, rams, stallions, billies) in/out during breeding season requires taller fences with closer wire/strand spacing and more powerful electric pulses (in joules, not volts).
Fences for mixed sizes and species (poultry, sheep, and cattle, etc.) need more strands than uniform animal groups.
Certain breeds need better fences (e.g. leghorn layers, spirited Romanov sheep, Chianina cattle).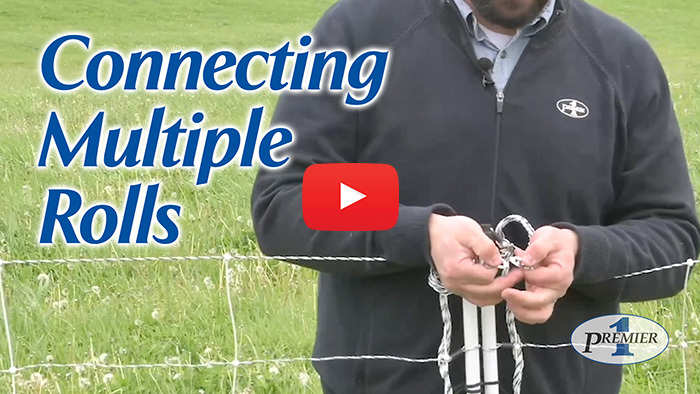 Q: Can I connect multiple rolls together?
Yes.
Install electric netting
using the unroll and then unfold process. At each end of the net is a built-in, stainless-steel male/female clip. Slide these clips together to make a connection.
Tip: Use a PowerLink to electrically connect the two rolls of net when you need gate. This allows you to create an entrance without turning off the fence. Simply disconnect one link, untie and remove the post. Re-tie, and reconnect once you've gone through.
Q: How visible should the fence be?
It depends upon the species. Horses, deer and antelope move at high speed and have restricted color perception (compared to humans). They often fail to see small or dark fence wires like high-tensile wire, MaxiShock and some polywires and charge through them. That's why it's wise to include one or more strands of bi-colored rope or tape (both highly visible) in fences.
Q: How keen will animals be to breach the fence line?
Build for the worst-case situation (if you can afford to do so). Some situations that require more secure fences:
Hunger. Starved animals will eventually challenge most fences.
Weaning. Strong physical barriers are essential to success.
Breeding. Libido induces all creatures to challenge rules and fences.
Boredom. Animals in corrals, stalls and feedlots often crave any entertainment or activity.
Gateways and handling yards. Animals often push each other into fences when being moved.
Goats. Without a doubt, they are escape artists.
Frightened animals. Predators or loud noises can cause prey species (e.g. horses, goats, turkeys) to run in terror straight into, under, over or through any fence, no matter what fence design (netting, hi-tensile or woven wire).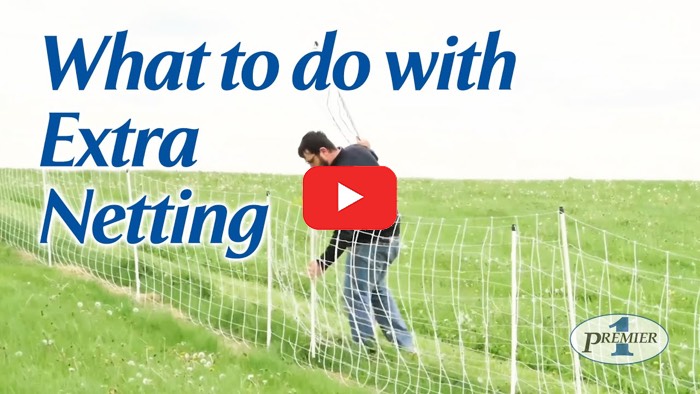 Q: I have more length than I need. What should I do with the excess?
An electric fence
does

NOT

have to make a circle
and the clips at the end of the net are not required to connect. We recommend two methods for dealing with excess netting:
Overlap the fences. As long as none of the electrified strands are sagging and touching the ground, the fences may be set side by side.
Make a U-turn. This method involves a FiberTuff (or other insulated post) and results in a convenient gate:

Insert one FiberTuff next to your starting post and construct your enclosure.
When you return to your starting point, make a 180° turn around the FiberTuff, overlapping the excess net alongside the original. It's okay if the conductors touch one another. (Pos/Neg netting is an exception. See below.) Try to keep all conductors from touching the ground—this will reduce the effectiveness of the shock effect.
Secure the FiberTuff to the original starting post with the storage string to enter/exit the paddock.
What about Pos/Neg fences?
They may be run alongside one another, but make sure to keep the fences at least 3–6" apart. If the conductors come in contact with one another it will short out the fence.
Q: Are long, dry periods common?
Electric fences typically rely on soil moisture as a conductor. When the soil is dry or covered in dry snow, normal electric fences and low-impedance energizers may not work effectively to keep animals in/out. Solutions for this are:
Use a wide-impedance energizer. They are less affected by dry soil.
Integrate ground-return wires (connected to energizer's negative terminal) into the fence. Animals must touch two strands (a negative and a positive) but it works well.
Q: Will heavy snow or ice occur?
Ice can bring down the strongest power lines so all fences are vulnerable to it. Some cope better than others. The question is: Are your animals likely to challenge the fence before the ice melts? Heavy winds and drifting snow will make temporary fences ineffective. That's why most choose to
store netting fences for the winter
.
Q: What's the cost if the fence fails?
The higher the potential cost (in time and money) of a failure, the more reliable the fence design should be. Examples:
Along public highways. In some states the landowner is liable for damages to vehicles and humans.
Around stored feed. If animals gorge on grain, death may occur.
High-value protection. E.g.: Gardens, evergreens or livestock from predators.
Fences with animals on both sides. Mix-ups are time-consuming and costly. Neighborhood relations can be strained. Unpleasant lawsuits (aren't they all?) may occur.
Q: Why are lane and corral fences considered special situations?
Animals are often forced into contact with these fences. Therefore, they need better visibility, more strength and, if possible, no energized wires.
Q: Does Premier offer fences to keep humans in/out?
No. All of Premier's electric fences and related supplies are designed
exclusively
for use with animals only.
Not sure what you need?
Why? Because all the parts and pieces necessary are included. You don't have to worry about overlooking the key extra items that folks new to electric fence normally need to make an electric fence operational.
If your plans involve longer fences, bypass the kit option and instead buy the individual parts and pieces—because the items needed are likely to vary considerably.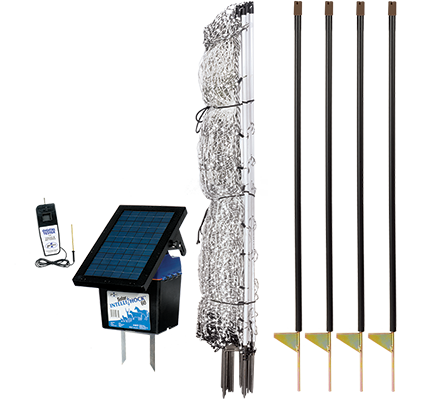 Warning!
Due to risk of fire, do NOT use continuous output fence chargers with electric netting or electro-plastic conductors such as rope, twine or tape.
Use only with a low- or wide-impedance intermittent pulse energizer. (Fi-Shock™ brand energizers which are sold as low-impedance, continuous current output should NOT be used with electric netting.) All energizers sold on Premier's website use an intermittent pulse and are suitable for use with electric netting.
Warning!
In 1991 an accidental fatality occurred when a young child's head contacted an electrified fence while the child was crawling on wet grass. The fence was correctly installed and functioning properly. The energizer was a UL approved unit. As a result, Premier strongly advises against allowing toddlers access to any electrified fences. Also, due to this incident and others, experts now suggest that human contact by an energized wire to the head and neck may be the most dangerous point of contact. We urge all to especially avoid this kind of contact.