Premier PRS 100 Solar Energizer & Kit
(46) Read reviews »
High output
Half the cost of others
Vandal and theft resistant
Very portable
Strong rust-free metal case
Includes:
1-1.0 joule energizer
2-12 amp hour 12v sealed lead acid batteries
1-Wiring harness
1-10-watt solar panel
1-Ground rod
1-Metal carry case
If you buy the kit, it comes with all of the above plus a 5-light tester.

View a comparison chart »
Videos & Data
---
Common Uses
A solar powered electric fence energizer used to keep out deer, raccoons and rabbits from garden/orchard areas. It is also used to keep in poultry, cattle, sheep, goats, horses, and guard dogs. Effective at protecting against coyotes, stray dogs, bear and fox.
---
Specs
Includes:
1-1.0 joule energizer
2-12 amp hour 12v sealed lead acid batteries
1-Wiring harness
1-10-watt solar panel
1-Ground rod
1-Metal carry case
If you buy the kit, it comes with all of the above plus a 5-light tester.
Joules
1.3 stored joules
1.0 released joules
0.87 joules in moist soils
0.35 joules in dry soils
Miscellaneous
Requires 3' of ground rod in the ground.
Draw from a 12v battery is 87 milliampere (mA) per hour. With this energizer a 12v 100 ampere hour, deep cycle battery will last approximately 28 days* on a clean or a weedy fence. *Assumes being drawn down to 40% between recharges.
40 pulses per minute.
If properly used and or stored, battery should last 3-4 years.
Should Power...
2 miles of 3 strand cattle fence.
3/4 mile of 5-7 strand sheep fence.
10 164' Sheep/Goat nets or 4-5 164' Poultry Nets
All distances are dependent of grass/weed load on the fence.
---
Benefits
Assembled in house at Premier. We build each unit and test it before it goes out our door. This allows us to know that we are sending you a unit that works.
Lowest price for a powerful solar all-in-one 1.0 joule unit.
Can be laid flat on the ground during summer months to make them less visible to the public.
To catch the sun's power in winter, simply lean it against a post. If you live in low-sun areas, do this in the late fall and early winter also.
All metal case; very strong and rugged.
Won't rust. It's aluminum and stainless steel.
Light brown exterior reduces its visibility to vandals and reduces heat buildup inside the case.
All metal clamps for lid.
---
How to Use
Attach the energizer unit to the battery and it is ready to use. Drive in the ground rod. Lay it on the ground or against a post. Then attach the earth clip to the ground rod and the fence clip to the fence. Switch it on (when switching on, make sure the button is pressed all the way in).
Winter Use
If you're not using your PRS unit during the winter follow these tips to preserve battery life:
Turn off the unit. Disconnecting the unit from the fence is not sufficient, the unit will still pulse unless it is turned off.
Clean off the solar panel. Dust and debris may have accumulated during use and as a result prevents the panel from maximum electrical production.
Before the unit goes into storage, fully charge the unit. This will allow the battery to be topped off. Batteries that are 50% or less charged may become damaged in freezing temperatures.
If possible, place the unit in a sunny area, this will allow the solar panel to continuously top-off the battery. The battery will lose charge over time even if the unit is disconnected from the fence and turned off.
If you're planning on using your PRS unit during the winter months, follow these helpful hints:
Face the energizer due South, this will allow the panel to receive the maximum amount of light possible during the low-light days of winter.
Instead of laying the unit on its back, stand up or prop up the unit (facing South) to allow it to receive as much light as possible.
Hang the unit up (facing South), secure the top and base to prevent the unit from moving. This will keep the unit out of most snow drifts and allow accumulated snow to fall off.
If the unit is not to be hung up, clear all debris off the panel, this includes grass clippings, dust (especially on gravel roads), leaves and snow. Do not place in shady areas, this will reduce light intake.
---
Precautions
Make sure the power is turned off before working on the fence or the energizer.
Premier is unable to repair broken Patriot Energizer Units.
---
Troubleshooting
To determine if the fault is with the fence or the energizer...
Test the energizer first
Turn off energizer.
Disconnect ground wire and the fence wire.
Turn energizer back on.
With fence tester, put the ground probe (or clamp) to the ground terminal on the energizer and the metal loop (or positive clamp) at the top of the tester to the fence/positive terminal. The reading you get tells you how well the energizer is working without any other variables. If there is a very low voltage (under 4000v) or no voltage, then the energizer may have a problem. If the voltage is high (greater than 4000v) then the trouble lies with your fence. Most energizers put out between 5000v and 8000v when there is no load (i.e. no fence hooked up).
If the energizer is faulty and you are using the Patriot P10 as a battery unit you need to learn if the battery or the energizer is the problem…
If it's a 12 volt energizer carry the unit to a nearby vehicle and attach the input cords carefully to the vehicle's battery.
If the energizer now works, then your fencer's battery needs to be recharged or replaced.
If the energizer does not work, then you should call Premier re. repairs.
If the fence is at fault, then you must find the fault(s) and fix them. Here's how to start this process:
If you have a Fault Finder you can simply touch the fence with the Fault Finder at various points along the electric fence(s). The Fault Finder will tell you at each point which direction to go in to locate the problem. Move in that direction testing as you go and you will arrive at the problem.
If you lack a Fault Finder…
Walk or drive along the fence looking for any point in which the energized wires touch the soil, a steel post or a steel wire. On HT wire fences, check the wires at braces to see if they are touching a hot wire. On netting, look for a hot wire touching the metal stake at the bottom of the plastic posts. Also look for damaged insulators.
If the fence can be separated into several parts (by switches or by disconnecting parts of it), you can locate the problem by beginning at the far end and then progressively turn off or disconnect the sections of fence. When the voltage on the remaining fence rises sharply, you've located the section(s) that's causing the problems.
The alternative to (2.) is to begin at the fencer and progressively turn on sections of the fence. When the voltage suddenly drops you can assume that the problem is in the section most recently connected.
---
Warranty
2-Year Warranty--
It covers lightning damage and defective parts or workmanship. Should a Patriot energizer fail, we will replace the unit, bill you for the cost to do so, then reimburse you after we have been able to examine the failed unit to determine the cause(s).
Accessories
Listed below are recommended optional components or related items. Your particular situation may require alternative recommendations. Please call and talk to our consultants if there are any questions at 800-282-6631.
Reviews

(46)
Write a Review
You must be logged in to leave a review. Please sign in.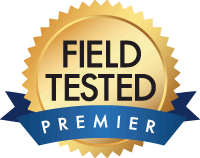 We use one on our East Farm to electrify the netting that subdivides one of our pastures. Both the sheep and guard dogs respect the charge it sends through the fence. If you experience low light in the winter months (like we do), the solar panel may not be able to charge the batteries as fast as they are depleted. The 100X is better adapted for low light areas.
Premier PRS 100 Solar Energizer & Kit
Robert J from Middle Tennessee
I use this with our feather netting. Arrived in perfect condition, was easy to setup and works great in my pasture.
Premier PRS 100 Solar Energizer & Kit
Kari S from Minnesota
Wow! This 100 Solar Energizer is fantastic! I ordered one about 3 months ago and used it with the Permanet Fence to keep my dogs in the yard and off the highway! It was super easy to set up and started working right away! I love the on/off switch that makes it easy to enter the pen and know that the fence is off. It works so well keeping the dogs in! Also, I think Premier sits at the end of the driveway and waits for my order as they are FAST at delivering within two days! WOW! I just recently ordered two more 100 Solar energizers because it affords me the ability to move my fences where ever I want . I bought the stationary electric fencers but I needed more flexibility that the solar affords. I love how easy it was to set up and you can tell the QUALITY with the solid metal box that when you lift it that it is made with quality products. Love the handle to carry and metal outside box and easy open metal clips. I have (older) sisters that LOVE their products too thus they told me that these products would solve my fencing issues. THEY HAVE! Also, Premier has been excellent at quickly answering my questions about the products. I am the proud owner of 3 of the 100 solar energizer. No, I don't work for Premier but am a BIG fan of their products as they FIXED my needs for dog containment as I can't have my dogs playing on the highway! Thanks Premier for solving a big fencing issue I needed to solve!
Now, can you solve the driveway fencing issue so I can fence across my driveway? Thanks again!
Premier PRS 100 Solar Energizer & Kit
Melanie H from Oregon
I live in rainy northwest Oregon and this charger kept my goats safe all winter, even with little to no direct sun for months on end. I am very impressed with its capabilities and ease of use. I expected to have trouble getting a good charge during all the dark days, but it was consistently effective.
Premier PRS 100 Solar Energizer & Kit
Hope G from Georgia
Easy to set up and works great. We have a new 130 pound guardian dog that was jumping the previous owners fencing and he is staying in the netting!!
Premier PRS 100 Solar Energizer & Kit
Janet V from New York
I just bought my first 2 kid goats. I needed a way to keep them safe and this solar energizer works great with my electric. net fencing. Couldn't have been easier to hook up. Literally took only a few minutes to get it up and running. Produces plenty of power for my needs. Holds a charge for many hours without direct sun as well.