Premier's ElectroNet 9/35/12 excels at keeping young lambs in and coyotes out. Its many electrified strands provide multiple points of contact for an animal to experience the fence.
What is electric netting?
It's an electrifiable, prefabricated, portable fence that arrives at your door as a complete roll with the line posts already built into the fence's mesh. Unfold it, set the posts by hand and attach a fence energizer.
Why users like it so much…

| | |
| --- | --- |
| • | Simple and quick to install/move (10 min. average). |
| • | Highly visible. |
| • | Comes complete—all you need is an energizer and support posts (for ends, corners and major directional changes). |
| • | Durable—will last 10 years if used with care. |
| • | Very adaptable—to hills, dips and curves. |
| • | Many versions of netting are available from Premier in many heights (18" - 68"), lengths, post sizes and mesh openings to suit your situation. |
| • | FREE Shipping on almost all netting! |

Premier Energizers...

Remember, netting must always be properly electrified. Premier's PRS-I 50 shown at left. Premier offers a full range of energizers with a 2-year warranty: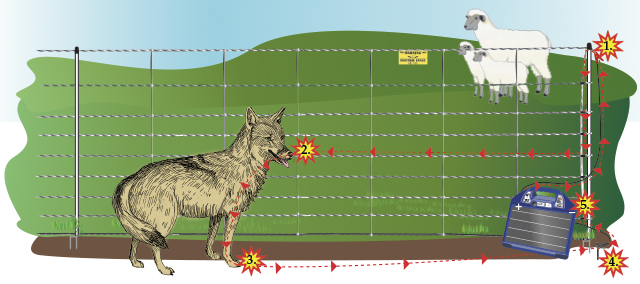 How netting works…
All horizontal strands (except for the bottom strand) in most nets connect to a powerful fence energizer that sends a strong electric pulse down the wires approximately once per second.
The combination of a mesh of vertical and horizontal wires encourages animals to touch it with their sensitive nose, head or ears.
Result? Animals touch it, conclude the fence is painful—avoid it, and memorize the experience.
When an animal touches an electric fence…
| | |
| --- | --- |
| 1. | The energizer pushes a pulse of electrons out through its "+" terminal to the fence. The number of electrons depends on the output, in joules, of the energizer. More joules = more electrons per pulse. |
| 2. | The excess electrons ​pressurize the fence. The electrons are desperate to escape to the soil and through it back to the energizer's ground rod. The amount of pressure is measured in volts. More volts = more pressure. More pressure = more ability to overcome the resistance of dry hair/soil/skin, thin "bloodless" legs (e.g poultry, deer, goats), minimal contact with the soil due to less weight (e.g. rabbits, baby animals, chickens). |
| 3. | When an animal touches a pressurized fence the electrons pass through the animal to the ground—impacting the animal's nervous system as it does so. The more electrons that pass through the animal the more powerful and memorable the effect on the animal's nervous system. |
| 4. | After exiting the animal the pressurized electrons pass back to the energizer's ground rod via the soil moisture. |
| 5. | The electrons enter the energizer via the ground rod the negative "-" terminal. The amount that returns is equal to the shock effect. |
Select the best fence design for your site—
Already know what you need? Use our search filters to narrow your results based on species and needs.
Need more help? Your particular situation may require alternative recommendations. Contact us online or call and talk to a fence consultant at 800-282-6631.
Click here to view all of our sheep fencing options.
Premier's how-to videos…

17 Premier top-quality fall born ewes for sale.
| | |
| --- | --- |
| • | Dorper/Romanov/Katahdin. |
| • | Born Sept/Oct 2015. |
| • | Current weight 95 lb avg. |
| • | From adult hair ewe (excluding yearling). No CIDR's or other aides were used for either when bred in Spring 2015. Conception rate was 85%. |
| • | We assisted less than 5% of hairs ewes at lambing. |
| • | None are registered. All are commercial ewe lambs. |
| • | First come first sold. Prefer to sell within Iowa. |
| • | Price: $240 per head. |
Contact Heather or Mike at 319-653-7622.
Questions? Call Us.


800-282-6631


Local:

319-653-7622


Fax:

800-346-7992

or

319-653-6304

Business Hours:



Monday - Friday: 7 am - 5:30 pm CT


(January - December)



Saturday: 8am - 12 noon CT

(March - September) and Closed (October - February)

Sunday: Closed

© Copyright 2016 Premier1Supplies
2031 300th Street, Washington, Iowa 52353
Contact Us