2013 State Fair Directory
Can't wait for food on a stick? How about a funnel cake or a game in the Midway? State fair season is fast approaching and folks are gearing up all over for some fun. While you're at the fair, use your time to view hundreds of champion show animals. Click here for a listing of all the great State Fairs that will be happening this summer.

Upcoming Shows
Please visit us at the following show:



Midwest Stud Ram Sale


June 24-29, 2013
Sedalia, MO


READY TO SHOW?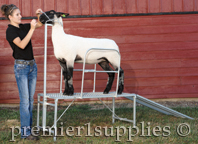 New Design
Premier Trimming Stand

Keeps animals secure while you trim at a comfortable height.


| | |
| --- | --- |
| 1. | Folding carry handle on the stand and ramp prevents animals from getting their legs caught. |
| 2. | Stronger mounting points for side rails (old style could too easily become bent if stand was dropped on them). |
| 3. | Side rails extend further into mounts to prevent them from coming out when leaned on. |
| 4. | Better fit of head piece in the stand (old style tended to be loose). |
| 5. | Improved head-piece securing bolt (easier on the fingers than old style). |

Still hot-dip galvanized to ensure an attractive appearance and the lowest cost per year of use.
(Hot-dip galvanized steel resists rusting longer than painted steel.)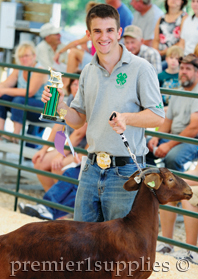 First-class Collars & Chains for showing goats!

Developed by Premier in cooperation with nationally recognized breeders. All leather items are from a US saddlery company.

See Premier's other show items: Blankets and hoods, halters and leads.


PRODUCT SPOTLIGHT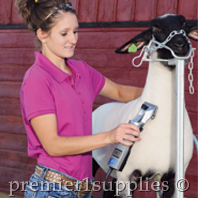 Top Premier Picks!

A few of my favorite products from Premier are the Fine, Surgical and Super Surgical blade sets. I use all three blade sets depending on the situation and the animals that I'm clipping.

For example, if I'm getting ready to clip a white-faced club lamb, like a Dorset or a Southdown, I prefer to use a Fine blade set the day before the show. This prevents the "pinkness" of their skin from showing through. Fine blades leave just enough wool length to help disguise this pigment. It also works great for their head and leg areas.

If a closer fit for the head and leg area is needed or if I am planning to clip a Hampshire or Crossbred, I will use a Surgical blade set so I can get much closer to the skin. It's a very popular blade to clip with for many shows, even the day of the show.

I only use a Super Surgical blade when I really need to highlight an animal. The Super Surgical blade set gets the closest to the skin. Usually I will use these a day before the show or, on occasion, the day of the show. And of course, I use all three of these blade sets on my Premier 4000c machine. This is the longest lasting and most problem-free clipping machine I have owned. I have been using mine for over 10 years!

These products have been a dependable base for all of my clipping needs.

Andrea Beatty,
Premier Product Consultant


PREMIER TIP

Preparing an animal for clipping


| | |
| --- | --- |
| • | Remove the dirt from the hair/fiber. If this is not done, expect accelerated blade wear and a reduction in animals clipped between blade sharpenings in exact proportion to the amount of dirt present. The benefits of dirt removal prior to clipping cannot be over-emphasized. Example: Those who wash their lambs prior to clipping often clip 20 to 30 club lambs between sharpenings (if the blades have been sharpened properly on a lapping machine). Those who don't and have lambs with sand or soil in the wool often clip only one or two lambs between sharpenings. |
| • | Washing the animal with soap and water removes the most dirt. |
| • | If washing is not practical, use a high-power vacuum or blower to remove as much dirt as possible from the hair or wool. |
| • | Restrain the animal. Few animals like the sound of a clipper or the feel of vibration on their skin. When they react to either without warning, accidents can and will happen. Therefore, for the sake of you, your animal and your clipper, properly restrain the animal with a halter prior to clipping. |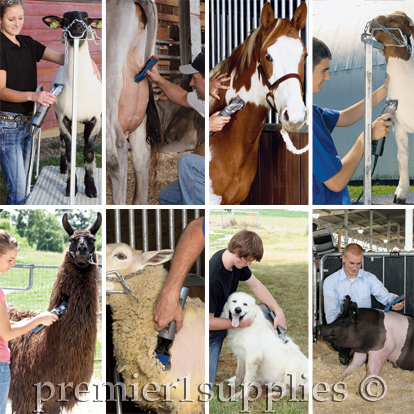 We like things simple...

That's why we have the Premier 4000 motor. It's one motor that does two jobs. Both a Premier shearing head and clipping head can be used with the same motor. This eliminates the need to have two machines on hand. Changing between clipping and shearing is as quick as removing 2 easily accessible screws, switching heads and replacing the 2 screws.

Plus, the motor comes with a 3-year warranty — much longer than most!

Clippers vs Shears — What are the differences?

•
Clipping machines use, obviously, clipping blades and a clipping head (shown below).

When compared to shearing machines, they are much easier for beginners to fit the blades onto a clipping head and set the tension. If you use fine or surgical blades the finished result is much smoother than can be achieved with a shearing machine. And, there's much less risk to nick or cut the animal's skin with a clipping machine.



•
For the rapid removal of fleece, fiber and hair there is nothing better than a shearing machine (shown below). They use combs and cutters instead of clipping blades and a shearing head. The comb and cutter system works better than clipping blades if the wool and fiber is full of dust or dirt.

On the other hand, beginners may find attaching a comb and cutter and adjusting the tension more difficult than fitting blades onto a clipping machine.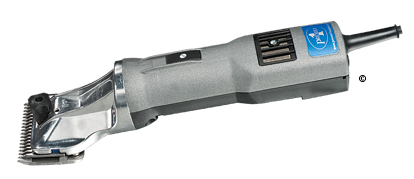 Premier 4000c Clipper
Premier 4000c Clipper and Blade Sets

Clipping Blades

Uniquely fast, powerful and compact — a delight to use. Plows straight through dense, thick fiber. Large, high-speed permanent magnet motor (rare earth magnets) enables it to deliver more torque to the blades than any other brand. Much smaller to grip, lighter in weight and shorter in length than all other large clippers.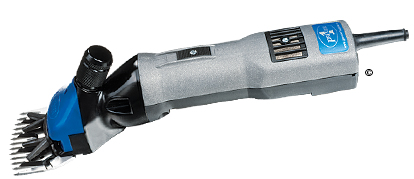 Premier 4000s Shear
Premier 4000s Shear and Combs & Cutters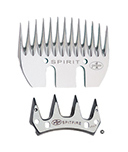 Combs and Cutters

High cutter speed under load, compact body size and a powerful (high torque) motor are specifically combined for high-speed wool and fiber removal. This machine often "wows" those used to other motor-in-the-handpiece shearing machines. This machine is designed for high-speed, whole-flock shearing. When high-speed wool removal is important and practical, maximum speed and power are preferred.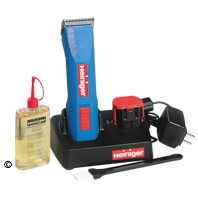 Saphir Cordless Clipper

Saphir Cordless Clipper
An "industrial-strength" Heiniger clipper for all-day clipping of horses, dogs, goats, llamas, sheep and pigs.

Has much more power than any other "A5" cordless clipper. Its 35 watt motor runs cool and quiet. World-class balance in the hand. See our "How-to video" on how to blade removal and installation.
RESHARPENING SERVICE




Factory-Quality Resharpening!

To reproduce the factory-sharp cutting edge on clipper blades, a lapping machine must be used. Most other methods are, in our experience, inferior to one degree or another. In addition to producing a cutting edge that won't last very long, some methods can permanently damage the blades. The most common "culprit" is using the large high-speed grinding wheels that are used to sharpen cutters and combs.

When sending in combs/cutters or blades, make sure to fill out the resharpening form. This can be done by sending us the info through our website or printing a form and sending it with your items to be resharpened.

What you can expect from Premier…

| | |
| --- | --- |
| 1. | Precision finish — Most large clipper blades are sharpened on automated machines. Blades for camelids are double ground for a superior edge (if requested). Combs and cutters are sharpened on high-speed grinding wheels by our sharpening experts. Beware: Blades, combs and cutters can be damaged (and even ruined) during sharpening by those without proper machines or methods. |
| 2. | How good is our service? Good enough that we now sharpen over 50,000 blades, combs and cutters a year. |
| 3. | Rapid turnaround — When most of us need sharp gear, we needed it "yesterday." So we resharpen most blades and combs in 24 hours. (Allow an extra day in the hectic summer months.) |
How to store your blades, combs and cutters…
| | |
| --- | --- |
| • | Remove the blades/combs/cutters from the clipper or shearer. |
| • | Always clean blades/combs/cutters immediately after use by using a small brush or blowing off any excess dirt or hair. Cover them with oil to reduce the risk of rust. High-carbon steel clipper blades will rust overnight. Rust destroys both the edge and the polished surface of the blades. |
| • | Store both clipper/shearer and blades away from solvents, chemicals and moisture. Never leave them where they can be damaged by accidental impact. (Premier offers a blade storage box or Comb/Cutter box and a case for the clippers/shears.) |
Remember: Replacement blades are not cheap, so it is well worth the time to care for them!
---

Save $17 per blade set via our Blade Exchange!
How? Exchange any used, dull or rusted Lister® blade set for a new Premier blade set for only $30 (plus shipping). You save $10 (compared to a new blade set) plus a $7 cost to resharpen the used Lister blades.

Must it be an exact upgrade?
No. Any Lister® blade may be exchanged for any Premier blade.
Note: Super Surgical and XtraCover blades can be included in the offer. Super Surgicals will be $40 and XtraCovers will be $32.

Why only Lister® blades?
Because they are the only blades that will interchange (fit the same machines) with Premier blades.


---

Customer Reviews
Tracy W. from Indiana, March 26, 2013
Easy to understand order form. Always quick turn around. Love that my combs and cutters come back packaged wrapped in felt. I've always got ahold of a real person when calling about my order. Have not used them yet, shearing is about a month away. Last year I used Premier's sharpening service and was very happy with sharpness. Alpacas are so fine and I was able to shear several before changing cutters. Thumbs up. Thank you.

Lorie H. from Montana, June, 14, 2012
Very quick turn around, blades and cutters were packaged well. We haven't tried them yet, as we sent after shearing this year, but they look and feel nice and sharp! Also, the customer service by phone is exceptional!

See more Reviews on our website.