FARMER'S MARKET READY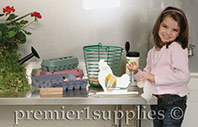 Enhance egg appeal!
1.
Don't let them get dirty. How?


| | |
| --- | --- |
| • | Use roll-away nest boxes—egg rolls out of the nest when the hen leaves). However, some chickens prefer nests with bedding. |
| • | Collect the eggs often. |
| • | Keep broody hens away from the nests. |
| • | Refresh the nest bedding often (if it's not a roll-away system). |
| • | Provide enough limestone (we use oyster shell) so that the shells of the eggs are as strong as possible. |

2.
If the eggs are dirty, clean them or discard them. Nothing turns buyers off more than a dirty egg. Sometimes cleaning can be done by dry brushing. But some eggs (such as those next to a broken egg) must also be washed. Our Egg Cleaning Kit converts dirty eggs into clean, sanitary, saleable eggs in much less time than cleaning them by hand. Works so well that it often surprises new users. For a quick clean, egg wipes can also be used.
3.
Weigh the eggs. Use an egg scale to determine the weight of each egg to better organize them in egg cartons. Label the cartons by size so folks know the size of the eggs they're buying.
4.
Put them in attractive cartons.Yes, it's only packaging, but appearance matters. It suggests that you care and "sweat the details," which inspires buyer confidence. Put labels on the cartons—the more information, the better.
5.
Emphasize their freshness. They must always be fresh! Discard eggs that become old—never sell them!
6.
Get personal! Use customized egg stamps with your farm name or logo to add an extra touch to the eggs.
NEW FROM PREMIER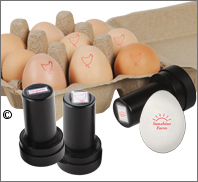 Make your eggs stand out from all the others at the farmers market with preprinted or customized eggs stamps. By branding your eggs, folks won't forget where they found them.

New! Egg stamps

An incredibly fast, easy way to customize eggs. Up to 30,000 imprints (that's less than 1¢ an egg). Custom stamps are available by special order. Ink refills are available and supply up to 20,000 additional imprints.


---

Customer Review…

"I recently purchased 2 stamps for the eggs from our chickens. One of the stamps is an outline of a hen. The other stamp has my company name on it, Custer Cottage. The pre-inked stamp uses regular food coloring (Premier recommends using the ink refill, which is a food-grade ink). I purchased the stamp from Premier Sheep Supplies Ltd. Obviously they do have items for farm animals other than sheep. I could use the words organic, natural, or free range, but everyone has a different idea of what these words mean, so I find it best to just use my company name. My family and I do not allow our chickens to free range very often. We do a modified free range due to neighbor dogs that dig under the fence. Modified Free Range would not look too good as an egg stamp. LOL"

Dawn Jones,
Spinner Extraordinaire
Custer Cottage, KS


PRODUCT SPOTLIGHT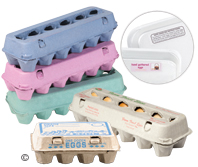 Packaging eggs made easy! Choose from 3 different colors or styles of egg cartons. Use carton labels to add information for your customers.
Egg cartons
| | |
| --- | --- |
| • | Colors—for packaging home-raised eggs. Made from recycled fiber. Blank (no printing). |
| • | Natural—Preprinted egg cartons made of recycled fiber paper pulp. Sturdy design protects eggs from accidental bumps. |
| • | New! Vintage style—Eggs are arranged 3x4 instead of 2x6. Many of your customers (and you too!) will prefer this easy-to-handle carton shape. Design on lid is an old-fashioned farm scene printed with blue ink. |

Carton labels
Use to describe and sell your eggs. Labels differentiate egg size and production systems, as well as offering egg-handling advice. Our labels peel and stick to any paper, plastic or Styrofoam® egg carton.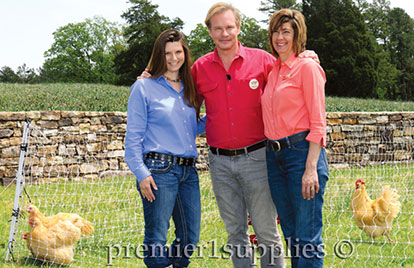 Rachel, P. Allen Smith and Stephanie after spending the day preparing for the P. Allen Smith Backyard Poultry Workshop. Behind them are Allen's beautiful Buff Orpington chickens safely contained within Premier's PoultryNet ™ fencing.

Premier exhibits at P. Allen Smith poultry workshop

What kind of business trip involves a 5 a.m. shotgun start, driving through a deluge of rain, dodging airborne dinner rolls and ending at a picturesque sprawling farm in Arkansas? The kind that takes Stephanie (Product Development) and Rachel (Photographer) to P. Allen Smith's Backyard Poultry Workshop that was held April 20, 2013, on his Moss Mountain Farm.

Premier was invited to attend the workshop and demonstrate our electric netting and other poultry supplies. Stephanie and Rachel graciously volunteered to represent Premier.

Partway through their trip, Stephanie and Rachel stopped at Lambert's Cafe, of Sikeston, MO, an establishment known for the waitstaff's habit of throwing rolls to the customers. They reported back that their meal was quite delectable and that they were not caught unawares by a flying roll.

Upon their arrival to Moss Mountain Farm, they were treated to a tour of the house and gardens. After the tour ended, the ladies found themselves in the kitchen talking with P. Allen Smith for two hours. The discussion centered on heritage poultry and how he has very specific keep/cull practices for selecting his breeding stock.

Friday morning involved an extensive tour of the 640 acre farm, culminating in a guided tour of Poultryville. Poultryville is P. Allen's breeding area for his heritage chickens, ducks, geese and swans. Each breed has its own specific run (to prevent crossbreeding). Eggs are collected and hatched on site. Breeding birds are selected based on whether or not they match the standard for that breed.

While Rachel and Stephanie were on their tour of the farm, three coach buses pulled up. The farm was hosting a garden tour for Master Gardeners with P. Allen acting as one of the tour guides!

Friday lunch was held in a refurbished barn on the farm. Originally the barn held items from P. Allen's various collections, but it has been transformed into an elegant dining area. It's probably one of the few barns with chandeliers.

Once the tours were finished, the ladies set up a booth for the Saturday workshop. They were aided by a flock of free-range Buff Orpingtons, who, despite being in early stages of molt, were quite impressive. Stephanie sat down with P. Allen for his weekly radio show from May 4th about the Poultry Workshop and Backyard Poultry (Scroll the arrow to the halfway point to listen to Stephanie's interview.) They discussed the backyard poultry movement and poultry rearing basics.

Saturday arrived and so did the attendees for the workshop. The majority of the folks came from Arkansas.


Seminars were held on the following topics:


| | |
| --- | --- |
| • | How to start a flock |
| • | Expanding the flock from eggs |
| • | Heritage breed conservation |


Stephanie and Rachel spoke to folks about Premier's product line as well as some products that we're experimenting with (including an incubator). Among the door prizes from Premier were a ChickBox™, Combination Waterer, PoultryNet Hot Gate® and a King Feeder. To receive the item, folks had to correctly answer a few poultry-related questions.

Remember: Premier offers Free Shipping on qualified internet orders over $100. See details.

After the workshop, Stephanie and Rachel packed up and headed back to Iowa, but not without one last stop at Lambert's Cafe!

P. Allen Smith is the founder of the Heritage Poultry Conservancy—an organization dedicated to the preservation and support of all threatened breeds and strains of domestic poultry through the encouragement of education, stewardship and good breeding practices. He's also the host of three top-rated television programs—P. Allen Smith's Garden Style, P. Allen Smith's Garden Home and P. Allen Smith's Garden to Table.


EGGS MARK THE SPOT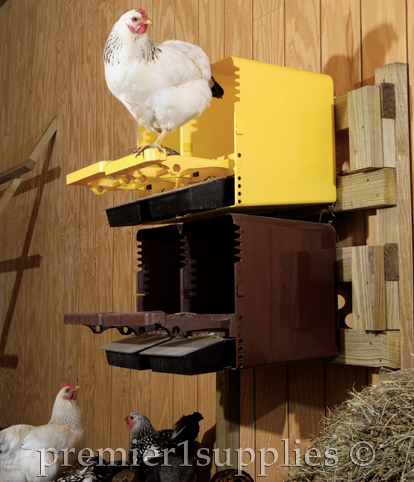 Getting hens to lay in a nest box...
A key reason for raising chickens is a daily supply of fresh, full-flavored eggs. Young hens usually lay one egg per day. Their first eggs will be a bit small, eventually increasing to full size. But the eggs must also be clean. (Check out our Egg Cleaning Kit.)

The nesting area must be a place where the hens want to lay their eggs—an area in which hens feel comfortable and secure. Otherwise they will lay on the floor—and the eggs are more likely to be soiled, cracked and hard to reach.

Occasionally hens hide their eggs and nests—and finding eggs a week or two after they have been laid is not a pleasurable experience!


Nest box basics—
Nesting boxes should be:

| | |
| --- | --- |
| • | Easy to clean. |
| • | Provide a sense of security to your laying hens. |
| • | Easy for you to collect the eggs. |
| • | Enough for everyone! Provide a minimum of one box for every 4 to 5 hens. |
See our ChickBox™ assembly instructions and how to build free standing or wall mounted units for your ChickBox™.
What if the hens don't lay in the nesting box?
| | |
| --- | --- |
| • | Try placing a Ceramic or Wooden Nest Egg in the box. Many hens prefer a nest with other eggs in it. |
| • | Place a comfortable amount of bedding in the nesting box (we like straw or similar bedding). If using a roll-out tray, gradually remove the bedding to get the full effect of the roll-out tray. |
| • | Hens prefer to nest where they aren't visible to predators. So it helps to locate nests in darker areas. |

Where should I set up the nest box?
Set up the nesting area so both you and your birds have easy access to the boxes. It's best if the area is somewhat secluded for hen "comfort." Nesting boxes placed with the base of the nest 2 ft above the ground work well for the hens, and it's a height you can reach into without working too hard. Egg-stealing critters like rodents, snakes and skunks also have a harder time reaching this height.

What material should I use?
Though we've used metal and wood boxes (for decades with hundreds of indoor and outdoor chickens), we now prefer plastic. Why?

| | |
| --- | --- |
| • | Plastic does not rust like metal or rot and warp like wood. |
| • | Plastic is easier to clean and disinfect. |
| • | Plastic has no seams or cracks—which reduces the risk of mite and lice infestations. |
| • | Plastic has no sharp edges (metal) and does not splinter (wood). |

Should I use bedding in the boxes?
With a ChickBox and roll-out tray you may have to initially use bedding. After the hens learn to lay in the ChickBox (with a tray), gradually remove the bedding. When not using the roll-out tray, we prefer straw or hay bedding. Both are abundant on our farms and both stay in the box better than wood shavings.

Note: To encourage egg laying through the fall and winter, keep a timer-controlled light in the coop to increase their "daylight" hours. The hens will think it's still spring or summer.