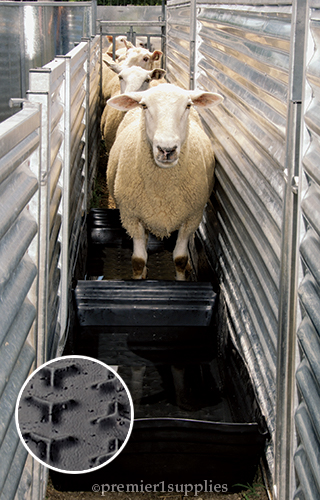 Premier's SureFoot™ Foot Bath features flexible sides to fit most treatment chutes. Unique "Y-design" floor pattern provides traction and reduces slippage. Tapered sides allow troughs to stack for shipping and storage.
Treatment—Scald and Footrot…
If you ignore lameness it won't go away. Usually it gets worse—often rapidly if the conditions are right. Flystrike in the lame hoof can occur. And the very life of the animal is at risk. So what should you use to treat infected hooves? It depends—on the situation.
Zinc Sulphate vs. Copper Sulphate vs. Formaldehyde?
Liquid Zinc Sulphate (Premier FootCare)—we rely on it for mass treating and preventing footrot and/or foot scald. But it takes a longer exposure time (>10 min…20 minutes is better) to give a total "kill" than other options. Ideal for foot baths.

Copper Sulphate—effective and quick. Not suitable for foot baths because it corrodes metal gates and even the nails and screws in wooden gates. Thus we limit its use to topical treatments like FootCure™.

Formaldehyde—kills bacteria rapidly if the tissue is exposed by careful trimming. However it makes hooves brittle and poses serious health risks to human and animal skin (particularly eye and nose tissue). So we avoid it.

Copper Napthenate—A common ingredient in treatments for thrush in horses. But, it's not labeled for use on food animals—so don't use it on sheep and goats which are raised for food production!
Hoof diseases can lead to reduced productivity throughout the flock. Get ahead of it before it becomes a major problem!

To help sheep "accept" a foot bath: