CATTLE–FRIENDLY CONDUCTORS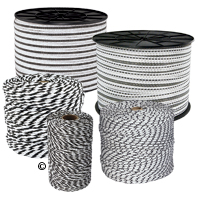 Electrifiable Rope, Twine & Tape
| | |
| --- | --- |
| • | Visible. Safe. Reliable. |
| • | Proven by extensive field tests. |
| • | Backed by our expertise, world-class reputation and legendary service. |
Our prices for electrifiable rope, twine and tape are much lower than you will find anywhere else—so much that we can usually ship them to your door for less than you would pay at the local farmstore.
How can we afford such low prices?
1.
We buy direct from manufacturers in container loads.

2.
We sell direct to you.


| | |
| --- | --- |
| • | Premier conductors are made to our specifications. They're the result of over 35 years of testing, observing, analyzing, modifying and retesting. We continue to "tweak" the specifications—because all products can be further improved. |
| • | We are interested in what works and what might fail for specific purposes for specific species. We are not interested in what sells best, fancy packaging or exaggerated claims. |
Our goal is simply to supply you with a choice:
| | |
| --- | --- |
| • | We offer unique and proven products with features and capabilities not found with other suppliers. |
| • | We also offer products similar to those found elsewhere. |
| • | This allows you to compare and buy at the level that suits your current fencing needs. |
PRS SOLAR ENERGIZERS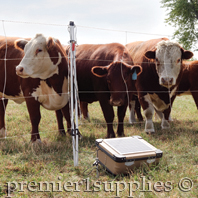 A herd of Herefords line up to inspect Cattle QuikFence™ and a PRS Energizer.

PRS Solar Energizers

Which unit is right for you?
The size, in pulse energy output (range from .5 joule to 2 joules), depends almost entirely on the weed contact that will occur and the length of the fence.

Still have questions? Contact Premier or call 800-282-6631 to speak with one of our fence consultants to help you determine the best energizer for your needs. You can also view our energizer comparison charts online or in Premier's fencing catalog to help in choosing an energizer.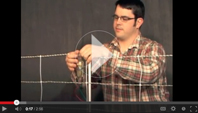 For an easy way to see if your fence has at least 3000v
running through it, check out
our New! BlitzLight and see
our how-to video above.

Remember: PRS Energizers qualify for Free Shipping if ordered on our website. See details.


FLY & PEST CONTROL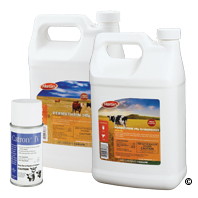 Permethrin 1.0% Synergized
Control flies and lice. Use as pour-on, spray or via a back rubber.

Permethrin 1.0%
Pour-on insecticide. Controls lice and flies.

Catron® IV
Best maggot, screwworm and ear-tick spray for livestock and horses. Kills and repels face flies. This works quickly!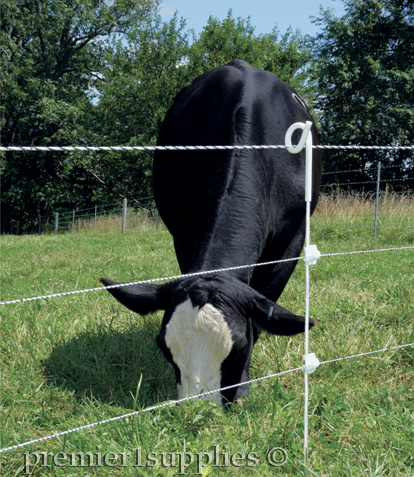 Three energized ropes supported by a step-in pigtail post with 2 adjustable pigtail clips.

From time to time cattle enjoy a good scratch. This often takes place on an unsuspecting gate or fence post and results in premature wear and tear. This means an earlier than anticipated need for each.

How to keep cattle from turning your fence line into a scratching post:


| | |
| --- | --- |
| • | If the source of the itch is caused by external parasites, treat cattle to stop/prevent flies, ticks and lice. |
| • | If they're scratching because they're cattle and that's what they do: |
CATTLE GATE OPTIONS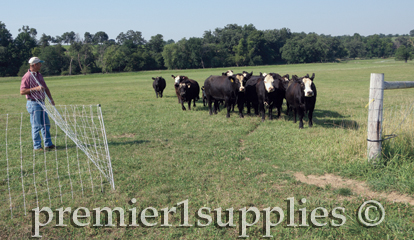 NetGates are lightweight and easy to move. We use PowerLinks™ to connect NetGates to an electrified strand.

1. Electrified NetGate 3.0
Why we like this option…

| | |
| --- | --- |
| • | Installs in minutes. |
| • | Low initial cost. |
| • | Visible against all backgrounds day and night. |
| • | Can be angled out from either gate post in minutes to guide the herd in/out of a field. |
| • | Fits gate openings from 12 ft to 20 ft. To shorten, move center post out of line to use the excess length. |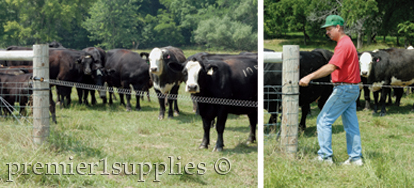 (left) Spring gates are a proven and reliable gate for cattle. Compress for storage. (right) Rope and braid gates are easy to set up for use with any type of livestock.

2. Electrified Gates: IntelliTape™ SuperWide, Spring, IntelliBraid™ and Rope
Electrified gates are inexpensive and much easier to install than steel gates. But they're also much less durable.

Remember these key principles about most electrified gates:
| | |
| --- | --- |
| • | They are pain barriers. They are not physical barriers. So they are not capable of standing up to physical crowding by livestock. |
| • | Visibility and effectiveness are related. Animals and humans can't avoid gates that they cannot see. |


See our Electrified gate instructions.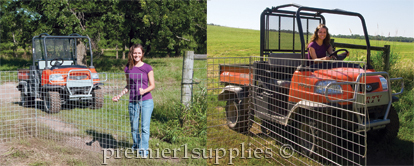 It's simple to hop off a vehicle, swing back an 8 ft section (light enough for women and older children to handle), and then drive/walk through. For livestock and larger machines, just swing 2 or more of the panels farther open.

3. Wire Panel Gates vs wood or steel bar?
Many of the Premier folks raise their own cattle (herds vary in size)—so we understand better than most other suppliers the need for effective, low-cost corrals and pens.


•
Steel bar gates are strong (we use them as well), but they are expensive.
•
Wood is cheap but also heavy—and it's prone to breakage and/or rotting.
•
Welded wire panels are a useful answer to many situations, if built strongly to work and last. Multiple panels can be connected together using a wire connector hinge (see how-to video at right).
Good for…
| | |
| --- | --- |
| • | Sites where livestock pressure is too much for electric net gates. |
| • | When you don't have time to install a gate on hinges and don't want to wrestle with a heavy steel bar gate that's not supported by hinges. |
Not so good for…
| | |
| --- | --- |
| • | Sites with heavy livestock pressure. Panels are not as strong as steel framed gates. |
| • | Sites that are opened daily. For that we prefer gates on hinges. |

VIP ARTICLE

Managing External Parasites of Texas Cattle
By Sonja L Swiger

The Texas dairy and beef cattle industry is a $12 billion industry and controlling external parasites is an important part of avoiding financial losses.

External parasites, commonly called ectoparasites, cost livestock owners billions of dollars each year. Untreated, these parasites make animals suffer and lose weight. Parasites also lower the quality of animal products by:


| | |
| --- | --- |
| • | feeding on their hides and hair |
| • | reducing meat and milk production by sucking their blood |
| • | transmitting diseases |
| • | causing cattle to lose energy |
READ MORE »