HOW-TO VIDEO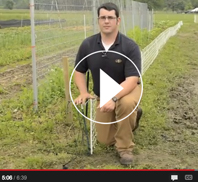 Joe (copywriter) sets up VersaNet around the Premier garden.

How-to install netting video around garden

It's easy! Even for new users, it takes less than 10 minutes to go from a roll of out-of-the-box netting to installed net.

VersaNet® is the best solution for small animals (rabbits, woodchucks, raccoons, foxes) and poultry. Available in white or green. Use green netting if aesthetics are a concern, as it blends in with the landscape. Use white netting for better visibility. Choose the color that fits your preference for your garden.

Try VersaNet® Plus around gardens with many corners and curves. The added posts help adapt the fence to gardens of any shape and reduce sagging too.

Note: Check local ordinances before installing any electric fences.


RECIPE

Crunchy Tossed Salad

Dressing:
| | |
| --- | --- |
| • | 1/2 c. salad oil |
| • | 1/4 c. sugar |
| • | 2 tbsp. vinegar |
| • | 1 tsp. salt |
| • | 1/2 tsp. pepper |

Mix above together in a jar with a tight-fitting lid; shake well. Chill for 1 hour.

Salad:
| | |
| --- | --- |
| • | 1 bunch Romaine lettuce |
| • | 1/2 head iceberg lettuce (sliced) |
| • | 1 c. coarsely shredded cabbage (as for slaw) |
| • | 6 green onions (sliced) |
| • | 3 oz. sunflower seeds |
| • | 4 oz. sliced almonds |
| • | 10 strips bacon, cooked and crumbled |

Toss above ingredients together.

Just before serving, add:
| | |
| --- | --- |
| • | 1 cup (or more, as preferred) chow mein noodles |

Add dressing, toss and serve. Makes a big bowl of salad. Best when used the same day.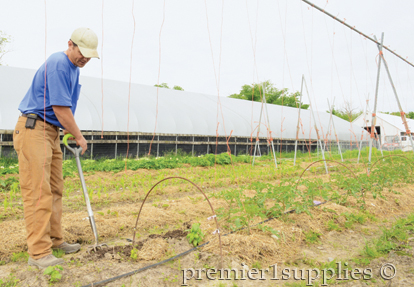 Adrian works the soil prior to planting heirloom tomatoes. The hanging strings will be used to guide the plants as they grow.

Sun-ripened produce for the whole office!

Despite the vast quantities of rain (and minor flooding) we've experienced in the past few weeks, the garden is progressing in form and function. Weekly and daily deliveries of fresh spinach and crisp radishes to the lunchroom are a common occurrence. Meanwhile, the strawberry plants just outside the office door are heavy-laden with sun-ripened berries.

Adrian (Premier shepherd and gardener) has been getting the garden ready for a productive summer while simultaneously keeping up with a bountiful spring. Trellises have arisen above the tomato plants and cover crops lay between rows of onions, peas and potatoes (or spuds, as Adrian calls them). The trellises will encourage the young tomato and bean vines to reach for the sky (see closeup photo at right), making it easier for Adrian (and any volunteers) to harvest the produce.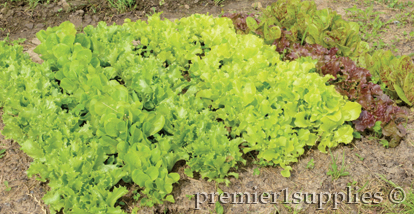 Lettuce! Adrian's test plot of flavorful leafy lettuces. It seems he's trying to cater to everyone's variety of tastes for garden greens.
Want to view our previous garden newsletters?
April - Garden Newsletter
May - Garden Newsletter

WANTED & UNWANTED PESTS

Garden Pest Control

Beneficial Insects
By Oklahoma Cooperative Extension Service

Insects are considered to be the most successful animals on earth in terms of number of individuals, number of species, and range of habitats. There are more known species of insects (nearly 1 million) than all other forms of life, and they occupy nearly every terrestrial habitat. Read More »


Home Vegetable Garden Insect Pest Control
By Oklahoma Cooperative Extension Service

What is an Insect Pest?
For purposes of this Fact Sheet, we classify insects and mites as pests based on their ability to damage vegetable plants and reduce your harvest from the home garden. Many insects, and all spiders, found in home vegetable gardens are beneficial and control of these insects is not recommended. Read More »

FENCE OPTIONS
Types of garden fences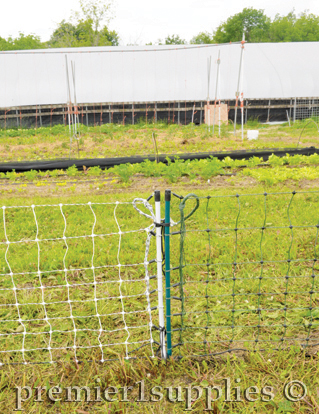 A side-by-side comparison of VersaNet® options. Use green when the fence needs to blend in with the landscape and white when visibility is a must.

1. Netting options:

Our netting is able to stop a wide array of animals and poultry. Fast and simple to install. 500 ft can be installed in less than an hour. Needs no tools, strength or skills. Use a suitable energizer to overcome potential weed growth. Prices range from 60¢ to $2.76 per ft.


2. Multi-strand fences:
| | |
| --- | --- |
| • | Much lower cost per ft (8¢ to 25¢), which makes it attractive for long fences. The cost varies according to the number and type of strands, spacing, type of posts, etc. |
| • | Can be as effective as netting for certain species (e.g. raccoons, woodchucks, wild pigs). |
| • | Less prone to problems with growing weeds if left in place for many weeks. |
| • | More prone to installation errors. |

View all of our Fences for Gardens/Wildlife.

Note: Check local ordinances before installing any electric fence.