Premier UltraScreen™
PVC-coated polyester screen provides exceptional ventilation while keeping out the elements.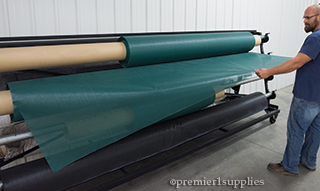 Dispensed via carpet rollers, Premier UltraScreen™ is available in widths of 3.28', 4.92', 6.56', 9.84', 10.5' and sold by the linear foot. Two colors available.
Benefits of using UltraScreen™
Stops 80% of the wind and 90% of rain and snow
Allows light (about 20%) through—shady but not dark
Maintenance free!—never needs adjusting after it's stretched and secured
If damaged, the vinyl covered polyester web does not rip
UltraScreen™ has been used in England on farm buildings for over 25 years to stop wind, rain, snow and birds while allowing some light and air to pass through. (It's called Galebreaker® there.)
We imported and installed it on a sheep building at Premier 20 years ago. It's still in place. Zero maintenance through high wind, rain, ice and snow. It continues to look like new!
We finally decided to offer it our customers. It's not cheap, but it's very strong and reliable. But it's not strong enough to withstand direct side pressure by sheep or goats. Far superior to anything similar that we have tried.