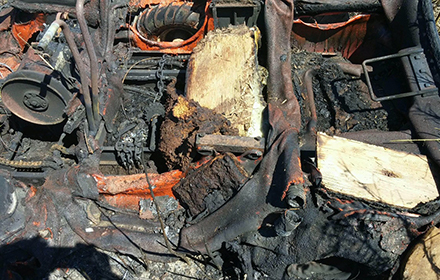 A 6 wheel UTV that was destroyed by the fire.
A fire burned grass, trees, and a UTV and was only 30 ft from a barn when the fire department arrived.
It occurred because the property owner purchased both our netting and another firm's "continuous current" energizer via Amazon's website. In making the energizer purchase he relied upon Amazon's "Frequently Bought Together" section and the energizer's reviews.
No mention on the Amazon website was provided about a risk of fire or of damage to electrified netting when used with this energizer.
Was Premier's netting the cause of the fire?
Absolutely not. This fire would never have occurred if a pulse-type energizer of the right size from Premier, Speedrite, Stafix or Gallagher been used.
Would it have mattered if the fence wasn't netting?
A fire can (but does not always) occur if and when a "continuous current" energizer like this one (shown in photo) is connected to any conductor (netting, tape, rope, twine, wire) that is in contact with combustible material (brown grass, leaves, straw). It's a factor, of course, that netting for chickens has conductors close to the soil and, at times, close to combustible dried grass or leaves.
So it was the type of energizer (not the brand) that caused this fire?
Yes. What enabled this unit to cause a fire for this user is that it, as its front label indicates, is a "continuous current" fence energizer.
What is a continuous current energizer?
It's a very old design that is cheap to manufacture—thus the "attractive" low retail price.
However, unlike 95% of the energizers sold today, it does not release an intermittent pulse. Instead, it charges/energizes the wire continuously at, as the label on this energizer indicates, not more than 1200 volts.
When a conductor (wire, tape, twine, rope, netting strand) connected to this energizer contacts a conductive path to the soil (slightly green weed, twig, stray piece of metal wire, or dry weed that's wet from dew or rain) a continuous flow of electricity flows down this path to the soil creating an almost audible "buzz."
If the right conditions are present it does not take long for the buzz (similar to that of backyard bug zappers) to build up enough heat to ignite any combustible material adjacent to the "buzz point."