MESSAGE FROM THE OWNER
Lessons learned in 2011 from our farm
Fences:
Keep the fence wires close to the soil if you want to stop coyotes (and dogs). We inherited some old woven wire fences. Over 3 decades their line posts (steel and wood) have lifted leaving a gap between the soil and the bottom wire. We've neglected pushing them down (and thus forcing down the wires) until now. During lambing a pair of coyotes found this gap an appealing way to enter and leave one of our pastures. It was an expensive lesson.
The modifications (lowering the 7 ft. crossbar to 30-35 in. above the soil on 4 ft tall fences) we've made to our H braces appear to be working. The earlier designs (crossbar near the top) continue to lift each spring. The modified ones don't.
To keep weeds down in our PermaNet fences we've switched from glyphosphate to paraquat based herbicides. We like its very fast (36 hrs) burndown. Unlike glyphosphates, paraquat does not kill the roots so most perennials recover—which prevents erosion and invasion by opportunistic annual weeds.
See Premier's fences
Hay/Silage:
Our first winter feeding baleage (round bale silage) was a success. This year we've made another 800 new silage bales (plus 1000 small square bales of hay and 100 round bales of hay). Our system works for our size of operation but the required investment in machines and manpower puts the system beyond the practical reach of smaller operations.
Read more on hay and silage
Poultry:
We experimented with bantam chicken breeds. High survival. Harder to contain (they fly). Good egg layers. Smaller eggs appeal to users who like eggs-but have cholesterol concerns.
We incubated both chicken and goose eggs (to test 2 incubators). We didn't really like either incubator. We will try others.
Tests continue on a new (to us) British line of small flock equipment.
See our poultry supplies
Goats:
We don't have many meat goats but those we do have continue to require more attention to foot issues and internal parasites than our sheep do. We allowed them to browse the understory of an 8 acre woodlot in June/July. They did a good job at this.
Sheep:
We had 3 lambing seasons this year. Each had very different results:
1. Feb 15 - plus or minus 15 days. Conducted to test a low-lambing labor idea.
40 ewes were exposed to Suffolk and Premier (Ile de France/Border Leicester) rams to lamb 10 ewes/week and marked accordingly.
Marked ewes were put into individual pens just prior to their lambing date (to prevent mis-mothering).
Due to the small number of ewes all were hand watered and fed. Barn was kept above 32 degrees.
Ewes left to lamb unattended from 5 pm to 7 am.
Ewes then moved to group pens in unheated barns 2-3 days after lambing.
Lambs put on creep feed, weaned @ 80 days and sold by end of May without ever going out on pasture.
Results: It worked well enough that we intend to expand the number of ewes under this regime in 2013 (no barn space for it in 2012). Most serious problem was allowing ewes that conceived singles to get too fat (particularly a problem with Suffolk-sired single lambs, it was a "frame" Suffolk). In the future we will scan the ewes and feed singles differently than twins and triplets. Lambs grew fast (particularly those sired by Suffolk rams) and were sold at the peak of the market for high prices. Feeding lactating ewes on winter feed for so long was expensive but current lamb prices meant it was profitable. Switching to feeding baleage (higher TDN than hay) should help.
2. Apr. 1 - plus or minus 10 days.
100 wool ewes lambed indoors in an unheated barn. Lambed in group drop pens, jugged for 2-3 days post lambing, no creep, moved to pasture April 20 and lambs weaned at 85 days.
Less feed than group 1, but slower lamb growth (heat, parasites).
Now indoors on mix of soy hulls, pellets and corn. Hope to sell them in Oct.
This system works but it's high in labor at lambing time. Lamb growth always drops rapidly when our summer heat and humidity arrives so these lambs have taken longer to reach market weight.
3a. May 5 - plus or minus 20 days.
400 adult ewes (large % of hair genetics) lambed on pasture with no daily attention or care.
Very low labor at lambing time.
Minimal dystocia and mismothering (save for triplets).
Docking and castrating delayed until nearly all ewes had lambed.
Hypothermia due to a week of near freezing weather with rain and fog in late April killed many newborns.
We used ultrasound scans to divide into singles, twins and triplets so we could lamb them in separate groups.
As noted, excess mis-mothering losses occurred in ewes dropping triplets. Next year we will try to lamb triplets inside in drop pens and then jug each ewe/lamb for a few days. All lambs were weaned in July to separate them from internal parasite-laden pastures. Our big barns have proven to be excellent summer lamb-feeding locations. They're growing well but they will finish at below-industry average weights because their genetics are Romanov/Katahdin/Dorper/Border Leicester.
Next year, for the first time, we will expose these ewes to terminal sires Hamp (from ISU), Suffolk (from Bob Kimm) and Siremax. Any of them will increase finished weights and growth-but we're concerned that lamb survival % may be lower.
3b. May 5 - plus or minus 20 days.
200 ewe lambs (again Romanov/Dorper/Katahdin/Border Leicester) also lambed on pasture with minimal care.
Of these the 50 ewe lambs carrying twins were lambed separately and given ad lib access to soy hulls before, during and post lambing. Expensive but it worked—less lamb deaths, high growth rate, much better body condition on ewe lambs at weaning.
For lambing supplies
Best Wishes To You All,

Stan Potratz, Owner
NOW AVAILABLE
New! Poultry Products by BEC from Premier
We were recently asked by BEC, the manufacturer of a British range of gamebird/poultry products, to be their USA distributor. BEC designs include unique features that our field tests suggest will offer significant benefits to backyard poultry producers. To that end, we're pleased to offer their products.

See photos above of some of the products we are offering:

Click here to see all BEC products »
PREMIER TIP
Are cats chewing on your bucket teat units?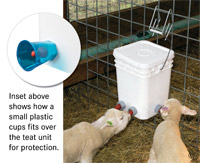 By Sara McArtor, Premier Sales Consultant

Take a small plastic cup (7 oz or more) and cut a 1.5" dia. hole in the bottom of the cup. Fit the cup over the bucket teat unit as shown. The cup will prevent the cat from chewing on the teat while allowing a lamb to feed. The cups that come with the buckets and bags of milk replacer work great as well, just make sure to keep one to measure the milk replacer.
VIP ARTICLE
Bonus Lambs on Self Feeders, A Producer's Perspective
By Marsha Spykerman
spyke@dishmail.com

In an ideal world all ewes would raise two or three lambs but since we know that is not always possible, we need to plan for bonus lambs. They can be the result of mis-mothering, bad udders, rejected, weak or chilled lambs, and improved genetics is yielding more triplets and quadruplets in our flocks. Slime grafting lambs or putting the ewe in a stanchion may work if the timing is right, but for ewes with no milk in half of the udder and/or three to four lambs, most of the time there is no other option than to raise them on lamb milk replacer.

Our experience has been that bonus lambs perform better on a self feeder than being hand fed. Consider what is natural for the lamb. Does it nurse on the ewe and consume eight ounces of milk three to four times a day and eat nothing from 8 p.m. to 8 a.m.? No, it nurses as often as it wants, or the ewe allows, and probably gets only a few ounces each time. Bottle lambs have a reputation for being poor-doers with a pot belly but our experience of feeding cold, free-choice lamb milk replacer has yielded lambs that are hard to distinguish from lambs that have been weaned from the ewes.

Free-choice lamb milk replacer should be fed cold so the lambs do not overeat. If you are lambing prior to April, keeping the milk cold in a bucket feeder is not an issue but it is a problem for those of us who have lambs on self feeders during warmer months. We have placed pop bottles full of frozen water in the buckets but depending on the weather that may or may not be enough. We raise 85 – 110 bonus lambs per year and have purchased an automatic milk machine that mixes only six ounces of milk at a time and will feed 60 or more lambs in a pen but, it is costly and a producer may not need a machine like this with fewer bonus lambs.

Another solution is to make self-feeders out of insulated coolers of all sizes, from one-half gallon to chest type coolers and use the frozen water in pop bottles when needed. The Premier Bucket Teat Unit works very nicely for this purpose and the unit can be placed at the bottom or top of the cooler. When placing the unit at the top we add a length of tubing, inserted into the unit, which reaches to the bottom of the cooler. The reason for the unit at the top is to extend the life of the nipples so, as they become softer, they don't drip. We have also had the occasional marauding cat that chewed the nipples and when on the bottom, the milk drains out.

To make the feeder you will need hole-saws that fit on your drill. Start by drilling the larger hole (2-1/8" minimum) through the outer layer, stopping when the point of the drill dents the inner plastic layer. With this cut be sure not to cut into the inner plastic layer of the cooler or your feeder will leak. Cut the foam insulation away with a knife and then cut the inner layer with exactly a 1-1/2" hole saw. The dent from the drill point gives you a center point for drilling the smaller hole through the inner layer of the cooler. Assembling the Premier Bucket Teat Unit using the Premier Bucket Teat Unit Wrench makes the process easier.

Successful rearing of bonus lambs depends upon much more than just keeping the milk cold in a self feeder. Adequate intake of colostrum is a must, whether from the ewe or a frozen supply. In our early years of raising bonus lambs we found it easy to use colostrum substitutes and lost several lambs to what we thought was bloat. It was an expensive lesson but we now know those lambs died from enterotoxemia due to inadequate intake of ewe colostrum. Losing a lamb to tetanus also makes one more diligent in making sure they receive good feedings of colostrum. Lambs need 2.5 - 3 oz per pound in the first 18 hours of life to receive antibodies that help protect from infectious organisms, enterotoxemia and tetanus. Vaccinating the ewe annually, about one to two months prior to the lambing date, for Clostridium perfringens type C & D and tetanus helps to insure that adequate protection is in the colostrum.

In our operation we choose to leave only two lambs on each ewe and since we have many sets of triplets and quadruplets we need to decide which lambs to take from the ewe. If the ewe has a good udder and adequate colostrum we leave all of the lambs on the ewe for two days to insure a good intake of colostrum. During those two days we determine which lamb will suck on a bottle, if any appears not to be getting enough to eat and if the ewe is rejecting any of the lambs. We like to leave similar size lambs on the ewe.

If the ewe does not have adequate colostrum and we must remove lambs soon after birth, we feed ewe colostrum from a frozen supply. We milk colostrum from ewes with singles and some ewes with twins and package eight ounces of this "liquid gold" in pint freezer bags. Thawing is easily done in a bucket of warm (not hot) water so we don't damage the antibodies.

Once lambs are removed from the ewe they are placed on a self feeder in a small elevated pen, which makes it easier to train lambs to the feeder. Some lambs will get on the feeder immediately and some will need a period of adjustment after being removed from the ewe. The self feeder has two nipples and many times the monkey-see, monkey-do principle works for these lambs. Depending on how quickly the lambs get on the feeder determines when they are moved to a larger pen and self feeder.

Creep feed and fresh water are available once in the larger pen. Alfalfa hay is offered in small quantities at about 10 days of age. We have fed both small pelleted creep and creep feed made with cracked corn, soybean meal, molasses etc. and have found that our lambs start eating the later creep more quickly. Since coccidiosis is a problem in our flock we have decoquinate added to our creep feed.

Bonus lambs are branded with their date of birth, are weaned at 28 days of age and have consumed on average three-fourths of a 25 pound bag of lamb milk replacer. Our lambs receive two or three C & D shots prior to weaning and one at 6 weeks of age. We are always watching for evidence of a lamb with early signs of enterotoxemia. Those can be: apparent stomach distress, lying on side and kicking at stomach and/or stretching hind legs and twisting when walking. When we see these signs we give one or two 250 mg terramycin caplets and if the symptoms are severe we will give C & D Antitoxin and one cc penicillin orally.

We have worked closely with our veterinarian over the years and would suggest that you consult your veterinarian to determine if any of the practices mentioned here would work in your operation.
ANNOUNCEMENT
Full-Time Positions Open at Premier
Wanted: Phone product advisor to answer customer questions about our farm and backyard products for a growing mail-order business @ 2031 300th St, Washington. Will also assemble products when it's slow. Essential skills: Pleasant voice; people skills, write e-mails. Normal benefits. Smoke-free firm. Apply by e-mail to bmcartor@premier1supplies.com

Wanted: One position open @ Premier (expanding agri-business), 2031 300th St, Washington. To perform product assembly, small motor repairs, general warehouse work. Essential skills: mechanical, to lift 40+ lbs, relate well with co-workers. Forklift and farm machinery skills preferred. Smoke-free firm. Normal benefits. Apply by e-mail to membree@premier1supplies.com
EMPLOYEE SPOTLIGHT
Sara McArtor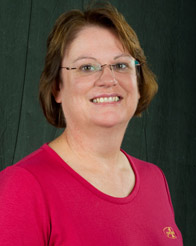 Sara McArtor is this month's featured employee. She is one of Premier's sales consultants and has been with us almost 7 years. Sara and her husband, Jim, live in Crawfordsville, IA. They have been married for 22 years and have 3 children (Brett – 21 attending Iowa State University for Ag Systems Technology, Brian – 19 attending Indian Hills College for Renewable Energy Technology and Brenda – 16 is a sophomore in high school).

What she likes best about her position at Premier is "talking to customers from all over the world and going to shows. I enjoy hearing about their farms and animals. What problems they have and what works for them. I also like passing along the advice I have received from customers. The fact that I can be honest with customers about whether I think a product is what they need or not is important to me."

Sara also enjoys testing the products. She thinks it is fun to see what new items are out there, what products work and don't work and why Premier likes them. She then uses that knowledge at home on her own farm and can also pass that information onto customers. Her boys (Brett and Brian) each spent a summer working for Premier as interns where, as Sara says, they gained great experience testing and using products that they wouldn't normally use on their farm.

Sara and Jim along with the kids maintain a 40 acre farm with 60 boer goats, 1 pony, 3 bottle calves, chickens, a dog named Jasper and farm cats. As a family they are involved in 4-H, showing goats and enjoy fishing. Sara also enjoys taking walks on nice days, watching her kids play sports and going to goat shows.

Her favorite statement is "Get-R-Done" because when you have something that needs done, don't put it off, just do it and do it right.

We enjoy Sara's positive attitude very much at Premier. She is bright and a quick learner and hope that she continues with us for a long time.