Goats On The Go is a local (Iowa) company that provides prescribed grazing services, with goats!
Aaron Swailes started working with Goats On The Go while attending an entrepreneurial course at Iowa State University, where he met the founder, Aaron Steele. The business started as an effort to control forage growth on Steele's small acreage and grew into a business. Word-of-mouth has been the only advertising (other than signs on the goat paddocks themselves.)
Before placing goats on site, Swailes will survey the piece to be grazed. Quantity and type of forage is assessed, as well as the landscape: sandy or rocky soil, trees, water gaps. All affect how the herd is deployed.
Mob grazing techniques are used—heavy pressure over a short duration. This encourages the herd to defoliate as much as possible, before their next move. The goal is to stress the non-native/undesirable plants to the point they simply don't grow back. The manure from the goats is beneficial to ungrazed grasses.
With targeted grazing, goats will be browsing areas not commonly grazed by sheep and cattle: woodlots, brush and browse. These are areas that deer inhabit, which means meningeal worm is a concern. This parasite is carried by deer without causing significant issues, but when introduced to sheep, goats and camelids, it can be fatal. Keep an eye on your flock and consult a veterinarian if you suspect meningeal worm.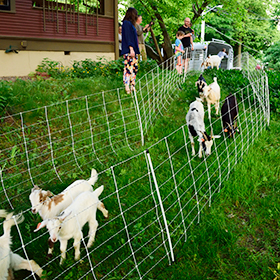 Offloading the herd onto a new site.
Swailes notes that the unique, spade-like shape of the goat's mouth allows them to avoid thorns. This enables the goats to get in close to plants that other animals would prefer to avoid. Honeysuckle falls to goats first, followed shortly by multiflora rose.
The majority of Goats On The Go's customers are trying to reclaim native species on their acreages (most grazed areas are covered in invasives). They want to avoid the use of herbicides and large equipment. So goats are a natural solution, plus the customers don't have to keep them once their land is clear.
Use goats in the following areas:
Parks, trails and recreation areas
Prairie restorations
Residential woodlots
Public facilities and right-of-way
Vacant and reserved land
Campus and business properties
Pastures
The largest issues the grazers face are city/municipal regulations regarding electric fence. If electric fence is not allowed, it makes it difficult to build a secure enclosure for grazing goats. Other concerns are "the smell" and goats biting people who come too close. The latter two concerns are from folks who lack goat experience (goat manure is relatively odorless in the pasture and goats are not biters).
If you're interested in starting your own targeted grazing operation, here are a few notes from Aaron Swailes:
Always test your fence before you leave them. (Goats always know when the fence is off.)
Communicate realistic expectations to customers. It may take several grazing periods to kill some plants.
Communicate with the neighbors about the goats (they're not biters), the risks of electric fence and the ultimate goal, which is to control invasives and promote native grasses.
If you have further questions regarding a goat grazing business, Goats On The Go offers a business consulting service for targeted grazing startups. Folks can choose from a series of training modules covering everything from basic herd management to detailed market analysis, including price-setting.