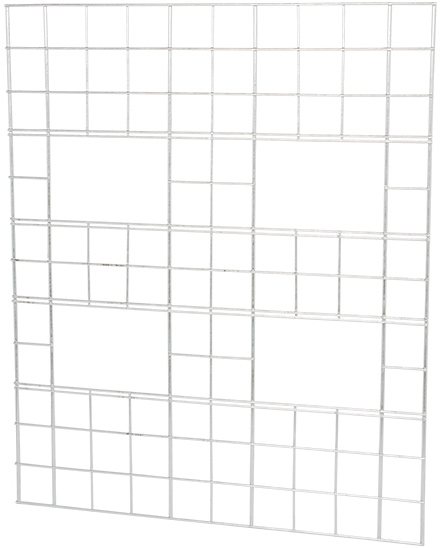 Panels are 40" wide and 48" tall. Each has four 8" x 12" feeding holes. Outer rods and 4 vertical internal rods are 3/8" dia. Other rods are 1/4" dia. Made from hot-dipped galvanized steel.



Note: Not for use with cattle, horses or horned animals.

During the winter months, we make heavy use of Big Bale Feeders on our farm. On occasion, we've noticed that large, heavy ewes could damage the panel, especially around the feeding holes. So we set out to improve the design by adding reinforcement rods around the feeding holes. The result is a stronger, more durable panel with the same "one mouthful at a time" feed-saving design.


Features:
(4) reinforced, double rod eating holes for pushy rams and ewes

Adapts to most round or square bale sizes­. (For small bales use 5 panels; large bales use 6 to 7 panels. Average of 40 ewes per 6 panel feeder is advised. See our website for more information.)

Folds flat—easy to store and move

Adult sheep can't get inside it

Ships FREE via ground service when ordering more than one panel. Most need 5–7 panels.
How does it pay for itself in 1 year?
Calculating the lost $$ due to wasted hay provides a picture of the value of a Big Bale Hay Feeder. Assume 40 ewes each eat 5 lbs of hay for 165 days. Assume hay costs $140/ton (7¢/lb).
| | | |
| --- | --- | --- |
| | Wastage % | Wasted Hay $$ |
| Big Bale Feeder | 10% | $231 |
| Other Feeders | 25% | $577 |
$346 difference

pays for a Premier feeder quickly!
★★★★★
Big Bale Feeders
Just set this up and with 30+ wind gusts today I can already appreciate how much easier it will make feeding round hay bales this winter. The panels are a lot heavier than I thought they would be... a plus. Delivery was super fast. Wish I'd started out with this feeder four years ago.

– Melissa S., Montana