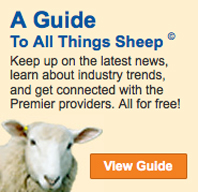 CREATIVE LAMB CUTS

Get to know your lamb It's important to know the different cuts of meat so you can prepare it for maximum flavor and tenderness. The American Lamb Board has a nifty chart identifying the various cuts.

Read Premier's
Farm Diary
Lamb face salad? Why not?
Interested in dining on unconventional cuts of lamb? Last October Joe, Premier's copywriter, took a trip to visit family in New York. He stopped by a local hotspot to try their highly praised Lamb Face Salad. His story of heat and never ending noodles unfolds here.


CHANCE TO WIN!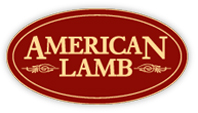 Provide Feedback on the Industry Roadmap for a Chance to Win a $500 Gift Card

Lamb Industry:
We need your help! Please review and provide feedback on the latest Strategic Industry Roadmap report. The Roadmap advisory committee, which is made up of representatives from all sectors of the lamb industry, has been working with The Hale Group over the past 9 months to identify and analyze the major challenges facing the American Lamb Industry to recommend the most effective solutions to those challenges, and to develop a strategy for the industry that will strengthen its short-term and long-term competitive advantage and return the industry to consistent profitability.

The four high level goals of the Industry Roadmap are:
| | |
| --- | --- |
| • | Product Characteristics - Reduce the fat content and improve the consistency of American Lamb products. |
| • | Demand Creation - Achieve a significant increase in demand for American Lamb meat. |
| • | Productivity Improvement - Achieve a significant increase in industry productivity. |
| • | Industry Collaboration - Work toward a common industry goal of meeting consumer desires rather than short-term self-interest. |

The presentation that describes the goals in more detail, along with the plan's objectives and action steps, is available now at lambcheckoff.com. We need your feedback! Please review the presentation and go to www.lambcheckoff.com to complete a short survey. Everyone that completes the survey will be entered to win one of two $500 gift cards. You are also encouraged to participate in one of two open industry calls with the American Lamb Board and The Hale Group to share feedback and ask questions. This will be the last time the industry is asked for input in the development of this roadmap to strengthen the lamb industry in the U.S.

There are two industry conference calls scheduled to discuss the Strategic Industry Roadmap:


Tuesday, October 15
at 11:00 am Eastern

Thursday, October 17
at 11:00 am Eastern

To confirm your participation and receive the call information, contact Megan Wortman megan@americanlambboard.org or 303/759-3001.


MOTHER EARTH NEWS FAIR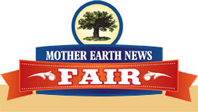 Visit us at
Mother Earth News Fair

Premier's booth #172
Lawrence, KS
October 12-13, 2013


2014 EQUIPMENT BOOKLET


New!
2014 Equipment Booklet
It includes, along with our standard products, the following new items:


| | |
| --- | --- |
| • | Sheep Bells: Wide choice of attractive designs that differ in tone, cost and size. |
| • | Barn Bells: High-quality brass cast bells with ornamental black metal hardware. Make your house or barn distinctive. |
| • | Qwik Tags and Applicator: Small, low-cost, temporary one-piece nylon tag for lambs and goat kids. |
| • | EZ CatchNet: Nifty way to catch lambs and kids that are too small to be caught with a crook. Also works for catching chickens, ducks and geese. |
| • | Cradle: An easy-to-use-and-wash lamb and kid carrier. Plastic ridges securely grip slick newborns. |
| • | Tooth File: Some ewes reject newborn lambs that have sharp teeth. A quick touch with a file means fewer orphans. |
| • | Large Braided Halters and Neck Ropes: For use on older animals. Same quality materials and construction as our other braided products. |

Didn't receive Premier's new 2014 "Equipment Booklet" in your mailbox?
If not, request a catalog, or visit our website to view all of our products.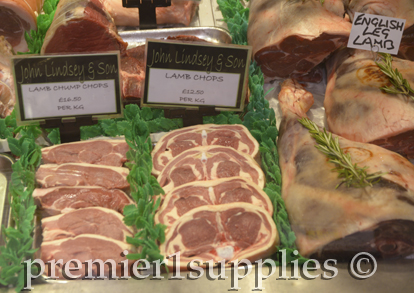 Photo taken of an Oxford butchers shop during Premier's July England/Wales coach tour. We were very impressed by the uniformity and muscling of British lamb. It's much better than it was 10, 20 and 30 years ago — and much more consistent than US lamb. Their lambs at slaughter are younger (4 - 8 months) and smaller (70-100 lbs live weight) than the majority of US lambs. A £ is worth $1.60 and a kg is 2.2 lb, so £12.50/kg is equal to $8.50/lb.

Ways to Make Lamb
More Desirable
(and thus More Valuable)

30 years of dining experiences, auction observations and lamb packing plant tours have convinced me that few meat products are as variable as US lamb.

At times US lamb is superior to any meat (lamb or otherwise) that I've ever eaten in any restaurant in any country (includes over 20 countries). But in many instances eating US lamb is one or more of these—


| | |
| --- | --- |
| • | Tough. |
| • | Flavor is "strange". |
| • | Fat. |
| • | Emits an unpleasant odor while cooking. |
| • | Has fat that's slimy in mouth (this can be reduced if the plate is warm and water at the table does not have ice in it). |
| • | Poor value for one of the most expensive choices on the menu. |

And when I talk to chefs and restaurant owners their most consistent response (after too expensive) is that US lamb is inconsistent—which confirms my personal experiences. I would like to refer readers to a series of short papers on lamb quality produced by Australian experts for their sheep industry. The papers can be found in the Sheep Guide on our website. The titles and links to the documents are shown below. I've highlighted key phrases and points in some of them. Beware that they're written in Aussie English. So you will have to mentally translate as you read re. the use of kg. instead lbs. (1 kg =2.2 lbs) and suckler lambs (weaned lambs) and carry-over lambs (feeder lambs), etc.

(This research was funded jointly by the Sheep CRC and Meat and Livestock Australia.)


My conclusion, after reading them, is this. The best lamb eating experiences appear to occur when the lamb is/has been:


1.
Young. Certainly less than 14 months of age and ideally less than 8 months old.
2.
On a high plane of nutrition throughout its life. If this is not practical it's very important that this be true for the last 2 - 3 weeks before slaughter. Meat from well-fed lambs is more juicy and tender (because muscle glycogen levels will be adequate).
3.
From genetics that predispose it to higher muscling and leanness per day of age. The right terminal sire is particularly important if the ewe's genetics are less than best in this regard.
4.
From early maturing genetics.
5.
Reared/fed to produce minimal "branched chain fatty acids" on the day of slaughter. Apparently the potential for mutton odor and flavors during cooking increases as the amount of branched chain fatty acids increases. To reduce this potential the Aussie experts suggest:


| | |
| --- | --- |
| • | Kill lambs at an earlier age (by using early maturing genetics). |
| • | Ensure the diet includes 20% roughage (not more the 80% grain) but not so much roughage that the nutrition level drops. So it's a balance. |
| • | Choose the right genetics. Australian research suggests some genetics result in higher branched chain fatty acids per day of age than others but it's not possible, yet, to know which US sheep genetics are or are not prone to this. A useful possibility for research? |

6.
Not stressed just prior to slaughter. Prime causes of stress for lambs are long hours of transport and limited access to water in auction holding yards. Regrettably the potential for this type of pre-slaughter stress is high in the USA due to the long hauls necessitated by the limited number of packing plants and likewise the long hauls many lambs experience to and from certain auction markets. It's possible that this explains a significant % of the less than wonderful lamb eating experiences—and also explains why locally-produced direct-marketed lamb is popular with consumers.

There are, of course, many other causes of lamb variability. It certainly doesn't help that the US national "flock", though very small in total sheep numbers compared to the other leading sheep nations, contains so many different breeds and that our production systems vary more than any other nation.

Best wishes to you all,

Stan Potratz



LAMB JAM FINALE, NEW YORK CITY

A lamb cook-off, what more could you want?

The American Lamb Jam tour traveled to Portland, Oregon, Boston, Washington, D.C., and San Francisco to find this year's Lamb Jam Master. Each locale chose one chef (out of 15 or more) to represent their city in the Lamb Jam finale. The winner would receive the honor of Best Lamb Chef in the United States.

This year's Lamb Jam series finale was hosted in New York City. Rachel Fishback, Premier photographer, attended to document the event for the American Lamb Board (event sponsor) and Premier. After a visit to Ground Zero and Times Square, Rachel walked into the Alewife, the event's venue, where she interviewed the chefs, spoke with judges and attendees and took photos while filming key points of the cook-off.

Event judges were Josh Ozersky, TIME magazine; Dana Bowen, Everyday with Rachel Ray; Karen Shimizu, SAVEUR Magazine; Bret Thorn, NRN; and Raquel Pelzel, Tasting Table.

Interviews with the four chefs who competed in the American Lamb Jam "Masters" Finale: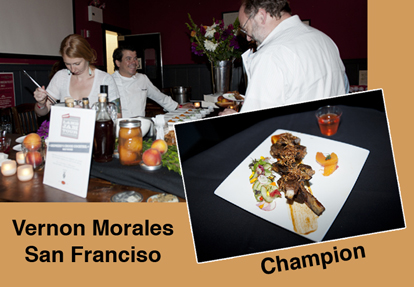 CHEF: Vernon Morales, Salt House, Champion
CITY: San Francisco
DISH: The Lamb and the Giant Peach-Vadouvan Spiced Lamb Riblets, Tamarind BBQ Sauce, White Peach Chutney, Lemon Cucumber & Radish Raita

Preferred cuts? Usually get the whole carcass, braised shoulder roast, leg of lamb, but really enjoy lamb neck. Beautiful, juicy, flavorful.
Grass or grain-fed, does it make a difference? McCormick Ranch grass-fed is wonderful.
What type of marbling is preferred, heavy or light? Medium.
Yank, Aussie or Kiwi lamb? Would prefer to use local, but also like the small Australian lamb.
Most difficult cut to cook? Maybe ribs?
How to do lamb well: Depends on the cut. Shoulder braise, roast rare, marinade.
Thoughts as to make lamb more accessible, removing fears folks have of cooking it? I think Lamb Jam is fabulous. Shows interest in the different cities. Have seen more and more cuts at local supermarkets, which makes it more accessible to the public.
What do your customers like about eating lamb? I always provide a variety using different cuts. Once a week I get a whole carcass.
What would you like to see happening in the lamb industry? More local product. Promote the farmers and ranchers, not so much the mass producers. Participated because I wanted to come to New York, and to promote the use of lamb. Participated last year, made it to the finale in California but did not win. Wished there was a bigger crowd like last year and more chefs.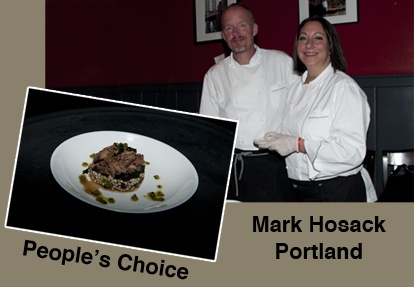 CHEF: Mark Hosack, Gracie's Dining, People's Choice Award
CITY: Portland, Oregon
DISH: Lamb Shank with IsraeI Couscous with Dried Fruit, Mint, Grilled Garlicky Greens Lamb Demi

Preferred cuts? Neck, Shank. I like fat content, multi muscle feature, flavor profile very forgiving to tenderness.
Grass or grain-fed, does it make a difference? I don't think I know the difference.
What type of marbling is preferred, heavy or light? Fat is flavor, the more the merrier!
Yank, Aussie or Kiwi lamb? American for sure. Overall the product I receive is treated very well.
Most difficult cut to cook? Rack.
How to do lamb well: Classic braising technique will always reward you.
Thoughts as to make lamb more accessible, removing fears folks have of cooking it? Maybe think of it like pork, when they started pitching it as "The other white meat." Lamb is much more approachable and able to use different garnishes, methods.
What do your customers like about eating lamb? Most "I had no idea, it doesn't taste like 'lamb'!"
What would you like to see happening in the lamb industry? Lamb Jam is a great start to promoting lamb. Channel some of the marketing with big shooters like Whole Foods, look into Feast of Portland, Food & Wine. Thanks for allowing me the opportunity to do this.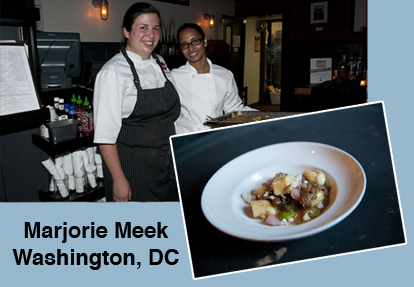 CHEF: Marjorie Meek-Bradley, Ripple
CITY: Washington, D.C.
DISH: Lamb Shank Ragu with Potato Gnocchi, Peas, Pickled Ramps and Garrotxa Goat Cheese

Preferred cuts? Leg of lamb: breaking it down nicely, very tender. Lamb ribs, loves to make sausage using it. "So umcious."
Grass or grain-fed, does it make a difference? Grass fed with grain finish
What type of marbling is preferred, heavy or light? A little is good.
Yank, Aussie or Kiwi lamb? Definitely American and locally oriented (from Virginia).
Most difficult cut to cook? People seem to have a difficult time with ribs and belly. Enjoy using everything.
How to do lamb well: Know which cut you are working with. Cook with herbs, holds up well. Don't over cook it. Slow and low or fast and hot.
Thoughts as to make lamb more accessible, removing fears folks have of cooking it? Selling cuts on the market that are under-utilized. Teach people. Price is also a turnoff.
What do your customers like about eating lamb? That it is always on the menu. Always changing the dishes and uniqueness.
What would you like to see happening in the lamb industry? Making it more accessible. To me it's a given, but not the usual to the general public. Educate.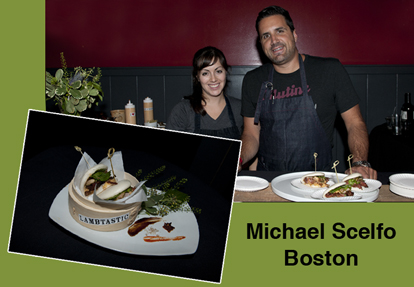 CHEF: Michael Scelfo, Alden and Harlow
CITY: Boston
DISH: Smoked and Braised Lamb Belly on a Steamed Bun with Pickled Radishes & Herb Salad

Preferred cuts? Breast and shoulder with fat content, tougher cuts, but great flavor.
Grass or grain-fed, does it make a difference? Grass fed.
What type of marbling is preferred, heavy or light? Nice medium.
Yank, Aussie or Kiwi lamb? American.
Most difficult cut to cook? Neck or the shoulder.
How to do lamb well: Season it very aggressively.
Thoughts as to make lamb more accessible, removing fears folks have of cooking it? Haven't encountered a lot of that, NE does well with lamb, customers use it, grew up on it.
What do your customers like about eating lamb? Enjoy the bold flavor!


Want to see video footage from the American Lamb Jam Finale?
Rachel, Premier photographer
(and now videographer), was on the scene to catch all the excitement of this year's Lamb Jam Finale.
View the American Lamb Jam NYC Tour program and sponsors.

See more photos from the American Lamb Jam NYC Tour on our "Guide".
SHEEP TOUR GROUP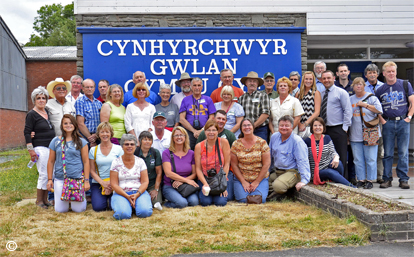 Group photo taken by A. Richard Cobb outside the Brecon Wool Center.

Premier Sheep Tour Group Visits England and Wales

After a two-year hiatus, Premier relaunched its overseas Sheep Tour program, this time visiting jolly ol' England and Wales in July of 2013.

Thirty-five sheep producers from across the United States ventured overseas to explore England and Wales and the sheep industries therein and to have some fun along the way.

The tour began in London, where our red-eyed travelers congregated and explored the historic city. Londoners (and sympathizers worldwide) were on major "baby watch," as the Royal Baby was due any day. Our group avoided the frenzy and managed to leave London just before the Prince was born. Some of our folks came home with souvenir newspapers from the historic day.

As our group traveled the English countryside, an abundance of quaint villages, rock walls and sheep dotted the landscape. It was quintessentially English, except for the weather. Britain's notoriously mild summer was nowhere to be seen, and the hot sun poured down on all things great and small. Air conditioning is somewhat uncommon in English hotels, restaurants and pubs, so our group was left to sweat it out (literally) for several days and nights.

Read More »