MESSAGE FROM THE OWNER
A Midwest Commercial Lamb Group (CLG) - An Idea Whose Time Has Come?
The reasons for it:

There's never been a better time to expand lamb meat production in the USA than right now. Why?
Lamb prices are at record levels and should remain high because the US dollar will remain weak for years. So efficient lamb production is profitable.
Lamb imports (that account for 50% of US supply) are unlikely to grow due to a weak US $. So US prices will remain at profitable levels.
Unlike other livestock industries USA lamb producers have made minimal use of superior technology, genetics and efficient production systems. That needs to change. A community of folks with common issues and goals can do things that a single person can't or will not. Hence a CLG?

Because existing sheep associations must appeal to the full range of sheep producers (show, fiber, hobby, stud and commercial lamb). This prevents them from focusing intensely upon the needs of any one segment.

Because the show, stud and fiber folks already have annual regional events (Maryland, Reinbeck, Michigan, Big E, Sedalia, Louisville, State Fairs, county fairs) that allow them to exchange ideas, products, and genetics while building personal relationships relevant to their needs. The "commercial lamb" folks have no such event. As a result their farming world is more "lonely" than that of the pig, beef, dairy and grain farmers around them. That leaves them vulnerable to erosive doubts from spouses, relatives and neighbors and bankers. As a result they've been less willing to invest in the systems that would make them more efficient and profitable. (The exception is the commercial lamb folks near Pipestone, MN who, under the umbrella of the SW Minnesota Tech. College, have met regularly for decades.)

Who might wish to be involved in a CLG (a name likely to change)?

Existing commercial producers wishing to expand but not sure how best to do it and where best to market their lambs.

Non-sheep farmers looking for a profitable use of pasture land.

Stud flock producers wishing to sell ewes, rams and terminal sires to commercial producers.

What might a CLG do?

Hold a two-day event each year (different location each time?). Attendees might:

Listen to and question invited experts on genetics, marketing, technology that works (and that which does not) and efficient feed/animal handling systems.
Exchange animals--ideally with known EPD/EBV's.
Meet lamb buyers. They're likely to come anywhere that offers a critical mass of serious lamb producers.
Build social relationships with other attendees and thereby leave with a stronger sense of "I'm no longer alone."
Consider co-operative marketing of lambs.

Provide direct access via phone and email to sheep nutrition and health experts.

Tour nearby commercial operations.

Participate in monthly conference calls among CLG members--each one on separate topic.

Organize webinars on subjects of value to the members.

What region will it cover?

It might include several "Corn-Belt" states. We share high value productive soil, ready access to grain and grain by-products, harsh winters and humid summers.

Who would fund such an organization?

Members via dues. Contributions will be sought from firms and associations with an interest in expanding commercial lamb production in the USA (lamb buyers, Premier, etc.) and other sheep associations. The annual 2-day event would be open to non-members.

If you like the idea, what might you do to help make it occur?

A CLG (or similar) is still in the "birth stage." A few folks in Iowa, Nebraska and Minnesota are currently involved in the initial discussions. If this idea also interests you write to me. Include any comments that you might wish. I'll forward your interest to the others.
Best wishes to you all,
Stan Potratz, Owner
COMING SOON
2011 Equipment That Works Catalog
Start watching your mailboxes for Premier's 2011 Equipment Catalog. This year, in addition to our popular products that have pleased both Premier and our customers for years, we're offering our new line of poultry products, guard dog supplies and ear tags for cattle. Watch for Premier's special offers and featured products for excellent deals.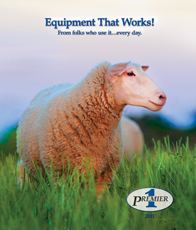 PREMIER TIP
Quick Tips for Energizers
Ant Problems
Sprinkle the bottom of the energizer with ant dust (such as Terro). Do not sprinkle dust on the circuit board, because dust can retain moisture and damage/corrode the circuit board.
Testing An Energizer
Disconnect the fence and ground rod wires from the energizer's terminals. Use a fence tester to test charge. Touch the ground rod probe to the ground rod terminal of the tester. Touch the tester's clip to the fence terminal. The following reading will tell you the status of your energizer.
If the energizer is faulty and you're using the Patriot P10 as a 110-volt plug-in unit:

Check that the 110v outlet is "live" by using a plug-in drill or test light. If the test light works and the energizer does not, call Premier about repairs.
If the energizer is faulty and you are using the Patriot P10 as a battery unit, you need to find out if the problem is with the battery or the energizer:

If it's a 12-volt energizer, carry the unit to a nearby vehicle and attach the input cords carefully to the vehicle's battery.
If the energizer now works, then your energizer's battery needs to be recharged or replaced.
If the energizer does not work, then you should call Premier about repairs.
Testing the Ground Rod:
Set up the energizer and fence. To test the ground with a fence tester (a digital one works best), insert energizer's ground probe into the soil and touch the fence tester to the ground rod. You will need more ground rod if the reading is more than 300 volts.
Fuse:
If your energizer has a fuse and is not working, check the fuse to make sure it's functioning. Replace the fuse if it's broken.
How to store a solar energizer for the winter:
Store the energizer at room temperature.
Fully charge the battery prior to storage.
Clear any dust/debris from the solar panel.
Turn off the energizer by pressing the button on the side of the unit.
PRS Unit Tips for Winter
Winter will be arriving soon and that means that the main grazing season for most of us will be at an end. For those of us using PRS units, this means we'll be putting them away for winter, and those lucky enough to keep using them will have to modify their usage.
If you're not using your PRS unit during the winter, follow these tips to preserve battery life:
Turn off the unit. Disconnecting the unit from the fence is not sufficient, because the unit will still pulse unless it's turned off.
Clean off the solar panel. Dust and debris may have accumulated during use, preventing the panel from maximum electrical production.
Before the unit goes into storage, fully charge the unit. This will allow the battery to be topped off. Batteries that are charged 50% or less may become damaged in freezing temperatures.
If possible, place the unit in a sunny area to allow the solar panel to continuously top-off the battery. The battery will lose charge over time even if the unit is disconnected from the fence and turned off.
By Sara McArtor, Premier Sales Consultant
SHEEP TOUR
Ireland
This September, my husband Don and I participated in a 10-day sheep tour of Ireland, sponsored by Premier One Supplies. I cannot say enough about the beauty of the country, the warmth of the people and of course the cuisine (butter is one of Ireland's main exports). Our trip took us along the northern part of Ireland, starting in Shannon/Limerick, through Belfast and ending in Dublin. It's hilly, rocky country where sheep and cattle graze in stiff winds almost right into the Atlantic Ocean.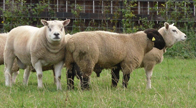 Meaty (and high dollar) Texel (white face) and Suffolk (black face) stud rams in Ireland.
American lamb: meatless wonders? The first thing that hit us was how different their sheep look. Some on the tour wondered if the American Suffolk has become a "meatless wonder" by comparison. Irish meat breeds have long bodies, but are wider and have shorter legs. Irish livestock shows and sales do not reward a tall, tubular lamb but rather a low, meaty lamb. We visited a sheep exhibit at the National Ploughing Championships, a massive livestock show, and all of the sheep breeds exhibited were shorter and stockier than their American cousins.
Safe and clean flocks. Then we asked, "Where is the hay, where are the sheds, where are the LGDs and why the heck are these sheep so clean?" Irish sheep live on thick grass paddocks with centuries-old low stone fences, reinforced with electric or high tensile fencing, with no shelter. There is no mud, brush or hay (unless absolutely necessary) to sully their fleeces, so the sheep look postcard perfect. It amazed me that they exist on a diet with no "scratch factor" in the form of hay or brush. Although we noticed a few poopy bottoms (they dock tails long, if at all), their systems are used to a completely grass-fed diet thanks to up to 10 feet of rain annually. Cattle are kept in the same manner.
During lambing season, the ewes come into nice, well-ventilated lambing barns with slatted concrete floors, where they eat hay or silage made of corn or hay. Because of the wet weather, harvesting and keeping dry hay as we do is extremely difficult, so hay is fed only when absolutely necessary. The farms store silage in large black plastic rolls next to the barn.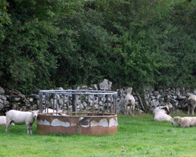 Typical "dry" stone fencing (no mortar), with hedge or trees. These are Charollais or Charollais cross.
Ireland has no predators other than the fox, which only bother the smallest lambs, and domestic dogs. There are no coyotes, wolves or cats, which is why the fences are so low. We saw no livestock guardian dogs, llamas or donkeys out with the sheep.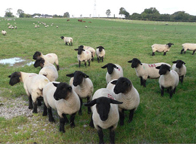 Suffolk lambs in Ireland
Calves and lambs go to market with all their bits. The growers prefer not to castrate because the animals grow more quickly. We were very surprised to learn that intact animals are the norm, and therefore processors don't assess a penalty and consumers accept the taste. Lambs are typically processed for a 50 lb. carcass, and the largest export market for Irish lamb is France.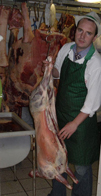 An Irish lamb carcass weighing about 50 lbs.
Speaking of meat: While on a "comfort break," we stumbled upon an old-fashioned butcher shop. The butcher generously invited us in to take photos and answered our questions. I guess he went home that night and told his family that a tour bus full of Americans invaded his shop.
Wool is just an inconvenience. The farmers told us that the price they get for wool pays for the cost of removing it and no more. Indeed, all the displays we saw at the fair promoted meat rather than wool quality. We saw no hair sheep, presumably due to the climate. We saw a couple of goats on the trip -- they are becoming popular for dairy -- but goats, llamas and alpacas are a minority.
The mighty mountain sheep. In the part of Ireland we visited, the industry is composed of hill sheep and lowland sheep. The little hardy hill sheep are called Scottish Blackface or Mountain Blackface. They live where grass is relatively poor and navigate steep hills much like our native desert sheep do. While humans find their damp and windy habitat extremely uncomfortable (are there any pictures of me from this trip where my face is not obscured by a hood and scarf?), the sheep get wet only down to about 1 inch of their fleece. Dogs bring them down to the lambing paddocks in early spring, where they lamb on average only about .9 to 1 lamb per ewe.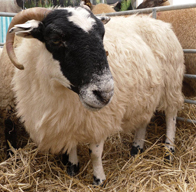 A Scottish or Mountain Blackface mixed with Suffolk
Farmers may cross Blackface ewes with Suffolk or Bluefaced Leicester rams and keep these ewes in the low areas where the grass is better. Lowland ewes and their progeny (Scotch Blackface + Blue Leicester is called a Scotch Mule sheep) have more twins than the mountain ewes do. The Bluefaced Leicester is a striking animal and one of the few breeds we saw with long legs similar to American breeds.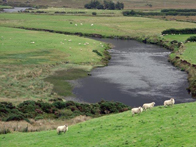 Sheep Research Station, representing rough terrain.
Texel$! A Texel ram in Scotland broke the record (over $300K USD) for the most expensive sheep ever sold. We didn't get to see him, but we did see some Texel rams that fetched thousands of dollars.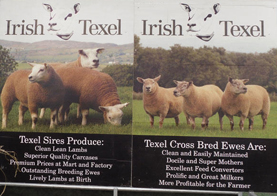 Display at the Irish Texel booth
The Texel is popular both for bloodstock and for crossing into other breeds to increase profitability. They are meaty, solid and broad.
As since biblical times, shepherding is a tough way to make a living.
A sheep research station shared detailed financial records with us, and it was apparent that in spite of the 10 months or more a year of free grass, without government subsidy, farmers selling lamb solely as a commodity lose money on every ewe. Most of the farms we visited kept 150 to 300-ish ewes (several also kept cattle). Prices are dominated by a few large buyers. As a result, some breeders have been relying on selling breeding stock to make a living (or have other jobs in town). Even though agriculture has a much higher profile in Ireland than in America, it's difficult to get young people started because the cost of land is so high and profits so low. Farm acreage is as pricey as our suburban land in Texas.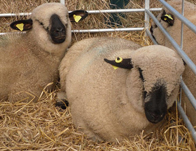 Hampshire Downs in Ireland
To encourage land conservation, the government recently changed the subsidy to be acreage-based instead of per-head-based. The subsidy change, combined with a trend toward keeping more profitable dairy cattle, has caused the number of sheep in Ireland to plummet. However, lamb prices are up because the supply is in better balance with demand.
While we envied the Irish shepherds' freedom from predators and bounty of green grass, the Irish envy the freedom from governmental interference that American farmers enjoy. Because of fears of a major disease outbreak, farmers are struggling with strict reporting requirements. If a sheep dies, the farmer may not bury it or drag it out to the bone pile. A vet must be called and a death certificate issued, then the farmer must pay about $75 to have the carcass disposed of. A farmer who cannot account for all of his stock will be penalized. Also, new electronic tags are required and these are adding complexity and causing some ear infections.
In Ireland, grass-fed meat is not just a trend, it's been way of life for centuries. We chose Southdowns for our farm in the first place because they get fat on grass, but I didn't realize how poor our soil was when we got the sheep. Reducing numbers and dividing the pasture has helped us reduce our reliance on outside feed sources, but we have a long way to go. Southdowns are made for challenging environments, and while our weather and soil will never allow us to manage our sheep like the Irish do, I have returned from our trip inspired to do better.
Laura and Don Dapkus keep a hobby flock of American Southdown sheep north of Dallas, Texas. Their flock is online at dapkussouthdowns.com.
EMPLOYEE SPOTLIGHT
Rob Malloy
Rob Malloy is Premier's featured employee this month. He has been working at Premier since June as our Product Quality Control manager, also helping to package large shipments that we send out and checking in and organizing shipments of incoming product. Rob says he likes the challenges of identifying potential problems and coming up with solutions. His favorite thing about Premier is the family atmosphere that makes working here less stressful than most other places.
Rob lives in nearby Wayland with daughters Kylea, 13, Katie, 11, and Braelyn, 6, and the family's 3-year-old boxer, Max. The girls are involved in a variety of extracurricular activities including band, chorus, softball, basketball, volleyball and soccer that keep all of them busy most of the year. He is a devoted Dallas Cowboys fan and enjoys getting together with friends and family on Sundays to watch football.
Rob says his favorite statement is "Just keep swimming" from the movie, Finding Nemo. "No matter how tough things seem to get or how lost you seem to be, just keep swimming and eventually you'll get there," he adds.