GUARD YOUR COMPOST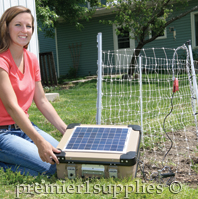 VersaNet™ 30 in use around the outside of a garden, energized with a PRS solar energizer. VersaNet is a useful net around compost piles and gardens because it's low enough to step over—plus the spacings are tight enough to stop most ground-based pests.

Fencing compost
with VersaNet™
Sometimes our compost piles become a little too tempting for local pests and varmints. To protect piles from being spread over the lawn or garden before you're ready, set up a roll of VersaNet™ to keep them safe.

To ensure that raccoons, opossums and neighborhood dogs are stopped in their tracks, properly electrify the netting with a suitable energizer. If your compost pile is near a building with electricity, use a plug-in energizer and a length of insulated wire to connect it to the netting. For compost locations away from a source of electricity, use a solar energizer (pictured above).


BIRD FEEDERS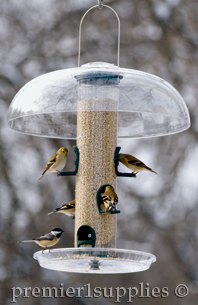 Premier's preferred
bird feeder
We've used Aspects feeders for 20 years. Aspects work well, last for years and their designs are, as with Droll Yankees, always improving. Lifetime guarantee. All tube feeders we offer have snap-on bases that remove easily and rapidly.

Quick-Clean Big Tube with cardinal perch
If we were limited to a single feeder, this would be it. Why?
| | |
| --- | --- |
| • | All birds can use it (including finches). |
| • | "Cardinal" perch design makes it even better for cardinals, jays, grosbeaks and woodpeckers. |
| • | Handles nearly all seeds without waste (except nyjer). |
| • | High capacity (3.3 qt) means much less time refilling. |
| • | 6 feeding ports. |
| • | 18 in. diameter dome offers maximum protection. |
| • | 12 in. tray offers more access for large birds and less waste. |
| • | Very easy to fill (4 in. diameter tube) so less risk of spills. |
| • | Green die-cast metal components. |
Also available:
Platform feeders
Red Feeder
Suet Feeder
Accessories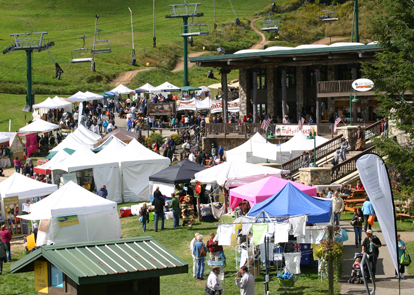 A variety of exhibits for all ages were available at the Mother Earth News Fair. Photos were graciously provided by Mother Earth News.
Premier attends
Mother Earth News Fair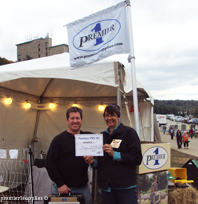 At each of the fairs, Steph gave away a PRS energizer to a lucky winner, which brightened up the rainy fall weather.

Last month we sent Stephanie (Premier's Product Manager) to attend the Mother Earth News Fairs in Seven Springs, PA and Lawrence, KS. Premier joined over 300 exhibitors for the 15,000 folks in attendance over a 3-day weekend. She held down a booth through wind and rain and answered questions ranging from preserving garden produce to poultry-raising basics. The fairs' 200 workshops provided information about a variety of DIY (Do-It-Yourself) projects, renewable energy and modern homesteading.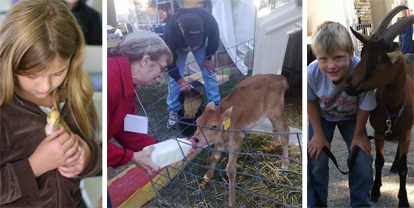 Composting for next year's garden
We've noticed a slight chill in the air the last few weeks plus a little frost now and then. This signals the end of the gardening season for most of us, but we're already thinking about next year—compost piles. Below is an article on building different types of compost piles to fit just about everyone's needs.
Winter songbird feeding
Winter brings a plethora of bird varieties to your backyard. The Minnesota and Washington Departments of Wildlife have provided a list of tips for winter bird feeding that will help you feed and identify any birds that stop by.



EXTENSION NEWS

Building Your Compost Pile
By University of Illinois Extension

What are we really doing?
Put a pile of leaves, a cardboard box and a watermelon in your backyard, exposed to the elements, and they will eventually decompose. How long each takes to break down depends on a number of factors:

| | |
| --- | --- |
| • | What are the materials made of |
| • | How much surface area is exposed |
| • | The availability of moisture and air |

Backyard composting is a process designed to speed up the breakdown or decomposing of organic materials. Let's take a closer look at how we manipulate the process and speed things up.

We insure the makeup of the material is a mixture that bacteria and other microorganisms can easily feed upon, breaking them down into compost. A proper C:N ratio is the goal. Carbon in fallen leaves or woodier wastes serve as an energy source. Nitrogen in the greener materials provides microbes with the raw element of proteins to build their bodies.

Read More »


DEPT OF FISH & WILDLIFE

Winter Bird Feeding

Winter can be a difficult time for wildlife. Most wild birds rely primarily on wild food sources for their survival. However, many species come to feeders to supplement their wild diet, especially during severe and extreme weather.

Some of the hardships wildlife faces today come from changes in habitat brought about by human activities. Cities and towns have removed trees and shrubs where wildlife used to find food and shelter. These changes have made survival more difficult for many birds. Although feeders can benefit individuals during weather extremes, they do not usually affect population numbers of birds. Nor can supplemental feeding compensate for the loss of habitat.

But a feeding program at home, school, a hospital, or retirement home can add to personal enjoyment and sense of well-being, and foster an appreciation for nature and learning. You can also participate in feeder research (see Project FeederWatch).

This pamphlet describes ways to feed birds, avoid problems, and enhance your enjoyment of some of Washington's most beautiful creatures.

Read More »

DEPT OF NATURAL RESOURCES

Winter bird feeding tips

Winter is the time to change the composition of bird foods offered and perhaps the arrangement of your feeders. This will aid in the birds' survival, as well as increase your viewing enjoyment in the snowy months ahead.

Permanent residents, such as chickadees and cardinals, are dependable every year. Some winter visitors are birds of boreal regions. Their feeding patterns are unpredictable and tend to be cyclic. Numbers can peak at three to four or nine to ten year intervals, or they can be "irruptive," meaning periodic appearances of unusually high numbers.

If seeds are in short supply, some species, such as Red-breasted nuthatches, Common and Hoary redpolls, Pine siskins, Red and White-winged crossbills, and Pine grosbeaks, may wander far from their normal ranges in search of food.

Read More »