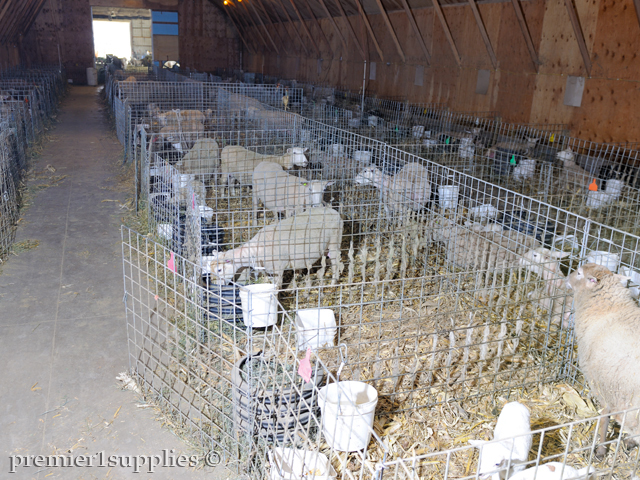 An Invitation to Sheep Field Day at Premier
Organized by Iowa State University
January 10, 2015 (Saturday)
10 a.m. to 4 p.m.
Speakers at the event
Dr. Kreg Leymaster (US-Meat Animal Research Center)
Dr. Dan Morrical (ISU)
Stan Potratz (Premier)
Jean Potratz (Premier)
---
Topics:
Leymaster
| | |
| --- | --- |
| • | Results from extensive easy-care production system trials at MARC (Meat Animal Research Center) in Nebraska. |
| • | Suitability of primary sheep breeds for lamb production (pure or crossbred). |
| • | New understanding of the cause and spread of OPP (ovine progressive pneumonia). |
Morrical
| | |
| --- | --- |
| • | Key inputs to maximize baby lamb survival. |
| • | Using technology to breed better sheep (inclusive of EBV, NSIP, Lamb Plan). |
S. Potratz
| | |
| --- | --- |
| • | Summary of 2014 lambing at Premier: 900 ewes (hair and wool) indoors without drop pens from December through May; and 270 hair ewes on grass in October. |
J. Potratz
| | |
| --- | --- |
| • | Guard dogs at Premier (we have 8); our understanding (latest adventures). |
Speakers will be available for a Q & A panel after the talks.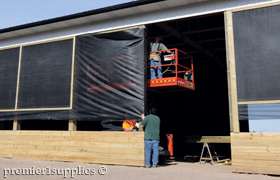 Galebreaker being installed on Premier's Feeding/Wintering barn. Guided tours of Premier's heated lambing area (lambing will be in progress only 40 ft from Premier's business) and new (2013) barn for feeding out and over-wintering ewes.
Event Tours
| | |
| --- | --- |
| • | Premier's unusual indoor lambing setup. |
| • | Feeding baleage, soyhulls, DDGS, pellets to our ewes and lambs. |
| • | Galebreaker for barn sidewalls and windows. |
Don't miss out on the opportunity to visit Premier and learn all that you can about sheep!
RSVP today for guaranteed seating.
Contact Joe Putnam or Cheyenne Miller
or call us at 800-282-6631.

$15 registration fee to be paid at the door. Lunch is included. 10% discount on all products purchased and picked up that day (pre-orders encouraged). Some may incur Iowa 7% sales tax.
A little about the speakers
Dr. Kreg Leymaster

US-Meat Animal Research Center

Kreg Leymaster is a native of Iowa and earned degrees from Iowa State University, University of Kentucky, and Ohio State University. He joined USDA, ARS at the U.S. Meat Animal Research Center in 1978 and has led sheep and swine genetic research. Dr. Leymaster uses quantitative and genomic methods in large scale experiments to estimate genetic effects on key traits affecting life-cycle production. The objectives of current projects are 1) to reduce the prevalence of ovine progressive pneumonia by developing selection guidelines based on genetic testing; and 2) to estimate effects of three maternal lines and two mating systems on ewe productivity through four parities in a pasture-lambing, low-input production system.
Dr. Dan Morrical

Iowa State University

Dan Morrical joined the Iowa State University staff in 1984 as Extension Sheep Specialist after completing his doctorate degree at New Mexico State University. He holds the rank of Full Professor as of July 1, 1995.

At Iowa State University, Dr. Morrical has been responsible for educational programs in all areas of sheep production, ranging from wool, genetics, nutrition and marketing. In addition, he has been the principal researcher with the sheep flock at the McNay Research Farm in Chariton, IA. Research areas have focused on applied research in the areas of nutrition, forage utilization, genetics, out-of-season breeding and lamb survival. He currently serves as Iowa State University representative to NCERA 214 Project Increasing the Efficiency of Sheep Production.

Dr. Morrical has been heavily involved as co-director of the National Sheep Improvement Program. This program offers all sheep producers in the United States an opportunity to increase their profitability and competitiveness by identifying and selecting genetically superior individuals in their flocks.
Stan and Jean Potratz

Premier

Premier Sheep Supply is co-owned by Stan and Jean Potratz. Stan founded the company after returning to Iowa 37 years ago from England, where he was a farm manager and college lecturer. Premier now includes three small farms (about 400 acres total) with 500+ commercial ewes, 20 Boer goats, one horse, 2 small poultry flocks, 40 domestic waterfowl on 14 ponds, and 8 livestock guardian dogs. The farms and animals allow Premier to field-test and evaluate new and current products.
Hours (All times CST)
Mon - Fri: 7am - 5:30pm
Sat: 8am - noon (Closed October - February)
Sun: Closed

Phone
800-282-6631 or 319-653-7622

Fax
800-346-7992 or 319-653-6304



Copyright 2014 Premier1Supplies
2031 300th Street, Washington, Iowa 52353
Contact Us