GARDEN FENCES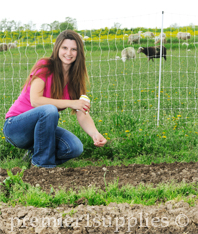 PoultryNet™ 12/48/3 protecting Premier's garden from grazing sheep, local wildlife and errant chickens.

Though winter is just a few days away, that means spring is just around the corner and with that gardens. Make sure you're ready to guard against garden predators. We prefer to use netting around the perimeter of our garden. If you have chickens free ranging in your yard, PoultryNet is best. VersaNet and VersaNet plus do well against low to the ground pests. For deer, 3-D Deer Fences or Deer QuikFence™ are excellent deterrents.

1. Netting options:

Our netting is able to stop a wide array of animals and poultry. Fast and simple to install. 500 ft can be installed in less than an hour. Needs no tools, strength or skills. Use a suitable energizer to overcome potential weed growth.

Not sure what energizer you need? See our energizer comparison chart.

Need to simplify your net & energizer purchasing decision? See our netting kits and energizer kits.

2. Multi-strand fences:

| | |
| --- | --- |
| • | Much lower cost per ft (as low as 10¢ per ft), which makes it attractive for long fences. The cost varies according to the number and type of strands, spacing, type of posts, etc. |
| • | Can be as effective as netting for certain species (e.g. raccoons, woodchucks, wild pigs). |
| • | Less prone to problems with growing weeds if left in place for many weeks. |
| • | More prone to installation errors. |

View all of our Fences for Gardens/Wildlife

Note: Check local ordinances before installing any electric fence.


IOWA SEED SUPPLIERS

The links below are to two Iowa-based seed suppliers specializing in Heritage and Organic seeds. Several Premier employees have ordered seeds from both companies and had excellent crops. With their recommendation, we're providing links to these seed suppliers.

Seed Savers Exchange
Seed Savers Exchange is a non-profit organization dedicated to saving and sharing heirloom seeds. Since 1975, our members have been passing on our garden heritage by collecting and distributing thousands of samples of rare garden seeds to other gardeners.

Sand Hill Preservation Center
Our primary mission is the preservation of our genetic resources. It is so difficult to find the time and resources to do that properly that we need to set limits on what we can do and then do it right. You will notice that periodically we have to change our plans and do things a little differently. For example, this season we will again be producing all of our sweet potato plants in the field. This means a stronger healthier plant for the customer and this gives us more greenhouse space to start other things. However, this means no plants earlier than late May.

For those of you more than a few miles away from Iowa, a quick online search should provide seed sources that are more local in terms of regions and climates zones.


NEW PRODUCT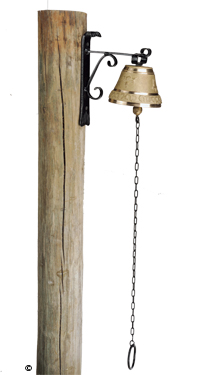 New! Barn Bell
Make your house or barn truly unique with these high-quality brass cast bells and ornamental black metal hardware. Useful for letting the folks and flocks (2 or 4 legged) know when dinner is ready. The photo above doesn't do it justice.

Two sizes available:

| | |
| --- | --- |
| • | Large (4-1/2" W, 3-1/10" H) |
| • | Small (4" W, 3" H) |


Just a few of the seeds we plan to sow this spring. Adrian, Premier's gardener/shepherd, surveyed the staff for garden ideas. Some of the results are in the photo above.




Looking Forward To Spring

Cold air has moved in and it's here to stay for the time being. It's not quite January cold, but it's cold enough to make us appreciate the 40° weather we had here in southeast Iowa only a few weeks ago.

For now we'll look onward to spring with the warmth and growth it brings. This mostly involves pouring over seed catalogs, deciding what we would like in our individual gardens as well as Premier's garden for next spring. Several enterprising folks have already taken action and provided Adrian (Premier's gardener/shepherd) with a selection of seeds for Premier's garden.

If you're like us and can't wait to get back to the garden, you might be interested in the following article by Diane Ott Whealy of Seed Savers Exchange. She provides a few ins and outs of picking seeds for the next growing season.

Interested in our past Garden Newsletters, click here?




EXTENSION NEWS

Building and Using Hotbeds
and Coldframes
By Denny Schrock, Department of Horticulture
Copyright 1993 to 2013 University of Missouri. Published by MU Extension, all rights reserved.

A coldframe is a protected plant bed. It has no artificial heat added. The temperature difference between the inside and outside of the frame is generally not more than 5 to 10 degrees. A mat or blanket may be placed over the frame on cold nights to conserve heat, but this increases temperature by only a few degrees. There are times, however, when a few degrees can be very important.

A coldframe is used to provide shelter for tender perennials, to "harden off" seedling plants or to start cold-tolerant plants such as pansies, cabbage or lettuce earlier than they can be started in open soil. It may also be used to overwinter summer-rooted cuttings of woody plants.

A hotbed basically is a heated coldframe. In many ways it is a miniature greenhouse, providing the same benefits with limited space at minimal expense. It is a means for extending the growing season. It is most often used to give an early start to warm-season vegetables such as tomato, pepper or melon. It may also be used to root cuttings of some woody plants.

Location
Hotbeds and coldframes should have a southern exposure to receive the maximum amount of sunlight. To reduce the cost of heating, use a north or northwest windbreak. This may be provided by a building, bales of hay or straw, tight board fence or evergreen hedge. Bundles or bales of straw could be used on the north for temporary windbreak.

Note - Windbreaks should not shade the bed.

The site should have good natural drainage so there will not be excess moisture beneath the bed. If the hotbed is below ground level, excellent drainage is essential to keep water from entering or accumulating during heavy rains. If natural drainage is not good, use drainage tile or a thick layer of coarse gravel. If this is not practical, beds may also be built above ground level for proper drainage. However, there will be greater heat loss.

Locate beds near the house where they can be given frequent attention. A convenient water supply should be available. If the structure is to be heated electrically, have outlets close by.

Constructing the bed
Basically, the hotbed or coldframe is a rectangular box with the back higher than the front, covered with a transparent roof. The size and complexity of the structure depend on needs or funds available. Often scrap lumber and old window sash may be used, thereby reducing costs.

Sash and coverings
The sash available will determine the dimensions for the bed. Glass sash is the conventional frame covering and generally the best. Standard glass sash for coldframes and hotbeds is 3 feet by 6 feet. When this is used, the bed should be about 5 feet 8 inches (front to back) by 3 feet or a multiple of 3 (6, 9, 12, 15 or more feet).

Read More »


NEED SEED IDEAS?

Favorite Heirloom Plants for 2014
By Diane Ott Whealy

Seed Savers Exchange is a nonprofit organization dedicated to saving and sharing heirloom seeds since 1975. All of the seed we collect are open-pollinated and heirloom varieties-meaning the seed can be saved and grown again-and have not been genetically modified in any way. Seed saving is not a revolutionary idea, our ancestors have been saving and regenerating seeds and passing them on to next generations since 8000 B.C.

Today we are continuing this important tradition by maintaining thousands of varieties of heirloom seed at our 890 acre Heritage Farm near Decorah Iowa. The question I am asked frequently is "What is my favorite plant?"

With thousands of heirloom varieties in my life, it is impossible to pick a favorite heirloom seed. I would suggest growing things you and your family like to eat. There are unusual seeds, like Rat Tailed radish, Red Dragon carrot, Bloody Butcher corn, Rattlesnake bean or a Prickly Caterpillar. Sentimental varieties like Aunt Molly's Ground cherry or Aunt Ruby's German Green tomato: and heirloom flowers like Love-In-A-Mist or Kiss-Me-Over-The-Garden-Gate to bring romance to the garden.

Below are a few of my favorite choices in my heirloom garden.

'German Pink' tomato
My family only grew one tomato variety, and this was it. This tomato was grown by my great-great-grandparents in Bavaria long before I was born. This potato leaf type produces large (1-to-2-pound) meaty, full-flavored fruits. Excellent for sauces and slicing, I remember my grandmother serving large slices on a white platter sprinkled with sugar.

'Grandpa Admire's' lettuce
This was given to Seed Savers Exchange in 1977 by Chloe Lowry, our 90 year old neighbor in Missouri. The seed was handed down from one of her ancestors, George Admire, a civil war veteran born in 1822. Bronze-tinged leaves form loose heads, stays crisp and sweet even in extremely hot temperatures and slow to bolt.

'Purple Podded Pole' bean
This heirloom pole bean was discovered by Henry Fields in an Ozark garden in the 1930's. Plants climb vigorously to 6' and are very productive, flavorful and meaty. The 5-7" red-purple stingless pods blanch to green. The blossoms are also purple making this bean an excellent choice for edible landscapes. I grow on a trellis and plant basils, French tarragon and snapdragons interspersed in a row below the beans. 68 days to maturity.

'Jimmy Nardello's Italian' pepper
A family heirloom given to SSE by Jimmy Nardello whose parents brought the seeds to the U.S. when they immigrated from a small village in the Basilicata region of southern Italy in 1888. The bright red sweet pepper is fabulous raw or fried and is my favorite pepper to add flavor and color to fried potatoes. Productive plants are loaded with glossy red 10" long peppers. 80-90 days from transplant.

'Moon and Stars' watermelon
We thought this legendary melon was long-lost, but rediscovered by Seed Savers Exchange at the Merle Van Doren farm in Macon Missouri. The dark green oval melons are covered with pea-sized bright yellow "stars" and usually one larger "moon." The leaves also have the same design. The sweet pink flesh is excellent. Matures in 90-95 days and is well worth the wait.

'Grandpa Ott' morning Glory
(I. purpurea)
One of the original Bavarian varieties that started Seed Savers Exchange. The seed was given to me by my grandfather, Baptist John Ott who had the seeds passed down to him from his father who had immigrated to St. Lucas, Iowa in the early 1900's. Grandpa grew these flowers on the porch of his house every year. As a child I remember spending afternoons sitting on that porch surrounded by the morning glories trained on twine strings to completely cover the sides. These plants now have a permanent home on the south side of Heritage Farm's barn where they grow up to over 15' covered with delicate velvet peddled flowers. It is a hardy self-seeding annual.

Love-in-a-Mist
(Nigella damascena)
First appeared in England around 1570. Some very imaginative folk names include Love-Entangle and Jack-in-Prison. I grow because every part of this plant is decorative, the leaves, blossoms and the intriguing striped seedpods add interest in the garden and dry well. It is hard to resist popping the seedpods when they are green because they pop like little balloons! Self-seeding, hardy annual, 18-24" tall.

'Outhouse' hollyhock
(Alcea rosea )
This is a classic in my garden and grows up to 9' and has graced the outbuildings of farms since the early 1900's, but was especially famous for disguising the outhouse and eliminating the need for a visiting lady to ask where it could be found, since she could just look for the hollyhocks! This biennial has single blooms of white, magenta, pink, and dark burgundy and re-seeds freely when established. Although there is no outhouse at Heritage Farm, hollyhocks are still grown for their simple beauty, the hummingbirds, and to make hollyhock dolls.

'Grandma Einck's dill
(A.graveolens)
This is another garden staple grown on my grandmother's Iowa farm since 1920. I grew up on that same farm and remember the dill. I would take large bunches of dill to the Winneshiek County fair each summer and always won blue ribbons. The fragrant heads are large with plump seeds, for dill pickles, summer salads or fabulous filler for summer flower bouquets. The ferny tall dill foliage adds splendor and fragrance to any garden.

For information about these varieties and to request a free 2014 catalog, visit www.seedsavers.org The 2014 catalog from Seed Savers Exchange will be a great place to begin with hundreds of certified organic varieties to choose from along with photos, growing and seed saving tips.

BIO
Diane Ott Whealy co-founded Seed Savers Exchange (SSE) with Kent Whealy in 1975. Today SSE is regarded as the nation's leading nonprofit seed-saving organization. SSE has more than 13,000 members, made up of gardeners, orchardists, chefs and plant collectors—all dedicated to the preservation and distribution of heirloom varieties of vegetables, fruits, grains, flowers and herbs. Diane currently serves as the organization's Vice President. Regarded by many as the "Mother of the Heirloom Seed Movement," Diane has been a national leader and strong advocate for the protection of the earth's rare genetic food stocks for over 38 years. Her recently-released memoir, "Gathering," is available in book stores throughout North America.

In 1986 Diane helped develop Heritage Farm, SSE's scenic 890-acre headquarters near Decorah, Iowa. Heritage Farm is a unique educational center designed to maintain and display collections of endangered food crops. She also founded the Flower and Herb Exchange where members offer over 2000 heirloom flowers and herbs for exchange each year. Today she is a featured speaker at garden shows and botanical gardens throughout the country. She also head curator and designer of the flower and herb display gardens at Heritage Farm.