Automatic Poultry Door
Write a review »
Allow birds to be outside the coop during the day and safe at night. Even when you're not around to open/close their door.
While Supplies Last. All sales are final, no returns.
Data
---
Common Uses
For chicken coops large and small.
Poultry door mounts to the inside of the chicken coop. This protects the unit from the elements like rain and ice.
Door uses a daylight sensor to open at dawn and close at dusk—automatically.
Raccoon-proof screw-drive design.
No cables or jam-prone traction doors.
Stops predators when closed.
Easy installation.
Self tests, auto-reverses upon jamming or closing on a bird.
---
Specs
The Incredible Poultry Door™ includes:
6 wall-mounting angle brackets (attaches easily to side of door frame).
Power supply (110V plug-in).
Photocell light sensor attaches outside.
Overall dimensions: 30" H x 10" W x 3.25" D (without angle brackets attached)

Door opening: 10" H x 8.25" W (all chicken sizes up to a small turkey can pass through)
---
Troubleshooting
It's important that the sensor faces south and isn't in the shade.
The light sensor is much more sensitive to changes in light availability than our birds. This fall a few birds were still outside (in the dark) after the door closed. So make sure to check your flock during any changes in weather or light availability.
Reviews
Write a Review
You must be logged in to leave a review. Please sign in.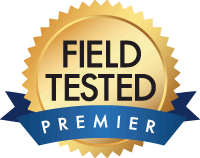 Premier began using this door in summer of 2013. We've learned to:
Keep the light sensor clean and safe from damage.
Position the light sensor so it's fully exposed to evening light without shade. Otherwise the door may close before all birds are inside.
Check to make sure all birds are in the coop during decreased light availability: Storms, fog, snow and power outages.