Heated Poultry Waterer
(62) Read reviews »
In essence, it's a proven, heated 2.25 gal bucket with our own insulated lid and 3 special recessed nipples. (Nipples are a drip-catch design.)
Waterer cannot hang.
Top-fill
No messy trough
Water is always clean
Unique insulated cover
Low electrical consumption
Videos & Data
---
Common Uses
A reliable heated poultry waterer.
---
Specs
Capacity: 2.25 gal (9 qt)
Size: 11"H, 9" dia
Suited for: adults
Number of birds: 26
Waterfowl: yes
Can it hang: no
50-watt heater
6 ft protected electrical cord
---
Benefits
Coned lid to prevent birds from sitting on the waterer and soiling the water
Bucket includes heavy-duty carry handle (not for hanging)
Built-in thermostat turns 50-watt heating element on at 40°F and off at 60°F
---
How to Use
Simply fill the bucket, set it on a concrete block or on our
2 gallon round bucket
, place the lid, plug it in and it's ready to water your birds in below-freezing temperatures. We have used these buckets in temps as low as -20°F (in the coop and protected from the wind).
Set the waterer so the nipples are just above head height—the birds should stretch up slightly to drink.
Handle is used to carry the bucket (unplugged) to and from a hydrant for filling. Some may find the bucket handle fits too loosely underneath the lid. For a better fit, gently squeeze the top of the bucket inward while attaching the lid. The lid will snap into place over the handle.
Chickens will take to the nipple drinkers more readily when there is no other water source available. We recommend removing your current waterer and placing the new waterer in the same location. Then, bring a bird's beak directly to the nipple drinker and flick/activate the nipple to demonstrate the new water source.
---
Accessories
Buckets and Troughs

Item #564400 -

An inexpensive all-purpose bucket for feeding or watering lambs, goat kids or chickens. They stack without sticking and are easy to clean.

Waterers and Accessories

Item #540352 -

Use this all natural additive to keep your poultry and livestock waterer systems clean.

Waterers and Accessories

Item #620501 -

A natural source of energy and nutrients. Produces healthier, more productive chickens, turkeys, ducks and guineas.
Reviews

(62)
Write a Review
You must be logged in to leave a review. Please sign in.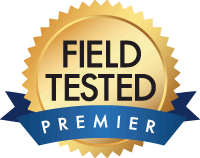 This waterer does its job well—which is providing access to fresh, clean,
unfrozen
water during winter. Nothing fancy. We find it best to set on a cinderblock so the nipples are at about head high for the majority of the flock (lower if bantams are mixed in). We have used these waterers in temps as low as -20°F (in the coop and protected from wind). The bucket handle is useful for carrying water from a
… Read More »
hydrant.
Heated Poultry Waterer
Tim J from Minnesota
Finally, a waterer that's worth its cost. Easy to fill,birds have clean water, and it's been proven not to freeze at -10degreeF. I highly recommend this product.
Heated Poultry Waterer
Jim V from South Carolina
We really like Premier1 products and use them daily on our small farm. However, I am not sure how to rate this waterer as it is a good idea, but does not work for our farm. Our six year old TSC heated waterer was damaged during our move to SC. Since the previous waterer was a pain to fill, we thought we would try the more expensive Premier1 waterer. I ordered it in plenty of time for a forecasted cold snap. The USPS encountered "delays" so the waterer did not make it in time. (If you need something on time, please choose UPS shipping). Since receipt, we have not been able to "train as suggested" our 16 hens and rooster to drink from the waterer. The chickens would rather make the trip to our goat paddock to drink from their heated bucket which is now getting soiled.
Heated Poultry Waterer
Tyler E from Ohio
Super easy to use and all you do is plug it in. I used a cinder block that I put the previous waterer on instead of the $6 bucket that you can buy. My hens came right up to the new waterer and I tapped then nipples with my finger until water came out and they instantly took to drinking out of it. Very easy and works great!
Heated Poultry Waterer
Robin P from Arkansas
This waterer is so much better than the metal ones, or ones I have made myself. The thermostat is awesome. I wish it was made in a three or even five gallon size. I have a mixed flock of 40. Great product!
Heated Poultry Waterer
Bruce M from Illinois
It is December in Chicago. Today's low was zero degrees. I checked my new Heated Poultry Waterer and it was working perfectly. My chickens were happy and hydrated. I've tried several options and this is by far the best winter option. Clean ice free water every day. Five stars. Thank you for the great product.