Heated Poultry Waterer
(62) Read reviews »
New design! Provides clean water to the flock year-round. Internal heater keeps water flowing in temperatures as low as -20°F.
We've listened to your feedback and have introduced several improvements over the previous version:
Larger capacity (3 gal)
Secure, interlocking lid
Heavy-duty handle for carrying and hanging
Detachable cord for non-winter use
Available Fall 2018!
Videos & Data
---
Benefits
A reliable heated poultry waterer for all seasons.
Lid is secured to the base via unique interlocking tabs
Conical lid shape to prevent birds from perching and soiling waterer
Insulated lid traps warmer air inside waterer
Integrated lid handle can be used for both carrying and hanging
Electrical cord length has been increased to 16' to allow more flexibility without using extension cords
Built-in thermostat turns heating element on at 40°F and off at 60°F
(3) recessed nipples are a drip-catch design.
---
Specs
Capacity: 3 gal (12 qt)
Bucket Dimensions: 9"H, 13"Dia
Overall Height: 14"H
Suited for: Up to 35 adult birds
100-watt heater
Detachable 16 ft. grounded electrical cord
---
How to Use
Simply fill the bucket and lock the top in place. Either hang with a
snap clip
or
braided cord
, or place the waterer on a cinder block or
3.5 gal bucket
.
The detachable cord can be stowed separately during warmer months.
Nipples should be placed just above the birds' heads. The birds should stretch up slightly to drink.
A few tricks for dealing with stubborn birds:
Remove all other sources of water. Place the new nipple waterer in the old waterer's location.
Bring a bird's beak directly to the nipple waterer and flick the nipple. You may have to activate the nipple with the bird's beak to demonstrate the new water source. (See video above.)
Place a sunflower seed in the drip trough. When the bird pecks at the seed, it will discover the new water source.
Use a red laser pointer to direct chickens to the nipple. Similar to house cats, our chickens will chase and follow the red light. (This was inadvertently discovered by our photo dept and is now our go-to method for getting camera-shy birds to cooperate.)
You don't have to train every bird in the flock. Just a few will do. Once the first chickens begin drinking, others will follow.
---
Precautions
Warning:

Risk of electrical shock

—Connect only to a branch circuit protected by a ground-fault circuit-interrupter (GFCI). Contact a qualified electrician if you cannot verify that the circuit is protected by a GFCI.
Reviews

(62)
Write a Review
You must be logged in to leave a review. Please sign in.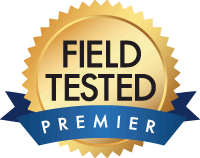 This waterer does its job well—which is providing access to fresh, clean,
unfrozen
water during winter. Nothing fancy. We find it best to set on a cinderblock so the nipples are at about head high for the majority of the flock (lower if bantams are mixed in). We have used these waterers in temps as low as -20°F (in the coop and protected from wind). The Integrated lid handle is useful for carrying water from
… Read More »
a hydrant or for hanging the waterer in the coop.
Heated Poultry Waterer
Kim F from Maine
I purchased this waterer when it just came out and had no reviews yet. I was a bit hesitant, but was having so much trouble keeping my chickens with clean water over the winter months that I had to give it a try. I'm so glad I did, and wonder why it took so long for someone to come out with a heated nipple waterer. My girls have clean water every day and it's so easy to fill - I keep a jug nearby, fill it from a spigot and top off their water. The only problem I had was getting them adjusted to it from a bottom nipple waterer. For some reason they couldn't figure out that the water came out of the side. I took sunflower seeds and put them in the drip catch under the nipples and they finally started to use them. Great product, my chicken caretaking tasks are much easier now.
Heated Poultry Waterer
Eric S from Wisconsin
Very fast delivery...one day. Not sure if that happens all the time but it sure happened this time!

The waterer works fine but....the main picture/advertisement shows a white stand under the waterer. Mine came without and after looking over the description I see that the stand is an accessory. My mistake. So for those making this purchase, be advised the stand isn't part of the item.

I'll be ordering two more of these after the holidays. Another for me and one for a friend who's getting older and this waterer is MUCH simplier to use that the ones we have to flip over, fill, flip again then carry to the coop. And it needs less cleaning, I pour a little water over the nipples to rinse them of dust.
Heated Poultry Waterer
Elizabeth E from Maryland
I have 6 (8 month old) IRA's and I have both type of waterers for them. The dish kind inside the porch area of the coop and the nipple kind outside the coop. I wanted to see how easy it was to teach the hens how to drink form the nipple waterer. To my surprise as I tapped the nipples to release water they are were so curious and actually went up to the waterer and as soon as the water dripped they saturated pecking. Sometimes I will sit and watch and they all go up to it and drink. Now that winter is here I bought the heated bucket and I am happy because now my baby girls will have water as soon as they get up. We put chicken curtains up on the porch area to keep the wind out. We don't have to close the small door into the coop now, so all food and water is on the porch. We have a closed in coop and a porch area that is screened in to keep all varmints out and my girls safe.
Heated Poultry Waterer
Carrie N from Colorado
I read a lot of reviews that said people couldn't get their chickens to use this waterer. I have 7 laying hens and had no problem at all transitioning them. The water never freezes, which is exactly why I purchased this and I didn't have any issues with my hens learning to use it. I simply removed all other water sources and stuck each of their beaks in the nipples until water came out. They all use it and we are very happy!
Heated Poultry Waterer
Spencer F from Idaho
It might worked for some but after 4 days of "training" my hens, I quite and went back to simpler way. I really wish it could have worked. The first just could not seem to get enough water.
Set the waterer so the nipples are just above head height (the birds should stretch up slightly to drink). — Premier