SplitBall Screw-In Insulator, black
Write a review »
For attaching low-tension conductors to wood line posts. Allows easy entry of "wire" but prevents escape.
For easy installation, use a SplitBall Power Driver. See accessories tab below.

View a comparison chart »
Data
---
Common Uses
For securing rope, twine and wire to trees and wood posts.
---
Specs
Holds conductors 2" away from posts.
Ball is 1" across.
Screws in about 2".
Made of polyethylene with UV additive for extra long life.
Prepackaged in bags of 25. Sold individually.
---
Installation
Without Power Driver:
Predrill hole in the wood post.
Screw insulator completely into post. (Tip: Use a screwdriver--slide the blade between the halves of insulator and twist to screw in.)
With SplitBall Power Driver
(sold separately, see accessories tab above):
Predrill holes in the wood post.
Put bit end of SplitBall Power Driver into chuck of drill and tighten.
Place power driver over the insulator so the slot in ball of insulator lines up with pin in cup of driver.
Insert the screw tip of insulator into the predrilled hole.
Thread conductor through insulator.
Accessories
Listed below are recommended optional components or related items. Your particular situation may require alternative recommendations. Please call and talk to our consultants if there are any questions at 800-282-6631.
Reviews
Write a Review
You must be logged in to leave a review. Please sign in.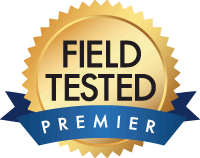 They do a good job of holding conductors on our farm. We have found that many like them for their safety (no sharp edges). The lack of sharp edges reduces wear on the conductors. The power driver is an essential tool when installing these, otherwise you might have a few headaches (installation without the driver is possible, but much more difficult).