There are many approaches and types of grazing that fall under the broad umbrella of rotational grazing. The simplest is moving livestock between paddocks every set number of days.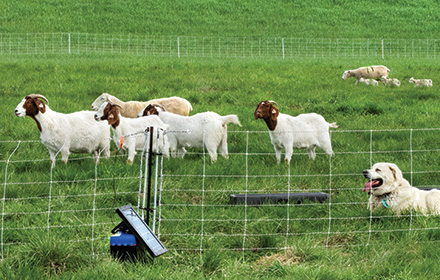 Promoting better pastures...
Benefits of Rotational Grazing:
Staying ahead of the worm load
Increased drought resistance and soil fertility
Less forage waste or soil compaction, and increased forage production
Many graziers use temporary electric fence systems to manage the size of the paddock. This allows the manager to control access to forage to fit the nutritional needs of the livestock.
Why Temporary Electric Fences?
Portable and lightweight
Quick to install and move
Stops predators
You will need an energizer to power the fence. Choose a battery or solar battery fence charger. AC plug-in units are not as practical for rotational grazing, unless you're powering a feeder fence (one that brings power to the smaller paddocks). Don't forget to choose an appropriately sized ground rod(s) for your energizer. The industry rule of thumb is 3' of galvanized ground rod per joule of energizer output. Drier soils may need more total grounding (or a Pos/Neg fence).
To avoid worms while grazing…
Rotate between smaller pastures for shorter periods of time. This increases the number of paddocks and number of days before animals re-graze the same pasture. Portable electric netting allows for the creation of small, easy-to-move paddocks that are ideal for rotational grazing.
Never graze below 4-6" of grass length. Parasite larvae can only crawl so far. Stay above this line and stay above the worms.
Take fecal samples to determine egg counts and resistances. Choose an appropriate dewormer for your flock.
Supplement the flock for a healthy immune system that withstands parasite pressure.