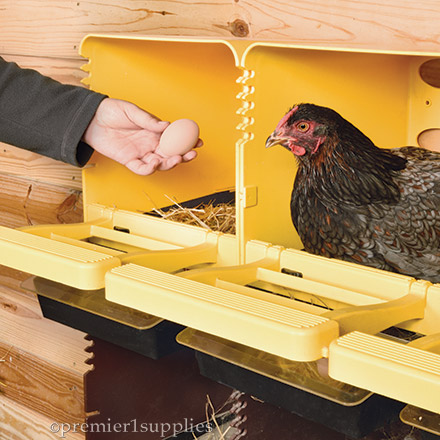 For hens that prefer bedding for laying, add straw to the nest boxes. Once they're in the habit of nesting, gradually remove the bedding to take full advantage of the roll-out tray.
Q. What if the hens don't lay in the nesting box?
A. Consider these changes:
Try placing a ceramic or wooden nest egg in the box. Watch this video to learn more.
Place a comfortable amount of bedding in the nesting box. Remove after they start consistently laying in the box.
Locate nests in darker areas. Hens prefer to nest where they feel less visible to predators.
Q. What material should I use?
A. We've sold or used plastic, metal and wood boxes over the years, with hundreds of chickens. We prefer plastic because:
Plastic does not rot.
Plastic is easier to clean.
Plastic lacks seams and cracks, reducing risk of mites or lice.
Plastic has no sharp edges and does not splinter.
Q. Should I use bedding?
A. With a roll-out tray, you may have to initially use bedding. After the hens learn to lay in the box (with a tray), gradually remove the bedding. If not using the roll-out tray, we prefer straw or hay—both stay in the box better than wood shavings.