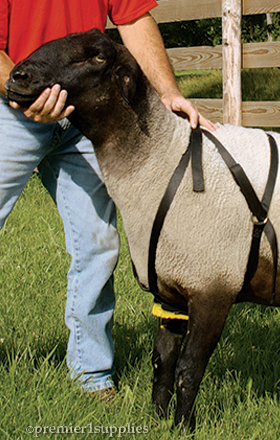 Proper placement for the crayon holder is between the rams/bucks forelegs, not up on the animal's neck. This ensures that the ewe is marked when she is bred, not before.
Use a marking harness to securely hold a crayon between a ram/bucks forelegs at the bottom of his brisket. The crayon will mark the female when the male mounts. Crayons are easily changed (via cotter pin) throughout the breeding season and during breeding cycles.

Deluxe Marking Harness
Designed to reduce risk of chafing skin between legs. Built to handle even the largest ram.

Cross Your Heart Breeding Harness
Specifically designed to fit and stay on smaller, more pointed briskets like those found on ram lambs, goat bucks and adult rams of smaller breeds.

Nylon Breeding Harness
For mature rams of medium and large breeds with broad briskets. More likely to stay on if the ram's brisket has 2 months' wool growth.