Pro Applicator
Read reviews »
Installs every two-piece ear tag we sell. We applied our Q-flex tags to our ewe flock with this tagger and were impressed.
A popular applicator from Australia with farmer-requested design features.
Data
---
---
Specs
9.5" long
Powder-coated metal
---
Benefits
Wrist lanyard keeps the applicator in your hand if a tag does not release. It also offers a convenient way to carry the applicator without setting it down and forgetting its location (something we've done all too often).
Male pin pivots only after the handles are fully closed or fully open. Releasing only when a tag is correctly applied.
Sliding lower jaw with quick release by pushes the female tag out after application.
Tagger can be adjusted to accommodate slightly thicker-than-normal tags by adjusting the applicator restrictor (yellow switch on side of tagger). Push-out for easier handling of the thicker tags.
Tagger can be locked into the closed position for storage.
---
Tips
Tag placement is critical to success!
For maximum retention and the lowest risk of bleeding and infection, place ear tags in either of the two spots shown in the illustration below. The goal is about 2-3 inches from the head of the animal.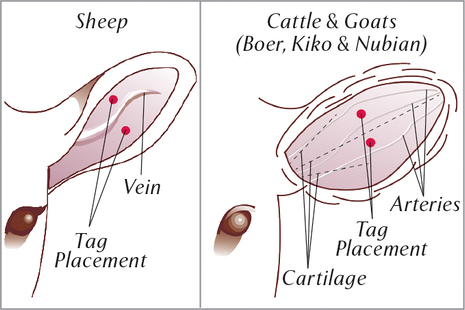 How-to: Insert Ear Tags in Cold Weather
Plastic tags (all brands) are much easier to install if they are warm. Why? As the temperature drops below freezing, plastic becomes less flexible (more stiff). Forcing the male point of a tag through the female takes many more lbs. of pressure (because the female must expand).
So if you care about your hands it's a good idea to keep the tags above freezing in very cold weather. It takes very little to do this. One method is to simply store them while tagging in a small bucket, cardboard box or tool box with a lid alongside a sealed pop bottle full of warm water. The warm water will keep both the air and the tags warmer in the container.
Reviews
Write a Review
You must be logged in to leave a review. Please sign in.
Pro Applicator
Denita W from Oregon
I bought this applicator because the description said it works with all two part eat tags. I bought the mini scrapie ear tags. This applicator does NOT work with the mini tags! The applicator pin is too narrow for the tag and wants to fall off just when you try to put it on the ear. I had to use my old applicator (free from scrapie program). It worked fine, so this proxy was a total waste of money.
The Pro Applicator pin gradually gets thicker in diameter as you reach the top. Make sure the tag is pushed all the way on to secure the tag in place. — Premier