Returns & Exchanges
Important: If merchandise was damaged during shipping, please save the original packaging and notify our Customer Service team at 800-282-6631 during regular business hours, or contact us online.
If for any reason you are not satisfied with your purchase, please return it along with copy of your invoice or packing slip and circle the item(s) being returned. There is no need to call for return authorization. Wrap securely and send the item(s) to:
Premier 1 Returns Dept.
2031 300th Street
Washington, IA 52353
We will issue a refund in the form of the original method of payment, minus any shipping and/or return label fees as long as proof of purchase is provided, such as an invoice or packing slip.
Shipping and handling fees are generally not refunded.

Return shipping charges are your responsibility.

Exceptions include shipping errors or manufacturer defects. If you use a Premier Easy Return Label, the return shipping cost is deducted from your refund. ($12 for each package under 20 lbs., and $20 for each package 20 lbs. or more.)
If an item(s) is returned within 30 days in new condition, there will be no restocking fee; if not in sellable condition, a minimum 15% restocking fee will be deducted from the refund.

If returned after 30 days, all items will have a minimum 15% restocking fee deducted from the refund.

We do not accept returns of obsolete, closeouts, special orders or items that have been modified by the customer. (Includes customized items like ear tags and cut-to-length UltraScreen.) Vaccines or other items that must be refrigerated are non-returnable.
We do not accept items which have been damaged by misuse, animals or inclement weather.
If a shipment is refused from the delivery service, the shipping charges back to Premier will be deducted from the refund.
Premier Easy Return Label
Our self-service returns process makes returning your items quick and easy. A prepaid return label is available for $12/ea. box under 20 lbs., or $20/ea. box 20 lbs. or more. This fee will be deducted from your refund. You will need to drop off your packages at any FedEx® drop-off location.
International customers: Please contact us to initiate a return.
Beware Amazon Counterfeiters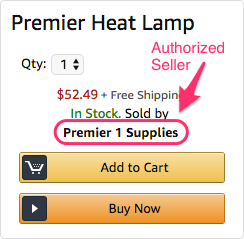 Like many premium goods, Premier products are being copied and sold on Amazon.com, usually at drastically reduced prices and diminished quality. While flattering, counterfeit products do not meet Premier's standards and are not covered under Premier's guarantee of customer satisfaction.
While Amazon is an authorized reseller of Premier's products, many merchants who sell through Amazon are not. When purchasing, it is important to note where the product is being "shipped from and sold by," which is stated clearly for each product on Amazon.com.
Please contact us before you purchase if you are uncertain.
Buy direct and be sure!
We use what we sell on our own farms, so we know our products much better than others know theirs. All of our products are sold directly from our website and shipped to customers throughout the USA and Canada. Shop online at Premier1Supplies.com to enjoy these benefits:
Rest assured you are receiving a genuine Premier product.
FREE ground delivery for qualified shipments over $100.
Safe and secure shopping.
Our website includes the most up-to-date information with the largest selection.
We're available to help online and by toll-free telephone: 800-282-6631.