Demand for Grazing Goats Grows Like Wildfire
By Jodi Helmer
Goats and sheep have been used for centuries as land management tools. In the drought-parched West, they are an effective wildfire mitigation strategy.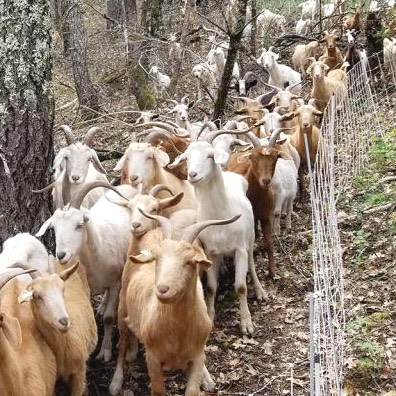 Mike Canaday started renting goats for brush removal in 2003. His herd of 150 goats had regular work but demand grew like weeds and Living Systems Land Management now owns 3,500 Boer, Kiko, LaMancha and Spanish breeds and a waiting list to hire them. Canaday attributes the growth of his California business to a single factor: Wildfires.
"We are screaming busy from mid-April to mid-July because of the fires," he says.
Goats are being dispatched to overgrown patches of land to chomp down vegetation, creating fire breaks that keep wildfires from jumping from forests to neighboring homes and businesses. Thanks to their voracious appetites—goats can eat up to 10 pounds of vegetation per day—and ability to navigate difficult terrain, the ravenous ruminants are on the frontlines of fire prevention.
While there are no statistics on the number of acres goats are clearing or the number of goat rental businesses offering services, there is solid data that wildfires are wreaking havoc on the landscape. In 2018, over 43,000 fires were reported nationwide, burning almost six million acres—the highest number of fires since 2012.
Most of the goats in Canaday's herd are rented to large landowners to clear vegetation on golf courses, government land and utilities. (He doesn't take projects less than five acres and some brush-clearing projects are hundreds of acres). While weed abatement used to make up the bulk of his business, most of the calls Canaday receives now are about fire prevention—he even contracts with fire departments, including the Ventura County (California) Fire Department.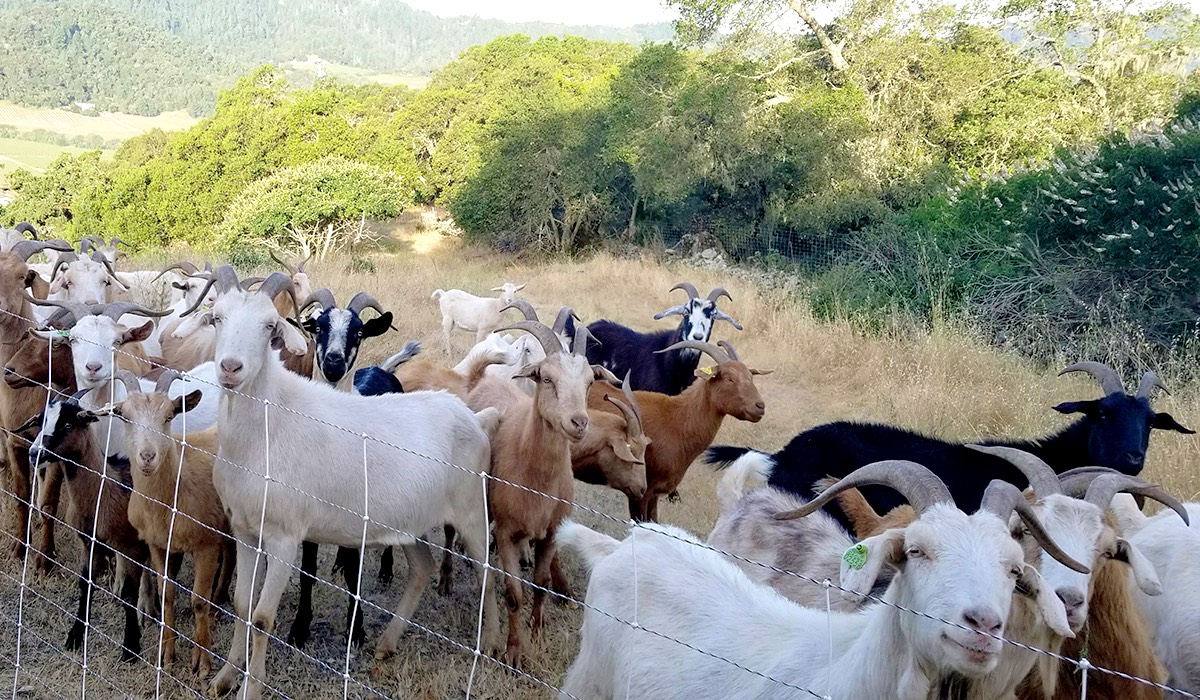 Canaday erects portable electric fencing to contain the goats, fills water troughs and sets the herd loose on sites from Santa Rosa to Orange County; herders move the goats almost daily, establishing a grid for targeted vegetation removal. While the caprine cleaning crew noshes on all the shrubbery in their paths, the newly cleared areas act as fire breaks that keep wildfires from jumping from forests into neighborhoods.
The Ventura County Fire Department started using goats to create fire breaks at least a decade ago, according to fire chief Kenneth VanWig. He believes the four-legged firefighters the best fire prevention tools available, explaining, "When we graze goats in an area, all of the fuel is removed before fire season and it doesn't grow back until the following season—and it's much safer to have goats graze difficult terrain. We've had huge success."
"There's a lot of interest in using goats for fire prevention," he says. "We're getting a lot more calls from homeowners who want referrals; we keep a list of contacts to give them because the requests are constant."
Targeted grazing is a greener alternative than chemical brush removal and safer than controlled burns or mechanized abatement that could, during times of drought, spark a fire; goats can also graze on terrain that is too dangerous for firefighters to clear with hand tools, according to VanWig.
Living Systems Land Management employs 14 herders to manage the goats, moving herds of 400-plus animals from one jobsite to the next. Continued demand for grazing services means expansion is always on the horizon for the company. (The farm in Central Valley, California, also rents a herd of 3,000 sheep to perform similar services.)
Although goats are adorable and the demand for ruminant rental is on the rise, Canaday cautions that the business is far from a get-rich-quick scheme. In addition to upwards of $100,000 in initial investment for grazing land, livestock trailers, portable fencing and a herd of goats, the animals require constant oversight.
Canaday believes the effort is worth the investment, explaining, "Goats are sustainable. You can't pour poisons on the ground for years to kill the weeds and think it's sustainable; goats, if properly managed, leave the earth better than they found it and you know that your goats can help save people's homes and, sometimes, people's lives."
Originally published in Sierra, the national magazine of the Sierra Club. Reproduced with permission of the author.