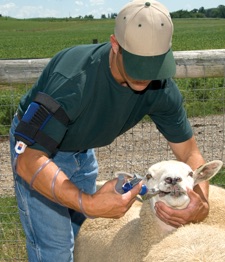 Drenching and Vaccinating for Parasites
Drenching for internal parasites
At Premier we deworm by drenching instead of injecting because it is:
Safer. If an animal receives too much drench, less harm is done. (Some injectable dewormers, if overdosed, will send animals into shock.)
Assures a better pelt and carcass. Vaccinations can damage both.
Safer for the operator. No risk of accidentally sticking a needle in your hand.
Vaccinating—Reliability, precision and speed
Few things are more exasperating than having an injection gun malfunction in the middle of vaccinating animals.
That's why experienced shepherds see reliability, accuracy and speed as being more important than price for vaccinating equipment.
Our tools are the most rugged and reliable we have ever used. (But they will never be as trouble-free as we would like. We're fussy and easily frustrated!)
Have a question about sheep or goats?
Thousands of producers all over the country use Premier 1 Supplies because of our well-trained staff and accurate, friendly answers. We want to help you succeed with your sheep operation.