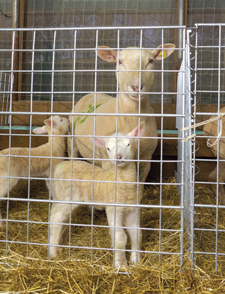 Wire Panels for Lambing and Kidding Jugs
Wire panels…so many uses!
We were disappointed by farmstore welded panels so now we have them built for us—specifically to control sheep and goats. All panels quickly and easily connect or tie to existing welded wire, steel or wood gates. This ability makes them effective for:
Lambing and kidding jugs.
Low-cost entry gates to pens or pastures.
Subdivisions between pens.
Individual or small-group pens.
Our customers like our 36" and 40" tall hot-dip galvanized panels. But we wanted more features and options for more situations:
Heights: 36", 40" or 48"
Lengths: 48", 60", 72" or 96"
Openings: 3" x 3" or 4" x 4"
Even stronger welds.
Hot-dip galvanized to maximize life.
Both 36" and 48" tall panels have 3" x 3" openings; 3/16" diameter internal rods; and 3/8" diameter reinforcing rods at the ends, top and middle of each panel.
The 40" tall panels, however, are made with 4" x 4" openings with 1/4" dia. throughout. (This is the design of our original welded wire panels.)
Stronger, larger, stainless-steel connector hinges. Available in 3 lengths: 36", 40", and 48".
Why use welded wire for gates instead of wood or steel bars?
There are many sites in which a movable physical barrier is essential (gates, pens, etc.). Wood is heavy and prone to breakage and rotting. Steel bar gates are strong, but heavy and expensive. And they don't stop lambs, kids or dogs. So we only use them when their strength is essential. But when a less-strong barrier will work, the lower cost of galvanized welded wire panels makes them an attractive alternative.
The Premier differences…
Rod ends do not project past the ends and sides—so they can't snag and tear at animals, clothes or skin.
Hot-dip galvanized instead of zinc-plated. They last longer and look "like new" for years.
Square, small, safer openings—3" x 3" and 4" x 4" openings stop small animals (lambs, kids, dogs, etc.) The 8" long rectangles of most other welded wire panels can entrap the heads of sheep and goats.
Deeper welds at every joint resist breakage from the inevitable impacts.
Shorter—easier to move, stack and use; 16 ft and 20 ft panels are difficult to haul and move around the farm.
Easily connected with 360° movement by our wire panel connector hinges.
Why hot-dip galvanized?
All Premier welded wire panels are hot-dip galvanized after all welds are completed. This ensures a heavy zinc coating that resists rusting and extends panel life for years.