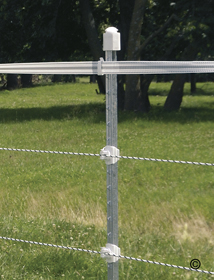 Types of Electric Fence Insulators
Why has Premier become "The Source" for high quality electric fence insulators at low prices?
While this has not always been true it is now. What changed? We're now able to have insulators made specifically for us. So we now buy direct, sell direct and have more control over both the material and the design. It's a huge "win" for our family of customers.
Types of insulators available from Premier…
Line Post
Corner/End
Offset
SuperWide Tape
FiberRod Clips
Special situations
MaxiShock and High-Tensile
Why high quality is so important…
An electric fence insulator must resist millions of high-voltage electrical pulses for years, remain undamaged by imperfect installation efforts, resist UV sunlight degradation and resist excessive and sudden wire strains from high winds, floods, heavy snow, ice, falling trees and high-speed impacts from deer/antelope/elk.
Too many insulators are designed to sell instead of work. Though nicely packaged, they frustrate, under-perform and ultimately fail.
To select the right insulator…
Type of post. Some insulators are made for wood, others for steel T posts, etc.
Conductor (rope vs. tape vs. wire vs. twine). The conductor must fit and withstand any pressure or strain.
Function (end post, corner post, line post). Match the insulator to the need in the fence: e.g., rotating corner-post brackets for corners.
Color/aesthetics. White is more visible (and safer). Black is, to some, visually appealing because it's harder to see. Black also
allows "cut-rate" manufacturers to use reground plastic.
Animal safety. A priority for horses. Avoid insulators with sharp edges.
Ease of installation. Wood post insulators that can be installed with power drivers are faster to install than those requiring nails.
UV resistance. Black virgin plastic insulators are best; white is next (will outlast substandard black).
Steel posts in electric fences?
Using steel posts for electric fences has a risk not found with wood posts.
Why? If an energized strand escapes the insulator and touches the steel a "dead short" occurs. Dead shorts cause fence voltage to collapse and allow animals to touch the fence without feeling pain.
That's why it is vital that insulators used on or near steel posts hold the conductor 100% of the time. It's also vital that extra care be taken in attaching an insulator to steel posts.