Choosing the Best Shepherd Crook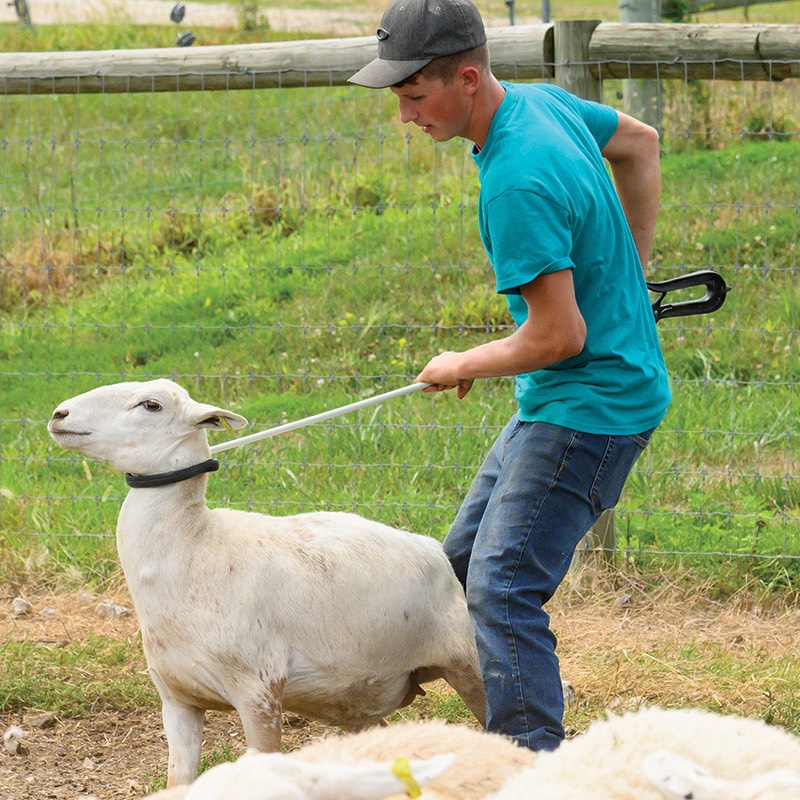 Animals have long had the advantages: Four legs, hooves for traction, peripheral vision, speed and a keen sense when "something's up". This makes catching sheep and goats very difficult. On top of that we're not getting younger. The result is a recipe for failure. The only sure "catch" system is handling equipment.
But we realize it's not always practical to run a flock through a system to catch one animal. The solution? Crooks. (For sheep, not crime.) We've used, studied and sold various shepherd crooks from all over the world.
Once you figure out how useful they are, it's hard to herd sheep and goats without a crook in your hand. But if you have just one, it's not always where you need it. So we have several—in the barn, on the ATV and by our handling yards.
Crooks don't last forever. It's the nature of their usage that, over time, they bend or break. That's the bad news. The good news is that they are much cheaper from Premier than they were 5 years ago (except for the wooden ones), so they're less painful to replace.
A History of Shepherd Crooks and Premier
For many years, the only crooks available were made of oak or hickory. They were (and still are) strong, heavy and clumsy. The crook portion of the tool was a "lick and a promise". When the wood became wet or damp these crooks gradually revert to their original form—a straight stick.
Sweet Chestnut Crooks
, by contrast, are lightweight, strong, easy to handle and attractive—but also gradually lose their "crook" if left outside in humid climates.
By contrast, aluminum crooks are not affected by water. We've tried (and still use) leg crooks made from solid aluminum rod. Neck crooks made of solid aluminum rod are very light and quick in your hand, but bend too easily and the crook portion is too small for some large USA sheep breeds. Tubular aluminum crooks resist bending better than solid rod. But instead of bending the tube sometimes breaks.
Aluminum, if uncoated, constantly oxidizes leaving black residue on your hands and clothes. To prevent this we've introduced several anodized aluminum and fiberglass crooks: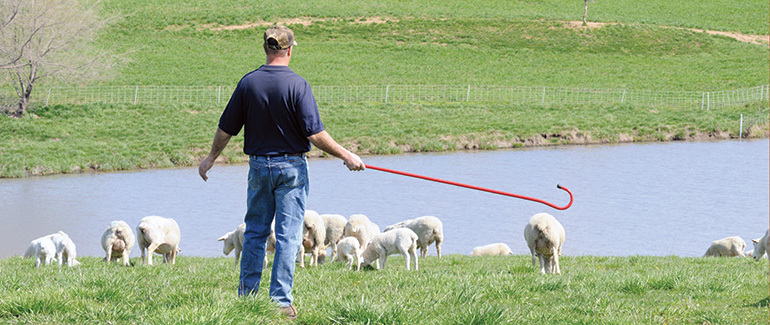 How-to Tips…
Catch sheep and lambs with a neck crook

Once the neck is inside the loop, instantly rotate the crook with your wrist. This applies pressure to both sides of the neck and gives you an extra second or two to pull the animal into reach of your hands.

Catch a ewe with newborn lambs on the pasture

First catch the lambs and hold onto them with one hand. Then lay a leg crook between the lambs and ewe with the crook head toward the ewe. The ewe will likely face her lambs. Encourage the ewe ever closer. When the ewe's front foot is near, instantly raise the crook and snare her front leg.

Use a leg crooks for goats

Because goats prefer to face you. To catch them it works best to snag a front foot. A goat's agility, slender neck and hair mean that neck crooks usually fail to hold a goat.