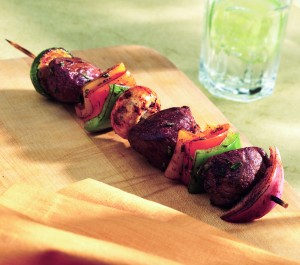 Ingredients:
1-1/4 pounds American Lamb leg or shoulder, cut into 18 cubes
1/4 cup balsamic vinegar
3 cloves garlic, finely chopped
2 teaspoons finely chopped fresh rosemary leaves
3/4 teaspoon ground cumin
3/4 teaspoon salt
1/2 teaspoon pepper
1/2 teaspoon ground coriander
12 medium mushrooms
2 bell peppers, cut into 1-inch cubes
1 large red onion, cut into 12 wedges
1 large zucchini, cut into 12 pieces
6 wood skewers (12-inch) soaked in water
In small bowl prepare herb sauce by combining vinegar, garlic, rosemary, cumin, salt, pepper and coriander.

Prepare kabobs by threading lamb, mushrooms, bell peppers, onion and zucchini onto skewers.
Baste with herb sauce.
Broil 4 inches from source of heat for 4 minutes per side or to desired degree of doneness:  145ºF for medium-rare, 160ºF for medium and 170ºF for well.
Turn once and baste with herb sauce.
6 servings. Preparation time: 20 min. Cook time: 8 min.
Nutrition  per serving:  205 calories, 26 g protein, 10 g carbohydrates, 7 g total fat (29% calories from  fat), 77 mg cholesterol, 2 g fiber, 268 mg sodium, 7 mg niacin, 0.36 mg vitamin B6, 3 mcg vitamin B 12, 3 mg iron, 5 mg zinc
Recipe and image provided by the American Lamb Board