Seven years ago, Robert Pope left a flyer on the door of a local North Carolina restaurant. His message was simple: he had fresh lamb available and he thought they should include it on their menu. It worked!
Through clever marketing, a clear business plan, and an endless supply of initiative, Pope is now supplying his lamb to multiple 4–5 star restaurants in the Durham, NC area. Ever trying to move his point-of-sale as close to the dinner plate as possible, Pope also hosts meals and events at his history-rich family farm, solidifying the unique niche he has found in the sheep industry of the East Coast.
Originally a small tobacco operation, Pope was unable to compete with the commercial tobacco production that swept North Carolina. In 2004, he turned his sights to an alternative use for the land that had been in his family since 1806. The answer came in the form of hair sheep, and eventually a flock of 400 white Dorper x Katahdin x St. Croix x black-headed Dorper emerged. Basing his flock management off of the idea that dark colored stock possess stronger parasite resistance, his breeding ewes are continuously being combed to produce the best possible genetics, tolerance and meat quality.
The growing trend to "eat local" has allowed Pope and his "Captain John's Lamb" to thrive. (Captain John S. Pope, his Civil War accolades and the family's tie to George Washington is a fascinating story best saved for another article.) The farm's proximity to the forward-thinking college cities of Raleigh, Durham & Chapel Hill has presented Pope with a fertile bed of restaurants and clientele eager to serve local ingredients. If he were located 100 miles to the East, "I couldn't do what I do," he acknowledges.
After the conversion of the farm to a meat lamb operation, Pope utilized the nearby Farmer's Market, which happened to be Carborro Farmer's Market (widely considered to be one of the best in the US), as an advertising tool for his lamb. "We never planned on making our living selling at the Farmer's Market. We used it as a way to get our name out and make contact with restaurants," Pope explains. In doing so, he was able to establish a business relationship with 4–5 star restaurants in the area that would eventually highlight Captain John's Lamb as a staple on their menus.
In addition to supplying his high-end clientele, Pope has also been involved with the Carolina Farm Stewardship Association (CFSA) for the past 5 years. Based out of Pittsboro, NC, the CFSA hosts farm tours across the Carolina region. After the group visited Pope's farm the first time in 2007, the idea to host a dinner at the farm emerged. During subsequent farm tours, lamb burgers and lamb dogs (lamb brats) were sold during the day, and the historic 150-year old farmhouse was opened for an evening meal. In recent years, Pope has invited chefs from the restaurants he supplies to prepare the evening meal.
The event has grown in popularity, to the extent that he is now hosting several meals a year. At the most recent dinner, and to the tune of $75 per person, the menu included lamb rillettes, lamb mortadella, lamb shoulder crepinette, grilled lamb leg and lamb mergueze sausage.
Weeks and months of careful planning precede each event at the Pope Farm. Animals must be fattened and taken to the abattoir, and then the meat delivered to the chef. A week of preparation by the chef is needed before the meal can be returned to the farmhouse, usually in a 90% prepared state. The menu varies at each event and is normally a collaborative effort between Pope and the chef. Dishes are meant to incorporate the flavors of traditional North Carolina cuisine, as well as elements from the upscale dining of the big cities. At the November 2011 dinner, for example, 50 guests were served lamb that had been prepared sous-vide, a method of cooking in which the meat is sealed in an airtight bag, placed in a water bath (around 140 degrees), and cooked for three days. "You didn't have to chew it," laughs Pope.
Chef Marco Shaw of the Piedmont Restaurant in Durham has worked with Pope in both arenas. He has prepared meals for the Pope Farm events and proudly serves Captain John's Lamb in his own up-scale restaurant. "Bob's lamb is the best in the world," boasts Shaw. "He takes care of his sheep and it shows." Pope, however, is quick to admit that there is no magic ingredient to his lamb production. "We do things the simple way," he says. His flock is given well water and fed grass, supplemented only by soy hull pellets when needed. He does not use any hormones or antibiotics, and follows a strict rotational grazing scheme. The result is an extremely mild flavored meat that is praised by the restaurants that serve it.
For those seeking to travel the same path as Pope, that have the desire to supply lamb to local restaurants, he has simple advice: find a local restaurant and offer them your product. "Burgers are always popular," he says, "and that way you don't have to handle different cuts of meat in the beginning. Find that little guy that will work with you. Step two is finding a second restaurant. Just take it step by step."
Equally as important, according to Pope, is having a clear business and marketing plan. For Captain John's Lamb, those points include:
No customer may receive more than 25% of their available product
Everyone pays the same price
Payment is due at time of delivery
Producers aiming to get their product into consumers' hands commonly overlook these simple principals. "Farmers are widely considered to be good producers and not-so-good marketers," admits Pope. Captain John's Lamb is working to change that stereotype, one successful transaction at a time.
Above all, maintaining the health of his flock and practicing good pasture management is key, and for Pope, was part of a steep learning curve. "We didn't even know that the sheep had parasites when we got them," laughs Pope." Variable weather conditions (droughts) and the absence of commercial fertilizer (per customer request), only add to the agricultural hurdles that he faces every day. Creative pasture rotation and parasite management are now part of the daily repertoire at Pope's Farm.
What would Captain John S. Pope himself think of the direction that his great-grandson is taking the family farm?
"I hope he's looking down and thinking that I'm taking good care of his farm," says Pope, adding with a laugh, "Of course, he could be saying that I'm crazy and I should be growing tobacco because that's what we've always done!"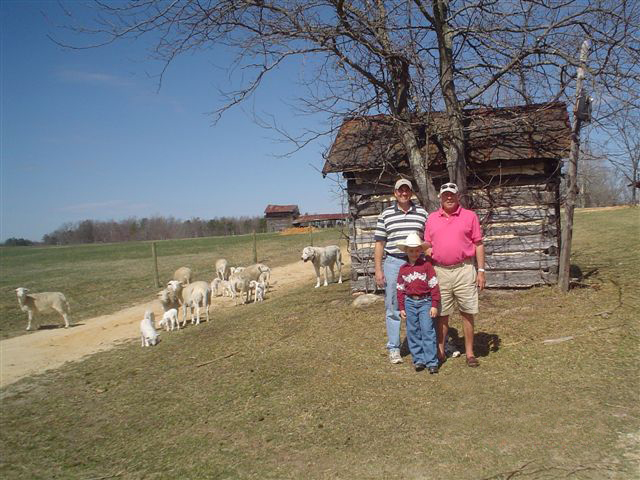 With 200 years of family history in its wake, there is no end in sight for the agricultural flagship that Captain John's Lamb has become. Capitalizing on the niche market that the local demographic has created, Pope is no stranger to hard work, creative thinking, and the continuous desire to improve. He's combined his proud family history, modern cuisine and old-fashioned charm together to form a recipe for success—one that's best served with lamb.
For more information on Captain John's Lamb, visit http://dorperscedargrovenc.com/