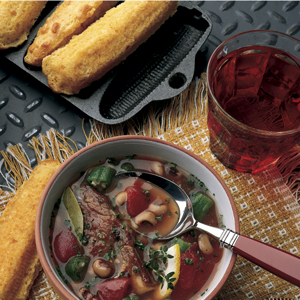 Ingredients:
1 pound American Lamb leg or shoulder, cut into 1-inch cubes
3 tablespoons all-purpose flour
2 tablespoons oil
2 cans (16 ounces each) stewed tomatoes
4  cups chicken broth
1 cup white wine
1/4 cup chopped parsley
1/2  lemon, sliced
2 teaspoons salt
1 teaspoon dried thyme leaves, crushed
1 bay leaf
1 garlic clove, finely chopped
1 package (10 ounces) frozen sliced okra, defrosted
1 can (15 ounces) black-eyed peas, rinsed and drained
Coat lamb with flour.
In large pan with cover, heat oil over medium-hot heat.
Add lamb and brown.
Stir in tomatoes, broth, wine, parsley, lemon, salt, thyme, bay leaf and garlic.
Simmer, covered, 1-1/2 hours.
Add okra and black-eyed peas.
Cook 10 to 15 additional minutes.
Remove bay leaf before serving.
6 to 8 servings. Preparation time: 10 min, Cook time: 2 hrs
Nutrition per serving:  324 calories, 19 g protein, 22 g carbohydrate, 16 g total fat (43% calories from fat), 54 mg cholesterol, 4 g fiber, 1501 mg sodium, 4 mg niacin,0.11 mg vitamin B6, 1 mcg vitamin B12, 3 mg iron, 3 mg zinc.
Recipe and image provided by the American Lamb Board