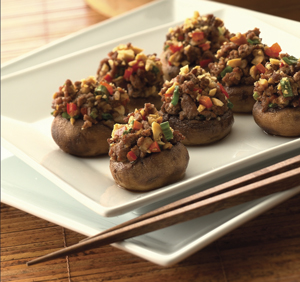 Ingredients:
12 large mushrooms
1  tablespoon olive oil
1/3 pound ground American Lamb
1/2 teaspoon each garlic salt and ground pepper
1/4  cup chopped red bell pepper
3 green onions, thinly sliced
2 tablespoons prepared Plum Sauce
3 tablespoons finely chopped peanuts, divided
Wipe off mushrooms with a damp paper towel.  Snap out mushroom stems and chop; set aside.
In large skillet, heat oil.  Add lamb and chopped mushroom stems.  Season with garlic salt and pepper.  Cook and crumble lamb until browned.  Drain well and stir in bell pepper and onions.
Stir in Plum Sauce and 2 tablespoons peanuts.  Stuff lamb mixture into mushroom caps and sprinkle with remaining peanuts.
Place mushroom caps on baking sheet.  Bake at 375ºF for 15 minutes.
12 servings. Preparation time:  20 minutes. Cook time:  15 minutes
Nutrition per serving:  72 calories, 5 g protein, 3 g carbohydrate, 5 g total fat (60% calories from fat), 12 mg cholesterol, 1 g fiber, 76 mg sodium, 2 mg niacin, 0.06 mg vitamin B6, 0 mcg vitamin B12, 1 mg iron, 1 mg zinc.
Recipe and image provided by the American Lamb Board