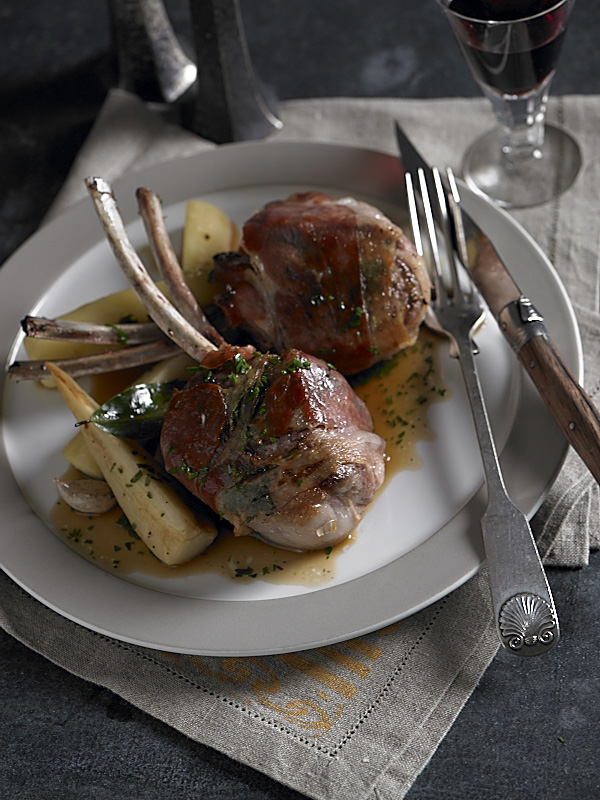 Recipe from Executive Chef Nicholas Stefanelli, Bibiana Osteria Enoteca (Washington, D.C.)
Ingredients:
2    racks of American Lamb, frenched, cut into double chops
8    cloves garlic, divided
14    slices prosciutto di Parma
1/4    pound butter, divided
Preheat the oven to 425°F.  Roast the lamb trimmings and garlic in a heavy-bottomed pot until golden, about 15 minutes.  Remove the trimmings and set aside; stir in the shallots and roast until golden, 10 minutes.
Remove garlic from pot and set aside.  Place pot over medium-high heat and pour in the wine.  Cook while stirring often until reduced by two-thirds.  Return trimmings to pot, add enough water to cover, and bring to a boil.  Simmer gently for 45 minutes.  Turn off the heat, strain, and set aside.
Peel the parsnips, slice off the tops and then blanch the parsnips in a large pot of salted boiling water for 2 minutes.  Transfer to an ice water bath to stop the cooking, remove, and set aside.
Season the lamb chops with salt and pepper and place a few parsley leaves on top of each chop.  Wrap with prosciutto leaving the bone exposed (the seam should be under the chop).  Pan-sear the chops, parsley-side down, in a lightly oiled large skillet until browned.  Turn over and add the butter, bay leaves, and roasted garlic (if using a smaller skillet, cook the lamb in batches).  Cook until browned, turn the chops, and cook 8 minutes more.  Set the chops aside and place the blanched parsnips in the pan.  Brown on all sides, pour in the strained lamb jus and simmer for 1 minute.  Serve the chops with sauce, parsnips, and chopped parsley.
4 servings. Preparation time: 30 minutes. Cooking time: 1 hour
Recipe and image provided by the American Lamb Board