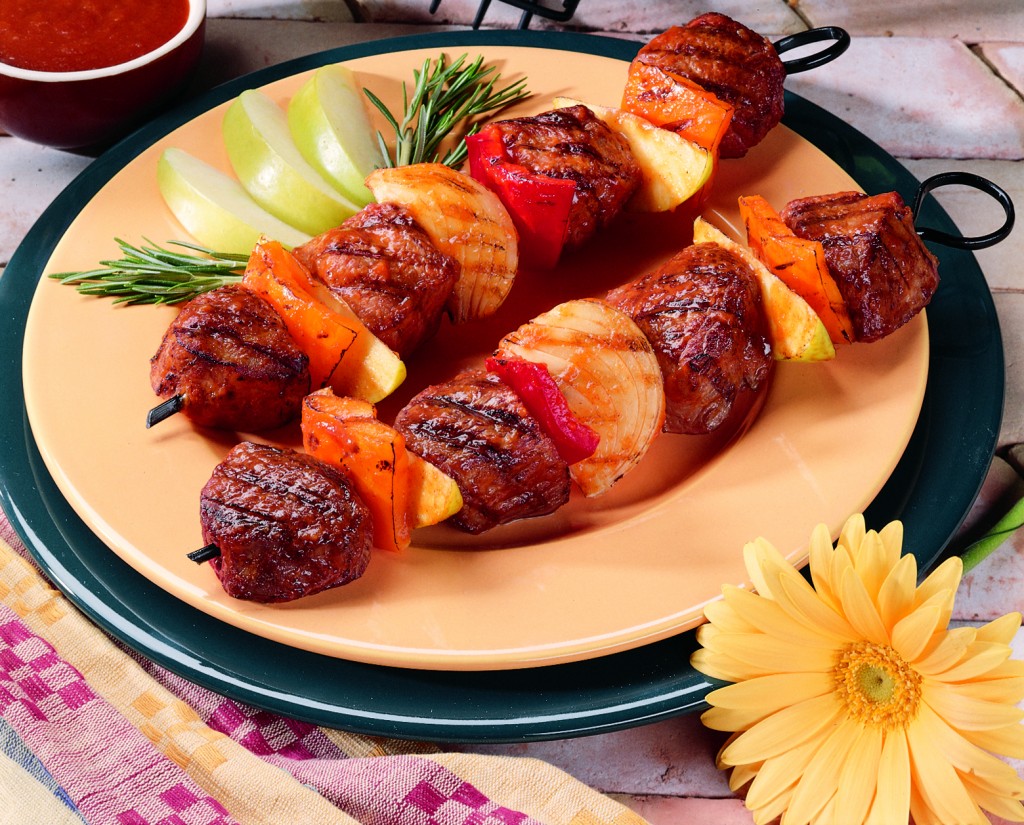 Ingredients:
2    pounds American Lamb, leg or shoulder, cut into 1-1/4 inch cubes
1    tablespoon Worcestershire sauce
2    cloves garlic, sliced
1/2    teaspoon lemon pepper
1/4    teaspoon ground ginger
1    large apple, cut in 12 wedges
Assorted vegetables:  1 large green or red bell pepper, 1 large onion, 1 small summer squash, cut in 1-1/4-inch cubes
8    twelve-inch bamboo skewers soaked in water
Place lamb cubes in seal-able plastic bag.  Combine apple juice, Worcestershire sauce, garlic, lemon pepper and ginger.  Pour over lamb, turning to coat.  Refrigerate for at least 2 hours and up to 24 hours.
Remove meat from marinade, discard marinade, and thread on skewers, alternating meat, apples and vegetables.
Apple Barbecue Sauce
1/2    cup finely chopped onion
1/2    cup unsweetened applesauce
2    tablespoons brown sugar, packed
1    tablespoon Worcestershire sauce
1    teaspoon dry mustard
5    drops red pepper sauce
In 1-quart saucepan, combine apple juice and onion and simmer for 2 minutes.  Stir in chili sauce, applesauce, brown sugar, Worcestershire sauce, dry mustard and red pepper sauce.  Simmer for 10 minutes, stirring occasionally.  Remove from heat.
To Grill: Cook over medium-hot coals.  Grill lamb kabobs 4 inches from coals for 12 to 18 minutes or to desired degree of doneness.  Turn occasionally and brush with barbecue sauce while grilling.
To Broil: Place lamb kabobs on broiler pan which has been lightly oiled or sprayed with nonstick coating.  Broil lamb 4 inches from source of heat.  Brush with barbecue sauce and turn kabobs occasionally while broiling.  Continue to brush with barbecue sauce.  Cook approximately 12 to 18 minutes or to desired degree of doneness.
8 servings. Preparation time:  20 minutes. Marinate time:  2 to 24 hours. Cook time:  12 to 18 minutes
Nutrition per serving:  247 calories, 21 g protein, 23 g carbohydrate, 8 g total fat
(29% calories from fat), 68 mg cholesterol, 2 g fiber, 831 mg sodium, 5 mg niacin,
0.27 mg vitamin B6, 2 mcg vitamin B12, 2 mg iron, 5 mg zinc.
Recipe and image provided by the American Lamb Board