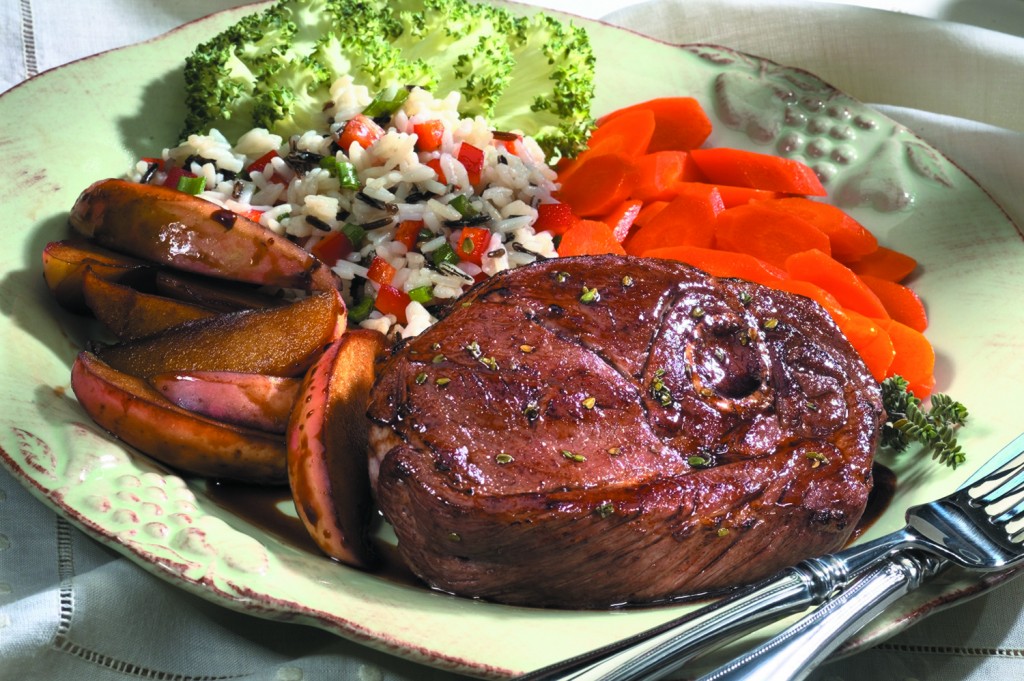 Ingredients:
8    American Lamb chops (shoulder or rib)
1    tablespoon olive oil
1-1/2    teaspoons dried thyme leaves
1-1/2    teaspoons coarse ground black pepper
1/2    cup balsamic vinegar
4    small apples, pears or figs
Brush lamb chops with oil and sprinkle with thyme, pepper and salt.  Cook in large skillet over medium-high heat for 10 minutes, turning once.
Heat vinegar and honey in another large skillet.  Stir and bring to a boil.  Core and cut apples or pears into 10 slices.  If figs are used, cut them in half.  Add fruit to bubbling mixture, turning to coat.  Cook until the fruit is glazed and just tender.
Place browned lamb chops into the bubbling mixture.  Turn the chops every minute to glaze with sauce.  Cook to desired degree of doneness.  Serve with glazed fruit and a drizzle of sauce.
8 servings. Preparation time:  8 minutes. Cook time:  15 minutes
Nutrition per serving:  245 calories, 21 g protein, 22 g carbohydrate, 8 g total fat
(31% calories from fat), 68 mg cholesterol, 2 g fiber, 358 mg sodium, 5 mg niacin,
0.11 mg vitamin B6, 2 mcg vitamin B12, 2 mg iron, 4 mg zinc.
Recipe and image provided by the American Lamb Board