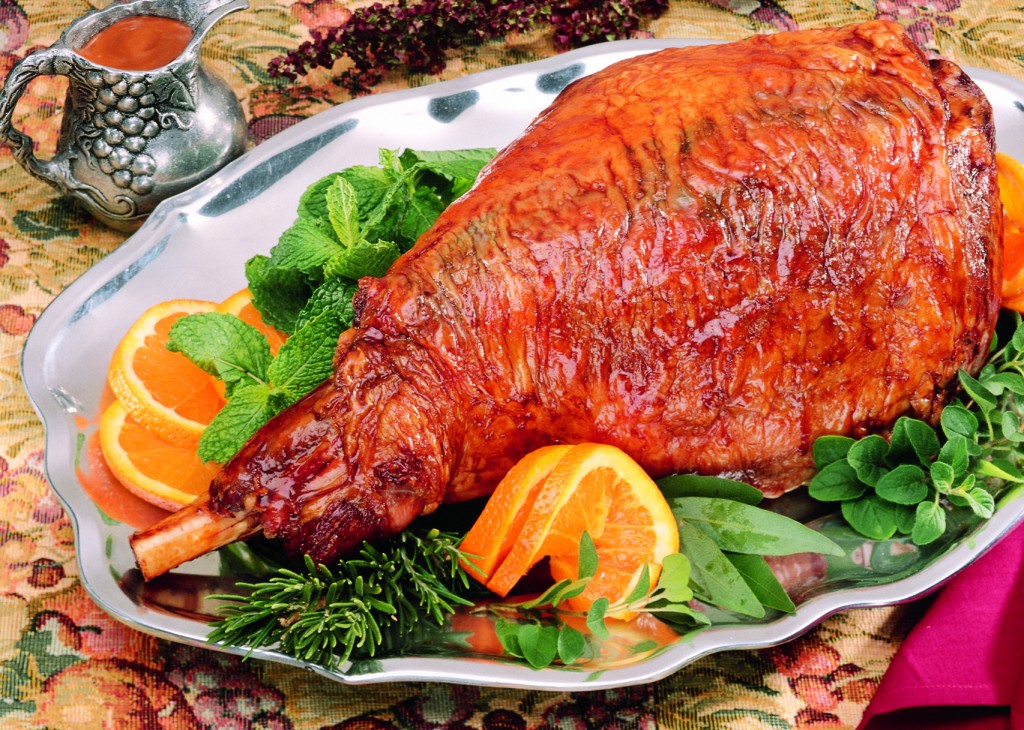 Ingredients:
1    tablespoon soy sauce
1    tablespoon olive oil
1    clove garlic, crushed
1/2    teaspoon ground ginger
1    whole bay leaf, crushed
1/2    teaspoon dried thyme
1/2    teaspoon dried sage
1/2    teaspoon dried marjoram
6 to 9    pounds American Lamb leg, bone-in
In small bowl, mix together soy sauce, oil, garlic, pepper, ginger, bay leaf, thyme, sage and marjoram.
Place lamb on rack in roasting pan.  With sharp knife, make frequent slits in surface of lamb.  Move knife from side to side to enlarge pockets.  Rub herb mixture into each slit.  Rub any remaining mixture over roast.
Roast in 325ºF oven for 20 to 25 minutes per pound or until meat thermometer registers 145ºF for medium-rare, 160ºF for medium or 170ºF for well.  Remove roast from oven, cover and let stand 10 minutes.  Internal temperature will rise approximately 10 degrees.  Pan drippings can be used in gravy or skimmed and served au jus.
12 servings. Preparation time: 5 minutes. Cook time: 2 to 3 hours
Nutrition per serving:  382 calories, 33 g protein, 0.37 g carbohydrate, 27 g total fat
(64% calories from fat), 120 mg cholesterol, 0.13 g fiber, 178 mg sodium, 11 mg niacin, 0.27 mg vitamin B6, 5 mcg vitamin B12, 3 mg iron, 6 mg zinc.
Recipe and image provided by the American Lamb Board