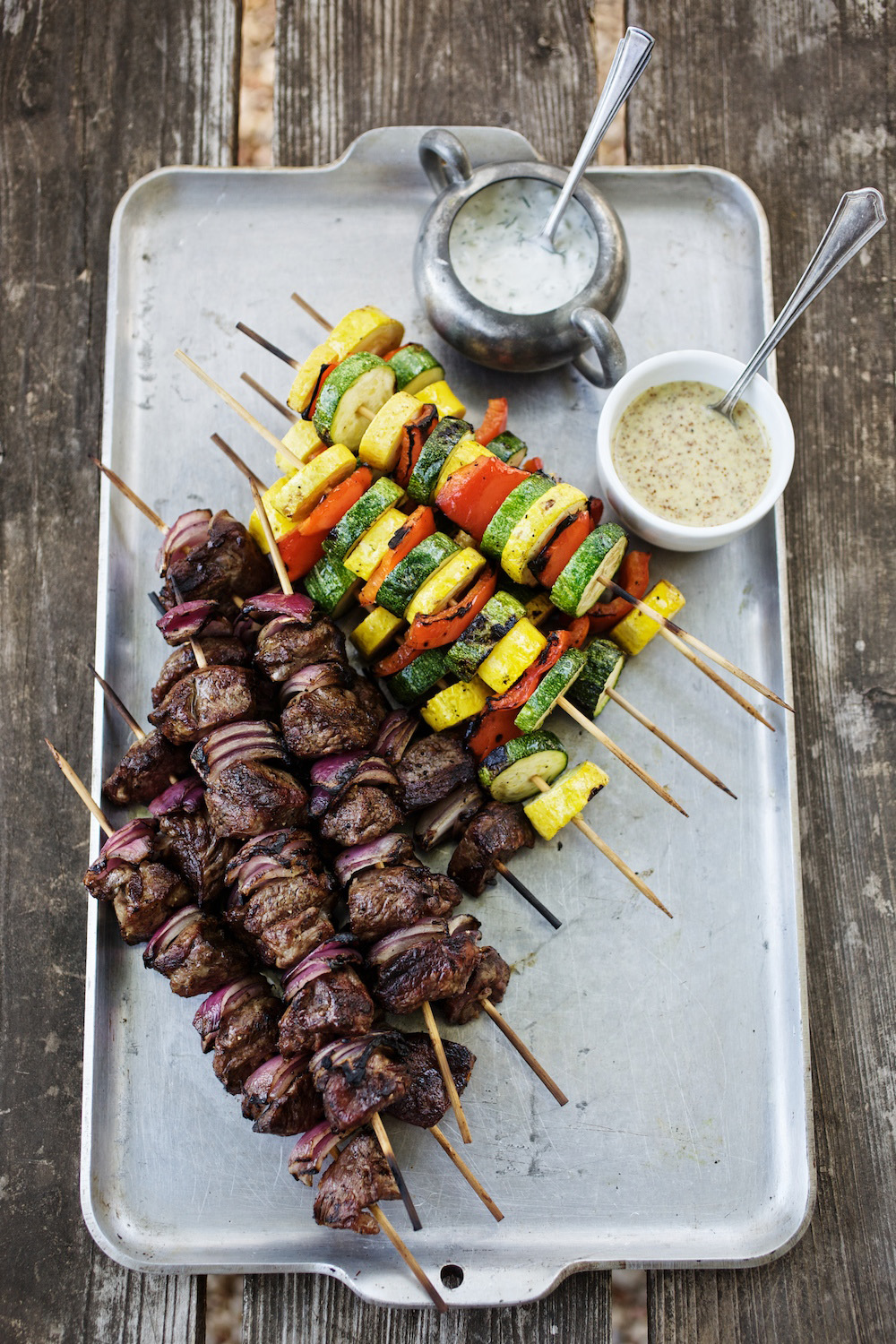 Ingredients:
12    wooden skewers (10-inch)
1/4    cup olive oil
3    garlic cloves, peeled and smashed
2    pounds boneless leg of American Lamb (or shoulder), trimmed of
visible fat, cut into 1-inch pieces
1    medium red onion, halved then quartered, cut into 1-inch pieces (keep layers intact)
2    small zucchini, cut crosswise into 1/2-inch rounds
2    small yellow squash, cut crosswise into 1/2-inch rounds
2    red bell peppers, cut into 1/2-inch pieces
Salt and pepper
Place wooden skewers in a shallow dish and cover with water; set aside.
In a small saucepan over low heat, simmer oil and garlic until garlic is golden brown, about 3 minutes.  Transfer to a small bowl; set aside to cool.
Thread 6 skewers, alternating lamb and onion.  Thread remaining 6 skewers with zucchini, squash and pepper.  Brush lamb and vegetable kabobs with garlic oil and season with salt and pepper.  Place skewers on a hot grill rack.  Cover and cook, turning occasionally, until each side has grill marks and lamb is cooked through, about 8 to 10 minutes or until lamb reaches 160ºF for medium doneness.
Remove from grill.  Serve with dipping sauces and whole wheat pita.
Honey Mustard Thyme Dipping Sauce
3    tablespoons coarse grain mustard
1    tablespoon mayonnaise
1    tablespoon honey
2    teaspoons chopped fresh thyme
Salt and pepper
In a small bowl, combine mustard, mayonnaise, honey, thyme, salt and pepper.
Cucumber Yogurt Sauce
1/4  cup Greek yogurt
1/2  cucumber, peeled, seeded and finely chopped
2   teaspoons chopped fresh dill
Salt and pepper
In a small bowl, combine yogurt, cucumber, dill, salt and pepper
4 to 6 servings. Preparation time: 10 minutes. Cook time: 10 minutes
Recipe and image provided by the American Lamb Board