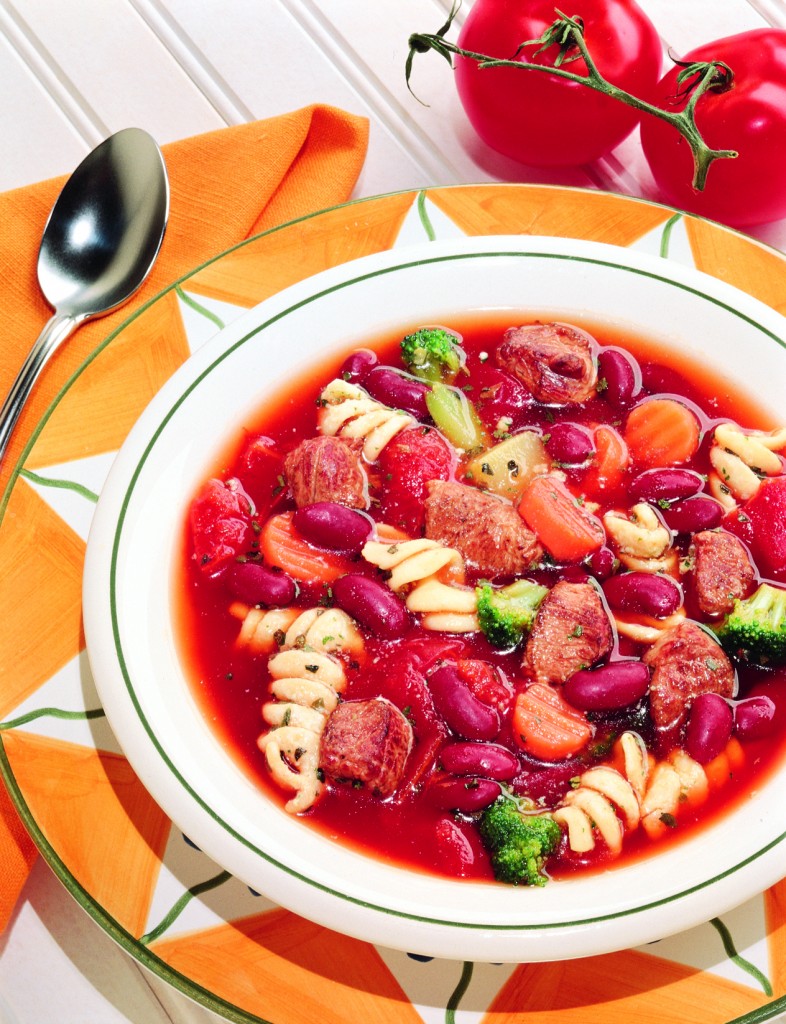 Ingredients:
1    package (16 ounces) seasoned frozen pasta and vegetable mix
4    cups fat-free beef broth
1    can (14.5 ounces) chopped tomatoes
3    tablespoons tomato paste
1    can (8.75 ounces) kidney beans, rinsed and drained
1    teaspoon Italian seasoning, crushed
8    ounces cooked American Lamb, cut into 1/2-inch cubes (about 1-1/2 cups)
Pesto (optional)
In a large saucepan, combine pasta/vegetable mix and beef broth.  Bring to a boil; reduce heat.  Cover and simmer 5 minutes.  Stir in tomatoes and juice, tomato paste, kidney beans, Italian seasoning and lamb.  Bring to a boil; cook 5 minutes to heat through.  Serve with a dollop of pesto, if desired.
Nutrition per serving:  260 calories, 19 g protein, 30 g carbohydrate, 7 g total fat (24% calories from fat), 30 mg cholesterol, 6 g fiber, 710 mg sodium, 2 mg niacin, 0.05 mg vitamin B6, 1 mcg vitamin B12, 3 mg iron, 2 mg zinc.
Recipe and image provided by the American Lamb Board