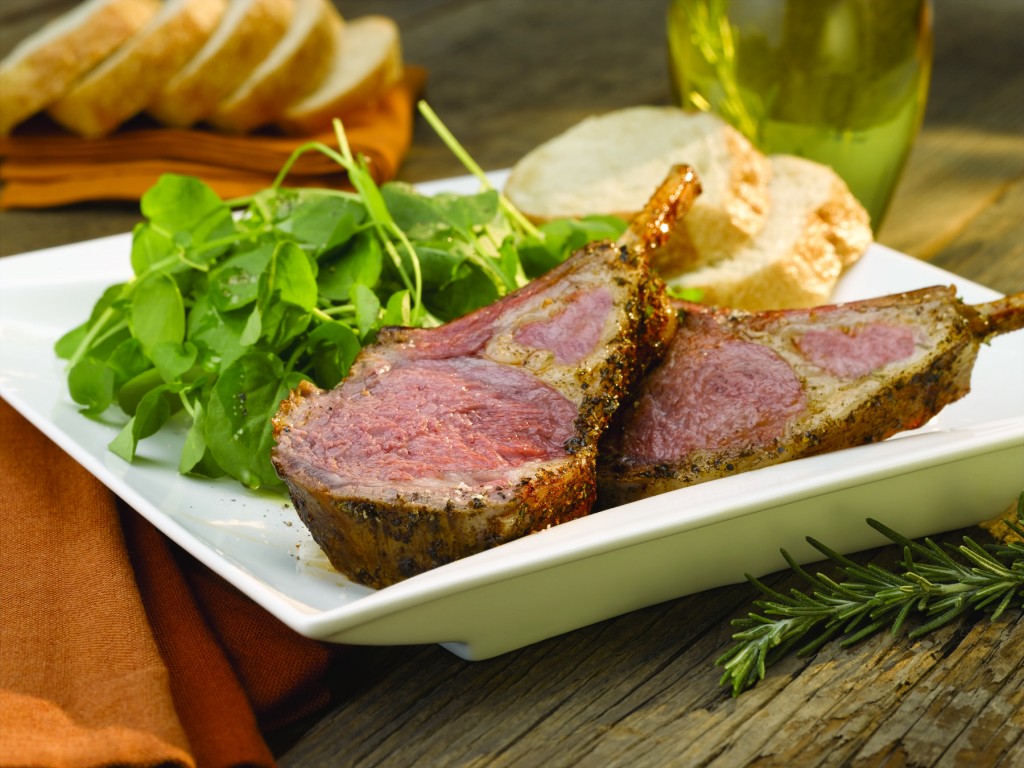 Recipe from Chef Tim Love, Lonesome Dove Bistro (Fort Worth, Texas)

Ingredients:
1/2     American Lamb rack (8-bone rack)
1/4     cup coarse salt
1/4     cup red chili powder
1/4     cup coarse pepper
1/4     cup chopped fresh rosemary
1/4     cup chopped fresh cilantro
1/2     cup olive oil, divided
2     bunches watercress
1    lime, juiced
1     tablespoon olive oil
Salt and pepper, to taste
In a bowl, mix salt, chili powder, pepper, rosemary, cilantro and half the olive oil to make a paste.  Pack the paste all around the rack of lamb.  Heat the other 1/4 cup olive oil in a heavy skillet on medium heat.  Place rack in skillet; sear for 2 minutes on each side.  Place skillet in the oven with lamb fat side up; bake at 350°F for 18 to 20 minutes.  Remove rack from oven, let rest for 5 minutes.
Clean watercress; mix with lime juice, olive oil, and salt and pepper to taste.  Slice rack into individual chops.  Serve 2 chops per serving with the salad.
4 servings. Preparation time:  10 minutes. Cook time:  30 minutes
Nutrition  per serving:  564 calories, 30 g protein, 2 g carbohydrates, 47 g total fat (77% calories from fat), 138 mg cholesterol, 1 g fiber, 866 mg sodium,9.59x mg niacin,
0.16 mg vitamin B6, 3.16 mcg vitamin B12, 3 mg iron, 5 mg zinc
Recipe and image provided by the American Lamb Board