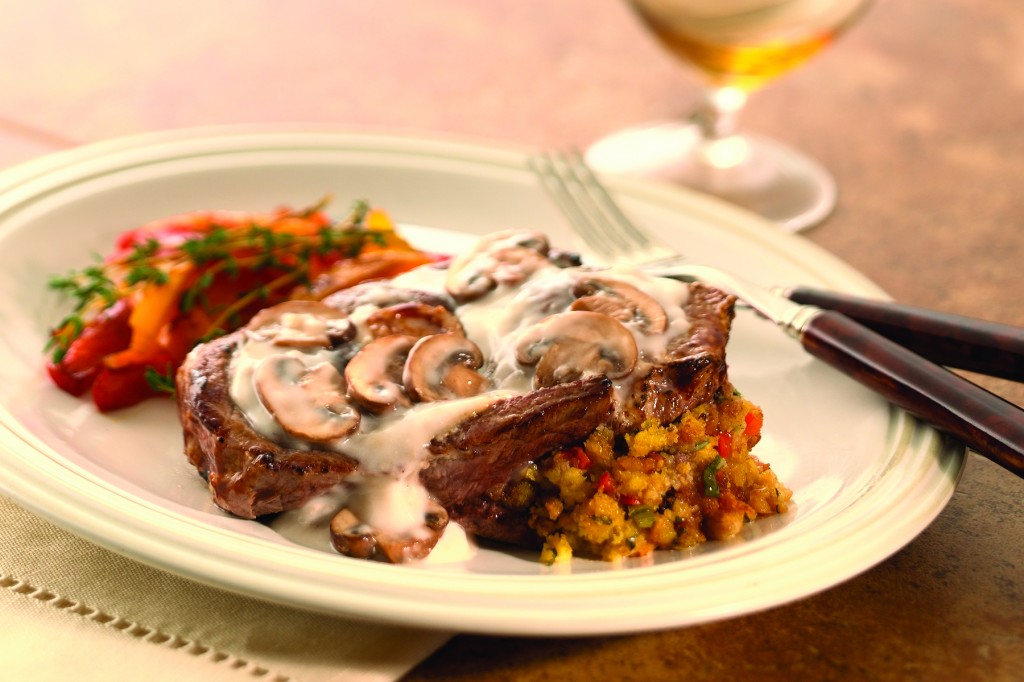 Ingredients:
1    box (6 ounces) cornbread stuffing
3    green onions, thinly sliced
1/3    cup chopped red bell pepper
5    teaspoons olive oil, divided
8    American Lamb shoulder chops, blade or round bone, cut 1-1/4 inches thick
1    package (6 ounces) brown mushrooms, sliced
1    can (10-3/4 ounces) cream of mushroom soup, undiluted
3/4    cup chicken broth or white wine
Prepare cornbread stuffing according to package directions.  Stir in green onions and bell pepper; set aside.
Heat 1 tablespoon oil in large skillet over high heat.  Brown lamb chops until golden brown.  Cool.  Using a knife, split meat in half at large end of chop, up to the bone.  Open slits in chops and place stuffing onto meat forming stuffed chops.  Place in two baking pans.
In skillet, heat remaining oil over medium heat.  Add mushrooms and sauté for 3 to 4 minutes.  Blend mushroom soup with broth or wine and add to mushrooms.  Simmer for 3 minutes.
Pour mushroom sauce over chops.  Bake at 350ºF for 35 minutes.  Remove from oven and let stand for 5 minutes.
8 servings. Preparation time:  20 minutes. Cook time:  35 minutes
Nutrition per serving:  395 calories, 23 g protein, 20 g carbohydrate, 24 g total fat
(55% calories from fat), 79 mg cholesterol, 1 g fiber, 802 mg sodium, 7 mg niacin,
0.15 mg vitamin B6, 2 mcg vitamin B12, 3 mg iron, 4 mg zinc.
Recipe and image provided by the American Lamb Board