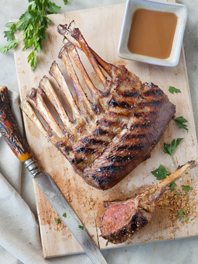 Grilled Rack of American Lamb
with Dijon-Balsamic Glaze
4 servings
Preparation time:  30 minutes
Cook time:  20 to 30 minutes
1        rack of American Lamb
Bring the rack to room temperature (at least 30 minutes out of the refrigerator) before grilling.  Trim some of the fat cap off the rack, leaving about 1/4 inch of fat on the rack.
Dijon-Balsamic Glaze
1/4        cup dry white wine
1        tablespoon Dijon-style mustard
1        tablespoon balsamic vinegar
1        teaspoon honey
Freshly ground black pepper, to taste
Salt, to taste
In a small saucepan over medium-high heat, add wine, mustard, vinegar, honey, pepper and salt. Whisk to combine; bring to a boil.  Lower heat and reduce by half.  Cool slightly; brush liberally on the lamb rack.  (If there is left over, brush on the rack as it cooks.)
Toasted Bread Crumb Dip
1        tablespoon extra virgin olive oil
1/2        cup fresh bread crumbs
Salt, to taste
In a large sauté pan over medium-high heat, add oil and bread crumbs.  Stir, toasting until the bread crumbs brown.  Season to taste with salt.
Preheat grill to medium-high.  Grill the rack over medium-high heat, fat-side down.  Once browned, flip the rack over and move to a cooler part of the grill.  Grill to medium-rare (remove from heat when thermometer registers between 130°F and 135°F, or to desired doneness).  Allow rack to rest, lightly covered, for at least 10 minutes before serving.
Grilled Rack of American Lamb with Dijon-Balsamic Glaze
Cut into 2-chop portions (double chops), or slice into 8 chops.  Before serving, dip one side of each chop into the bread crumb mixture.
Recipe and image provided by the American Lamb Board