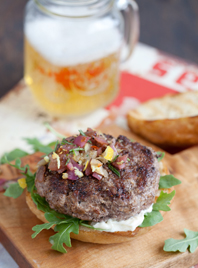 8 servings
Preparation time: 30 minutes
Cook time: 15 minutes
Lamb Burgers
2 pounds ground American Lamb
Salt and freshly ground black pepper
8 dinner rolls, or 4 large buns
Mayonnaise, as needed
Arugula leaves, as needed
Gently form the lamb into 8 burgers; make sure meat is not compressed. Season generously with salt and pepper; grill to desired doneness.
Remove some of the bread from the rolls to make a better bread-to-burger ratio. Grill rolls briefly; cool. Spread both sides of rolls with mayonnaise, spoon on some of the onion relish, some arugula leaves and the cooked lamb burger.
Relish
3 tablespoons extra virgin olive oil
1 red onion, cut into thick slices
1 fennel bulb, cut into 1/4- inch slices
Salt and pepper, as needed
1 teaspoon minced rosemary
Zest of 2 lemons (pith removed, the rest finely chopped)
1 teaspoon honey
1 pinch red chile flakes
Preheat grill to medium-high. Brush onion and fennel slices with oil; season generously with salt and pepper. Grill over medium-high heat until onion and fennel caramelize and soften, showing grill marks. Reduce heat; continue cooking onion and fennel until soft. Remove; cool then finely chop. In a bowl, add grilled onion and fennel, rosemary, lemon zest, lemon, honey and chile flakes. Season to taste.