Announcing the 14
th

Annual
Hotchkiss Sheep Camp Stock Dog Trials
May 12-14, 2017
in Hotchkiss, Colorado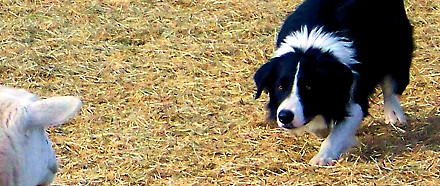 Come witness one of the greatest and most dynamic partnerships in the animal kingdom: a dog, its handler, and their sheep. With just a few well timed whistles from its trusted handler the dog strategically approaches the flock, assumes control of the sheep, and completes the assigned task. Note that while these dogs are trained, the sheep are not!
Spectator Entry Fee:  Friday $4.00 (8AM start),  Saturday and Sunday $5.00 (7AM start)
For you spectators, there will be a judged demonstration during the lunch breaks both Saturday and Sunday, time permitted. Our judge will take the microphone to explain what is happening, while pointing out the errors that occur during the run which result in point deductions.
So come by, sit a spell, and watch these world class athletes work their magic. Visit our participating vendors while enjoying the beauty that is the North Fork Valley in spring. We guarantee you've never seen anything quite like this!