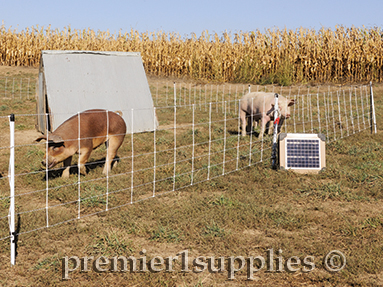 Hogs & Pigs
Demand for fences for "Pastured Pork" and Feral Hogs have increased in the past few years so we've developed a few fence solutions for these needs.
---
Training pigs to electric fence...
Experience suggests that domestic pigs, unlike cows, horses, sheep and goats, need to be trained to electric fence.
Why? Because pigs new to electric fence may decide to respond like pigs—and charge forward through the fence instead of backing away.
How? Set up an electric fence alongside (1 to 2 ft away) a secure permanent fence that the pigs can't get through. Make sure the fence is electrified—at least 3000v at the end of fence. Introduce the pigs to the fence. Monitor the pigs for a few hours.
Note: Failing to train domestic pigs to electric fences can be expensive—damage to the fence plus the damage the escaped pigs might create.
Fence Solutions for Hogs
As those who live in hog country know too well, their population is steadily growing and expanding. Regrettably, they are as smart as they are aggressive and destructive. That's why physical barrier fences often fail. It's been proven that electrified fences work—and work well to deter wild hogs. Why? Because hogs use their moist snout to test and investigate new situations. This ensures that contact with an energized strand will send a hog-stopping shock (if the energizer is large enough) through the hog. Hogs have very good memories. So they aren't likely to test the same fence in the same place twice—if the pulse was painful the first time.
Netting is more effective than multi-strand fences because it is more visible.
Pig QuikFence® 6/30/12 is best for moist conditions they experience few bouts of dry soils. 7" of ground clearance to reduce grass contact and rooting pigs from burying the bottom strand to short out the fence. Popular for feeder pigs on the pasture.
HogNet® 10/24/12 can be set up as a Positive/Negative fence—much better for dry soil conditions. The extra strands ensure the animal is shocked before it sticks its nose through the fence. This reduces the risk of the shocked animal charging forward. Most expensive choice.
HogNet® 4/18/12 will work well if the area is wet throughout the year. Its lower cost/ft makes it a good choice for longer fences.
Multi-strand fences: 2 to 3 strands of energized rope. Least expensive choice. Install posts and insert rope in the posts. This is the least effective.
To Reduce Risk and Liability...
Are electric fences a serious safety risk to humans?
Because touching an electric fence is painful and the voltages are high, most assume that the risks from an energized fence must also be high. That's a myth. Consider that millions of people throughout the world are "exposed" to millions of electric fences every day—yet they are involved in (but are not always the cause of) less than one human death or serious injury per year worldwide. Compare that to the number of annual injuries and deaths that occur from human exposure to tractors, skid loaders, ladders, PTO shafts, balers, mowers, combines, bulls, stallions, rifles, shotguns, knives, etc. This is not to suggest that there is no risk at all. There is, indeed, a small level of risk. And with risk, there is also liability to the fence's owner.
What NOT to do!
Never place your head or upper spine near an electrified wire. Accidental head or neck contact can occur when pushing a voltage probe into the soil. Be careful when doing so to avoid head-to-wire contact!
Never attempt to step over or climb through an energized fence of any kind.
Never encourage anyone to touch an electric fence.
Warning!
In 1991 an accidental fatality occurred when a young child's head contacted an electrified fence while the child was crawling on wet grass. The fence was correctly installed and functioning properly. The energizer was a UL approved unit. As a result, Premier strongly advises against allowing toddlers access to any electrified fences. Also, due to this incident and others, experts now suggest that human contact by an energized wire to the head and neck may be the most dangerous point of contact. We urge all to especially avoid this kind of contact.