Plug-in & Battery Fence Energizers
By Premier 1 Supplies
3 Options—How To Choose?
High output plug-in energizers are recommended for whole-farm electric fence systems. Combination (AC/DC) fence energizers offer the most flexibility—either 110V AC power or an external DC battery.
1. Plug-in (AC) fence energizers
Plugs into a standard 110V outlet. Should be mounted inside buildings and connected to ground rods and the fence with insulated wires. Recommended for whole-farm fence systems.
Advantages:
Least cost to purchase and operate per joule of output.
(Usually) offer a higher pulse frequency and output than other designs.
Best for fences that experience heavy weed contact.
Disadvantages:
Not as convenient as portable all-in one solar fence energizers.
Big units can be complex to install. May require lengthy insulated wires and buried cables to carry the pulse to the fence.
Not weather resistant—power connections need to be protected from the elements.
2. Battery (DC) fence energizers
Powered from an external battery. Must use an external battery recharger when the battery needs to be recharged. The energizer requirements will determine the type and size of battery.
Advantages:
Energizer can be moved to the fence.
Does not require a 110V outlet or buried cables.
Not as complex to install as a plug-in energizer system.
Disadvantages:
Requires the purchase of a battery which must be periodically recharged and maintained.
Cold temperatures will affect the performance of the energizer's battery.
More expensive per joule of output (when battery cost is applied.)
Second battery may be needed if batteries are to be swapped when recharging.
3. Combination (AC/DC) fence energizers
Can either be plugged directly into a 110V AC outlet or connected to a 12V DC battery.
Advantages:
Useful if unsure of fence power requirements.
Combines all the advantages of plug-in and battery energizers.
Easier to troubleshoot the energizer.
Disadvantages:
These units often have a lower pulse frequency than plug-in only units.
When used as a battery unit, batteries must be switched out and/or recharged.
110V adapter is not waterproof and extension cords often do not meet this criteria.
Requires the purchase of a deep cycle marine battery or other required battery.
How much output do I need?
It depends. A good rule of thumb is to buy a larger fence energizer than you'll think you need. When the fence pleases, most folks will buy more fence—and need additional output. More output also equals less hassle from weeds and ornery livestock.
We've compiled a list of common energizer questions to help you choose the right unit for your situation. Or call us at 800-282-6631. Our folks are used to helping in a soft, no-pressure way and have used many of the energizers we sell on their own farms.
Plug-in (AC) Energizer Comparison Chart
Name
Output

(in joules)

Cost
Cost

(per joule of output)

110V Draw

(watts/hr)

Should Power

(rolls of net)

KUBE 4000
2.30
$159
$69
4.5
8-16
Combination (AC/DC) Energizer Comparison Chart
Battery (DC) Energizer Comparison Chart
Name
Output

(in joules)

Cost
Cost

(per joule of output)

Should Power

(rolls of net)

Days Battery Will Last

(using 100 Ah battery)

Speedrite AN90
0.12
$119
$992
N/A
80
3 Year Warranty
When you buy an energizer from Premier, you purchase more than an energizer. You also obtain these benefits: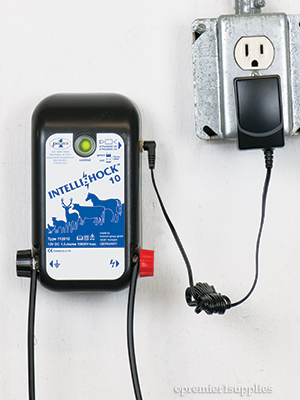 If an energizer fails within 3 years of its date of purchase, we will replace the module or unit at our cost. Your credit card will be charged for the replacement but you will receive full credit when the failed item is back at Premier. Your only cost is shipping the failed item to us. If the original energizer is over 3 years old, we will repair and/or replace it, but you pay for the repair cost and freight. Note: Policy does not apply to failure due to abuse or neglect. Misuse and flood damage are not covered. Note: Batteries only have a 30 day warranty.
FREE next-day shipment of warranty replacement energizers. A unit can be shipped by 2 p.m. Central time to be received the next day. (Calls on Friday after 2 p.m. will ship Monday.) If you think your energizer has failed, call us at 800-282-6631. We'll help you test your energizer to ensure that it has truly failed. This is important because 25% of the units we receive back work fine. The fence was at fault instead of the energizer.
FREE technical support. We will provide free advice and support both before you purchase an energizer or fence and afterwards for as long as you wish our help. This also applies to energizer repair issues. If you are not sure how to replace a module, we will "walk" you step-by-step through the process via telephone.
Solar energizer packages. With larger energizers (over 1 joule), the panel, battery and energizer need to be correctly sized for each situation. We will do this for you at no cost if you call us.
Five-year assurance against energizer obsolescence. Premier's "contract" with our customers includes repair or replacement of any non-working units for up to 5 years whether the unit is "obsolete" or not. During the 3-year warranty period, Premier pays for the replacement cost.

Need help with your energizer or fence?
Our
Electric Fence Troubleshooting Guide
may solve common problems.
Warning!
Due to risk of fire, do NOT use continuous output fence chargers with electric netting or electro-plastic conductors such as rope, twine or tape. Use only with a low- or wide-impedance intermittent pulse energizer. (Fi-Shock™ brand energizers which are sold as low-impedance, continuous current output should NOT be used with electric netting.) All energizers sold on Premier's website use an intermittent pulse and are suitable for use with electric netting.
Warning!
In 1991 an accidental fatality occurred when a young child's head contacted an electrified fence while the child was crawling on wet grass. The fence was correctly installed and functioning properly. The energizer was a UL approved unit. As a result, Premier strongly advises against allowing toddlers access to any electrified fences. Also, due to this incident and others, experts now suggest that human contact by an energized wire to the head and neck may be the most dangerous point of contact. We urge all to especially avoid this kind of contact.