Electric Fence Energizers—The Basics
What is a fence energizer?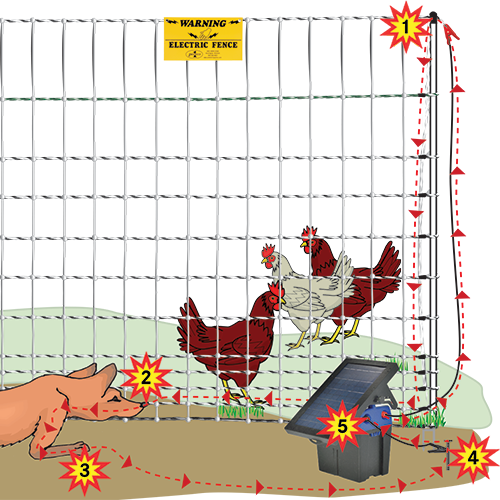 It's a device that takes in electrical energy from an outside source (either a 110V outlet or a battery) and then pushes the energy out through the positive fence terminal in very brief, high-voltage, high-amperage pulses. The negative ground terminal absorbs any excess pulse energy back into the energizer.
When animals (or predators) touch an electric fence…
The energizer pushes an electric pulse through its "+" terminal to the fence.
The pulse travels through the conductors and pressurizes the fence with excess electrons. That pressure is measured in volts.
When an animal touches the fence, excess electrons enter it and travel through the animal to the soil.
After exiting the animal, the pressurized electrons travel via the soil's moisture back to the energizer's ground rod.
The electrons re-enter the energizer via the "-" terminal. The amount that returns is the shock effect.
Two basic energizer types:
Energy input is battery (DC) that is recharged by a solar panel that is attached directly to the energizer case.
Solar units are very portable and quick to set up, operable in minutes.
No buried lead-out wires or underground cables are required.
LEARN MORE
Energy input is 110V AC (plug-in) or battery (DC).
Best for use in shaded areas.
Less expensive than All-in-one Solar units.
Less visible for vandals and thieves.
LEARN MORE
Most modern fence energizers send very brief (less than 3/10,000 of a second in duration), high-voltage pulses (usually 2,000–6,000 volts) of electrons down the conductor every 1–2 seconds. Though powerful enough to deter animals and poultry, pulses this brief and this infrequent almost never pose a fire risk when the conductor is near combustible material. There simply isn't enough "on" time for heat to build and allow ignition to occur.
Dry, sandy or rocky soil increases resistance—a weaker, less effective pulse occurs that does not deter animals. To overcome this, use additional ground rods, Positive/Negative fence and/or a higher output energizer.
Should you energize the fence?
A common mistake is not electrifying it. Electric fence is a pain barrier, not a physical barrier. Animals conclude the fence itself is painful—and then avoid it.
Energized fences last longer and require less maintenance—because animals do not crowd, rub or scratch on them.
Issues to consider before buying an energizer
Amount of wet/green weed contact with the energized wires. A 1/4 mile permanent fence that's covered with weeds and is only 6 in. above wet soil may leak/drain away more energy than a 3 joule energizer can provide!
How high off the ground will the lowest live wires be? Low wires (3-6" off the ground) cause much more leakage from weed contact than higher wires (> 18").
Species to be contained or deterred: Animal and birds vary in their internal resistance (in ohms) to electricity. In order from most to least affected by an energized pulse are: pigs, horses, cattle, canines (wet noses, bare pads), raccoons, sheep, goats, deer, geese, chickens and rabbits. Heavy animals tend to be the most affected because their weight compresses the topsoil which reduces its electrical resistance.
Total length of fence: This is actually of minimal importance. Why? Because even small units will energize long fences and stop animals—if there are no leaks of energy to the soil via weeds or poor quality insulators.
Power source: Plug-in (AC) energizers are best if the fence is close to a 110V power outlet. Solar energizers may be a good option for fences far away from an outlet.
Farmstore "Miles of Fence" rating: This can be misleading because in many cases the rating refers to a single strand fence with the energized wire very far off the ground and with no weed or grass contact. Instead, Premier indicates how many rolls (or feet) of weed-laden fence can be energized.
Cost: The most expensive energizer is the one that isn't big enough and therefore results in escaped animals or predator attacks.
We collect ratings and reviews from our customers about all of our products—including energizers. If you're still not sure which energizer is the right one for your situation, please call us at
800-282-6631
. Our folks are used to helping in a soft, no-pressure way and have used many of the units we sell on their own farms.
Other firms may supply more units—but no one supplies more energizers directly to end-users and tracks the results. When you join our community of satisfied customers, you tap into that experience and expertise.
Glossary of Terms
Volts/voltage

A measure of the pressure upon electrons to move from A to B. Very similar to psi (pounds per square inch) in water and air systems. Electrons can't flow from point A to point B unless adequate voltage is present to overcome the resistance (measured in ohms).

Joule(s)

Measure of the volume of electrical energy (electrons) in a pulse. Comparable to pints, quarts, gallons in water systems. When enough "uninvited" electrons (joules) suddenly pass through an animal's (or human's) nervous system, it reacts in pain and surprise.

Amps/ampere/amperage

Measure of the rate of flow of electrons per unit of time. Comparable to gallons per minute in water systems.

Ohms (Ω)

Measure of resistance to electrical flow. More Ω means more resistance. It's additive—if 1,000 ft of wire is 200 Ω then 2,000 ft is 400 Ω.

Pulse frequency

Number of pulses per minute. 40 pulses/minute = a pulse every 1.5 seconds.

Conductor

Any material with low ohms (resistance) such as copper, aluminum, tin or steel. Water is a conductor. Wood, if wet internally (e.g. sap) or externally (e.g. dew, rain) can become a conductor. Soil moisture and grass stems are conductors. Animal tissue with moisture in or on it is a conductor.

Electro-plastic conductors/netting

A cable or ribbon comprised of small conductive metal filaments and non-conductive plastic filaments. The metal carries the electrons. The plastic provides visibility, strength and elasticity.

Insulators

Any material with high ohms (resistance) such as fiberglass, plastic and coated ceramic. Wood is an insulator—if it is dry internally and externally. Dry animal hair and wool are poor conductors and thus are insulators (albeit often poor ones).
Warning!
Due to risk of fire, do NOT use continuous output fence chargers with electric netting or electro-plastic conductors such as rope, twine or tape. Use only with a low- or wide-impedance intermittent pulse energizer. (Fi-Shock™ brand energizers which are sold as low-impedance, continuous current output should NOT be used with electric netting.) All energizers sold on Premier's website use an intermittent pulse and are suitable for use with electric netting.
Warning!
In 1991 an accidental fatality occurred when a young child's head contacted an electrified fence while the child was crawling on wet grass. The fence was correctly installed and functioning properly. The energizer was a UL approved unit. As a result, Premier strongly advises against allowing toddlers access to any electrified fences. Also, due to this incident and others, experts now suggest that human contact by an energized wire to the head and neck may be the most dangerous point of contact. We urge all to especially avoid this kind of contact.